McConnell, Grimes Face Off in KET Debate. Who Won?
Mon, 10/13/2014 - 21:45
RCN Newsdesk
And there it was: Mitch McConnell and Alison Lundergan Grimes on television together, their first joint appearance since August.
With polls showing a pretty close race, both candidates sought to gain in the KET Kentucky Tonight debate hosted by Bill Goodman. Early analysis, though, seems to be that it was a toss up. 
Except, of course, from the perspective of the campaigns: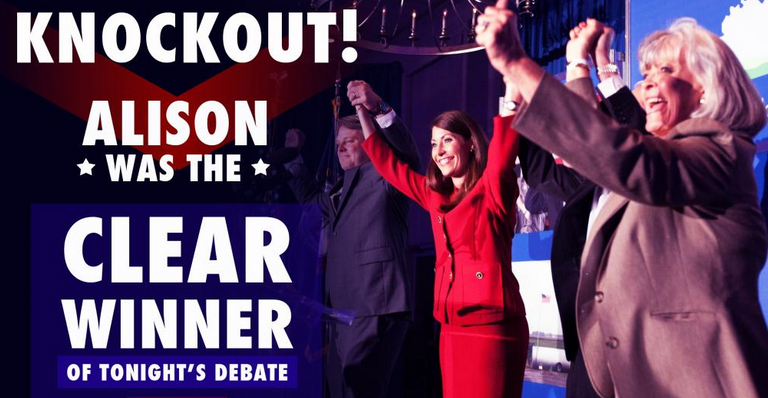 Neither candidate said anything that hasn't been heard before and each landed a couple blows.
Grimes's recent avoidance of answering whether she voted for President Barack Obama resurfaced in the debate and she dodged it again, calling it a Constitutional privilege of privacy. 
"I am not going to compromise a constitutional right provided here in Kentucky in order to curry favor on one or either side, or for members of the media," the Democratic Secretary of State said. "You have that right. Senator McConnell has that right. Every Kentuckian has the right for privacy at the ballot box. If I don't stand up for that right, who in Kentucky will?"
Grimes, however, has no hesitation when describing herself as a "Clinton Democrat". So what's the difference between a Clinton Democrat and an Obama Democrat, Goodman asked. "From my work here in Kentucky and indeed in this campaign, it's one based on growing the middle class and as we saw under President Clinton's tenure, when you increase the minimum wage, you expand the middle class," Grimes started, before moving on to blame Congress and its members for the slow economic recovery in the country. "It's growing the middle class the right way, building from the foundation up."
McConnell pounced.
"There's no difference," the Republican Senate Minority Leader snapped, adding that the Clintons support recent actions by the Environmental Protection Agency that he claims is troubling for the state's coal industry. "There is not a dime's worth of difference between a Clinton Democrat and an Obama Democrat."
McConnell also said that he voted for Mitt Romney and John McCain against Obama both times. "And by the way, 116 out of 120 counties agreed with my judgment that we might be better off," he said. McConnell also, without hesitation, said that he voted for Trey Grayson, current president of the Northern Kentucky Chamber of Commerce and former Secretary of State, in the 2010 Republican Senate primary against eventual winner Rand Paul.
The candidates sparred over minimum wage and whether an increase would benefit the economy. Grimes supports an increase while McConnell said that an increase is sometimes worthwhile, but that it would cost thousands of jobs in the current economy. McConnell argued instead for expansion of the Earned Income Tax Credit, and Grimes seized the chance to say that McConnell voted against budgets that included such expansions.
"You can't serve in a legislative body and not occasionally vote for something you're not crazy about," McConnell said.
On health care, McConnell resurrected his mantra that the Patient Protection and Affordable Care Act, or Obamacare, should be dismantled "root and branch", but that Kentucky should keep its "$200 million website" for kynect, the state's expanded access to affordable health care and Medicaid.
"I have said that this is a matter of standing up for 500,000 Kentuckians," Grimes said, referencing the number of people in the Commonwealth who gained health insurance through kynect, adding that there would be work needing to be done to "fix it". She said that McConnell lives in "a fictional fantasy world". "I will not be a senator who rips that insurance from their hands."
McConnell charged that Grimes refused to tell Senate Majority Leader Harry Reid her position on coal during a private meeting while Grimes called conservative political backers Charles & David Koch's McConnell's "henchmen" and "family". 
PolitiFact, the non-partisan fact-checking political website, monitored the candidates answers and dinged each of the throughout. It reported that McConnell's claim that the president's new EPA regulations meant no new coal fired plants was "mostly false" as was the senator's claim that Obamacare would cost 2.5 million jobs. Grimes' claim that McConnell took $600,000 from anti-coal interests was rated "false" as was her assertion that he has enriched himself while in DC, with the fact-checker agreeing with McConnell that his wealth was inherited by his wife Elaine Chao, the former Secretary of Labor under President George W. Bush, upon the death of her mother.
Grimes brings her campaign to Covington on Tuesday afternoon where she will appear with Ohio Senator Sherrod Brown near the Brent Spence Bridge, likely to discuss that proposed $2.6 billion project.
Written by Michael Monks, editor & publisher of The River City News