Murders in Independence Rivet Library Audience
Wed, 10/15/2014 - 05:54
RCN Newsdesk
So, who killed Edward and Emma Sagers?
Police officially went with the obvious: ­­­fifty-
year ­old Edward killed his 55­-year­ old wife Emma, then shot himself. On the surface, it tied up 
nicely, and the police liked that. But there were a few facts that didn't quite fit in; the fact that the 
latch on the front door was broken, or that there was another person in the house at the time
of
the
crime, a mute young man known as Harry (Dummy) England, the nephew of Emma. Or
the
fact
that there might have been money and/or jewelry missing from the house where the crime 
occurred. And then there was the older man who turned up with frostbite on his feet at the hospital 
who mentioned that he had been outside the
Sagers'
house the night of the crime and said he 
heard what he thought were gunshots.
But there is no hurry to sift through the 'clews' or solve the crime because it occurred on 
February 7, 1916. The cold case was the very last one presented by Tanya Pemberton, 
Adult Services Librarian, who, along with Ben
Burkhardt
researched several crimes that happened 
in Independence a number of years ago.
"I have been to actual cases where suicide is ruled out because of the positioning of the 
body," said Randy
Goodhew
, from
Morning View
, who used to be an assistant coroner at Ft. 
Benning. "They didn't have the technology then. I came because I read about the class and I 
thought it would be interesting, which it was."
Approximately thirty people came to the Durr library in Independence to hear the 
presentation, which lasted a little over an hour, for different reasons, but mostly because everyone 
loves a good mystery, and when it happened in your own back yard, no matter how long ago, it is 
of interest.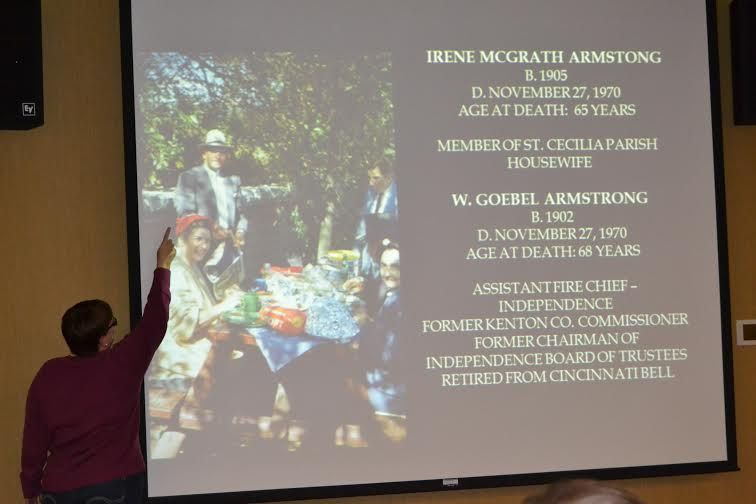 Tanya Pemberton shows pictures of Goebel and Irene Armstrong and their son Phillip at a park gathering
"I have lived in Independence my whole life, and I have always been interested in 
history," Pemberton explained. "I thought this might be of interest to the community, and it brought 
together my love of history, my love of community, and the library which is a center of the 
community. We have another case researched in case everyone loves the first class."
Pemberton named the class 'We ain't no Mayberry', and while many residents might 
protest the similarity of Independence to Mayberry, thinking Mayberry wasn't that bad, others are 
in favor of revealing a darker past to the city because it affords a depth not immediately apparent 
in the old Andy Griffith sitcom.
The first case of the evening was the murder of a fifteen­year­old girl named Amanda 
Cain, who was stabbed to death on Wednesday, September 21, 1892, on her parents' farm just 
outside Independence. The perpetrator, a 22­year­old man named Arthur Watson, didn't deny he 
committed the crime, just said he didn't mean to stab Amanda in the heart, or stab her mother 
three times, or brutally kill the family dog that attacked him. Angry neighbors formed a posse and 
finally arrested Watson, but he escaped for several months. When he was recaptured, records 
showed he died at the age of 29, but it was not clear how or why he died.
A somewhat related case was next, where Amanda's older brother shot a neighbor, 
William England, in his front yard. Even though it was years after his sister's murder, at Cain's 
second murder trial, the first ending in a hung jury, his mother testified, and that made a difference 
in his sentence, which was 2 to 21 years for manslaughter. The murder occurred in April of 1910, 
and Cain only served three years of that sentence.
Another case involved a prominent Independence couple, Goebel and Irene Armstrong, 
65 and 68 years old respectively, who were victims of their son, Phillip, 32, who shot them both 
with a 12
gauge
shotgun on November 27, 1970, in their home. He then went to get a family 
friend in the fire department, and sat on the porch steps while officials dealt with the brutal and 
bloody scene. While people knew the son was quiet, they were apparently not happy with the 
turbulent personality underneath the quiet exterior, and when he was sent to prison for the 
murders, he served 10 to 15 years, and it was rumored that some residents warned him not to 
return to Independence.
The library didn't serve popcorn for this who-dunnit night of documented tall tales, but 
everyone seemed to like what they experienced. Technology wasn't abundant in the long ago 
cases, but residents were pleased that there didn't seem to be any
Barneys
on the police force 
either.
"People should take a walk through the cemeteries in the neighborhood," said 
Pemberton. "The history is all around us, and the names we see on the street signs are there in 
the cemeteries. We have history. Independence is that kind of town."
Story & photos by Patricia A. Scheyer, RCN contributor