After Successful First Year, Close The Deal Kicks Off Again at Holmes
Fri, 10/17/2014 - 14:44
RCN Newsdesk
A program credited as being part of improvements at Holmes High School kicked off again this year on Friday.
The Close The Deal program, created by Kentucky Lieutenant Governor Jerry Abramson while he was mayor of Louisville and still promoted by him in his current office, launched at the Covington high school last year. Since then, Holmes improved its graduation rate to more than 90% and the Class of 2014 was awarded more than $2.1 million in scholarships. Two-thirds of the class was accepted to colleges or the military, a 20% improvement over the previous year, and nearly half of the class completed 477 college credit hours, according to statistics provided by the school district.
At Friday's launch, Superintendent Alvin Garrison and Principal Scott Hornblower spoke to the senior class and then introduced Dr. Ed Hughes, president & CEO of Gateway Community & Technical College. 
Hughes talked about the importance of preparing for the future and held up a handful of lottery tickets that he had purchased earlier. "It's a really bad plan... but I sure hope it happens."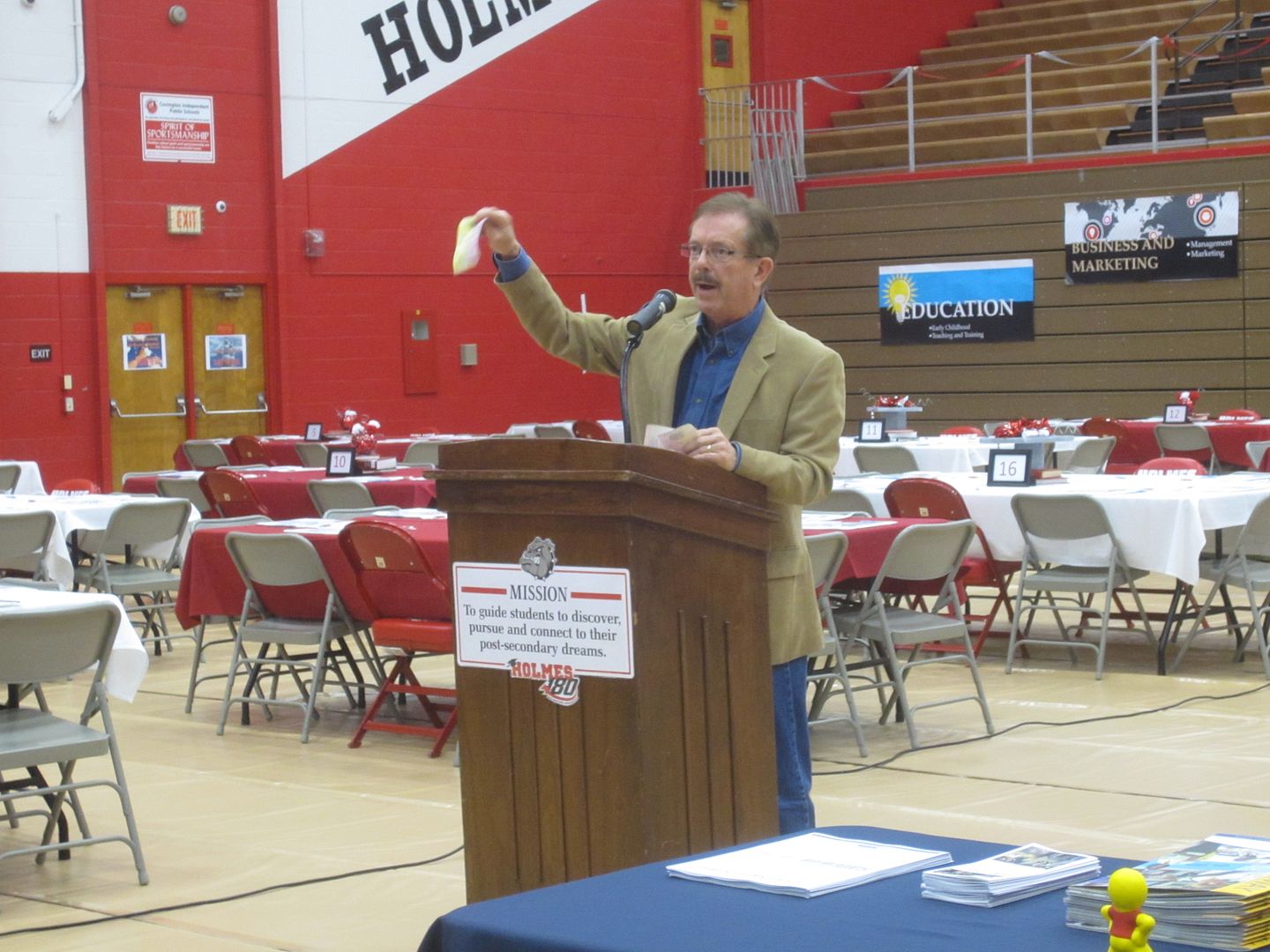 Instead, Hughes said, students should begin thinking about what they want to do with their lives and then find the appropriate post-secondary educational institution that best fits their needs, and graduate from it. "If you want to be an engineer or a doctor or a teacher or a computer whiz, or anything you can have in your brain, you're going to have to graduate and go on to some post-secondary institution," Hughes said. "That's a heck of a lot better way to get a million dollars than playing these things. The lottery in life is about making choices, not the machine picking numbers."
Abramson also spoke to the students via video and the class heard from 1996 Holmes graduate Todd Duesing, now the director of operations at the Aronoff Center for the Arts in Cincinnati.
The event was held in the Evans Fieldhouse where many colleges were represented and students would participate in "table talks" with financial aid and admissions officers, and complete at least one college application. Local business representatives also spoke with groups of students during lunch.
Close the Deal is a collaborative effort between the state, the school district, and the Northern Kentucky Chamber of Commerce.

"Close  the Deal event provides a kick start for our seniors as we ask them to make a commitment to college or the military," said Renee Murray, event organizer at instructional coach. "Students take seriously the opportunity to talk with professionals, military and college representatives about their future plans. Today is the beginning of a yearlong effort to support our students as they make these critical decisions.''

"Our goal at Holmes is for students to plan for graduation and beyond," Principal Hornblower said. "Close the Deal gives us the opportunity to focus on our students as they make these plans.  We appreciate the support from colleges, the military and the. Immunity in making this a special day for our seniors."
Story & photos by Michael Monks, editor & publisher of The River City News