Grandview Students Visited by Anti-Bullying Activist, Recording Artist
Mon, 10/20/2014 - 06:57
RCN Newsdesk
Recording artist and anti-bullying activist Keenan West paid a visit to the students at Grandview Elementary in Bellevue last week.
Students in grades 3 through six watched the Cincinnati-based performer who has taken his anti-bullying assemblies across the country to more than 200 schools. West has partnered with the Secret Mean Stinks anti-bullying program to bring together the joint missions of ending bully behavior.
The 60 minute-long program combined West's pop-culture inspired videos, ("Never Ever" Bully Prevention Music Video) music, providing powerful and thought-provoking motivational messages that engage students and help them take ownership of bringing an end to bullying at their school and among their friends.
6th grade Grandview students made signs to welcome West as well as a banner to run through.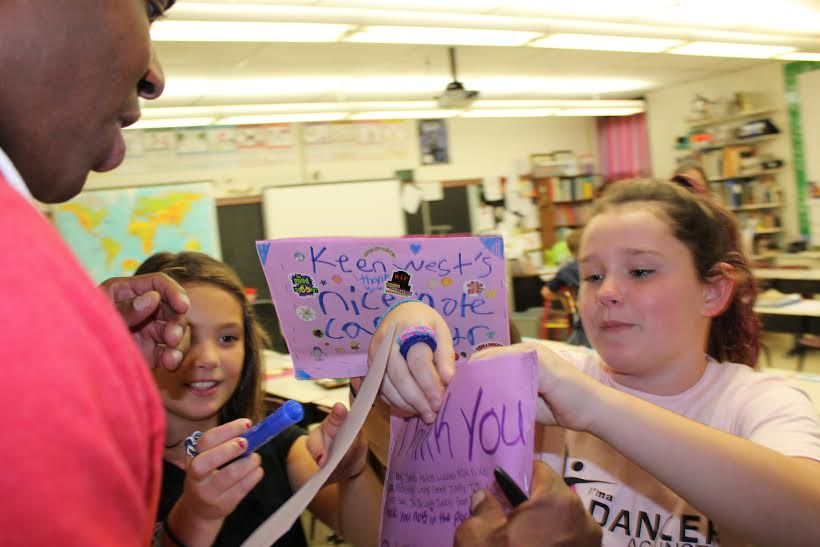 Students sang Never Ever with him and some students (and teachers) even had the courage to dance with him. West said that he loved the energy and excitement at Grandview and stayed after his performance and visited classrooms, talked to students, gave autographs, took pictures and even sang happy birthday to a 3rd grade student. He encouraged 6th grade students to be role models for the school and taking the courage to stand out.
West stayed after school to get a picture with the Grandview Girls on the Run and even had time to sit and talk about gossiping and played a game of telephone and discussed the hurtful things gossip can do. Secret Mean Stinks, supports Girls on the Run International. 6th grade students Anna Bishop along with Mia Bell had the courage to take a stand and sing a song about using one's voice, about being a friend the following morning over the announcements to the whole school. The song was written in collaboration by Anna Bishop and her brother Jeffery Bishop in 3rd grade. 
From Bellevue Independent Schools