Holy Cross Building Celebrates Centennial
Wed, 10/22/2014 - 07:03
RCN Newsdesk
The Holy Cross Elementary School building in Latonia turned 100 years old this year, and to commemorate, students and faculty have made a number of crafts and celebratory activities.
There are many items of historic memorabilia within the hallways of the school, including pictures of the first class at the school, a first-communion dress from 1940, lots of old year books, and letterman patches of old Holy Cross jackets.
Students were asked to draw themselves at 100 years old and many even made up a bucket-list of things they would like to do in their lifetime, like ride the Beast roller coaster or live in Ohio. The school had a mini-parade around the block where they made floats on wagons. The school intends on having a more formal celebration on its grounds with city officials on hand to commemorate the occasion.
There was actually a previous school building on the same site that was much smaller, but was torn down to make way for the existing building that eventually also became too small for the student enrollment and forced the high-school building to be erected. Latonia was then called Milldale in those days and also had hotels on today's school grounds to accommodate travelers of the nearby railroad junction.
Aside from occasional drainage issues that many structures in Latonia must deal with, the building is doing well for its age. The cellar-like basement, the old boiler and radiators and the original coat closets are all glimpses into its rich history. Holy Cross is proud to still be a functioning school after all these years.
At a Covington City Commission meeting in September, the building's birthday was recognized. The city's strategic projects manager Natalie Gardner is a gradate of the school and her family is very connected to the institution.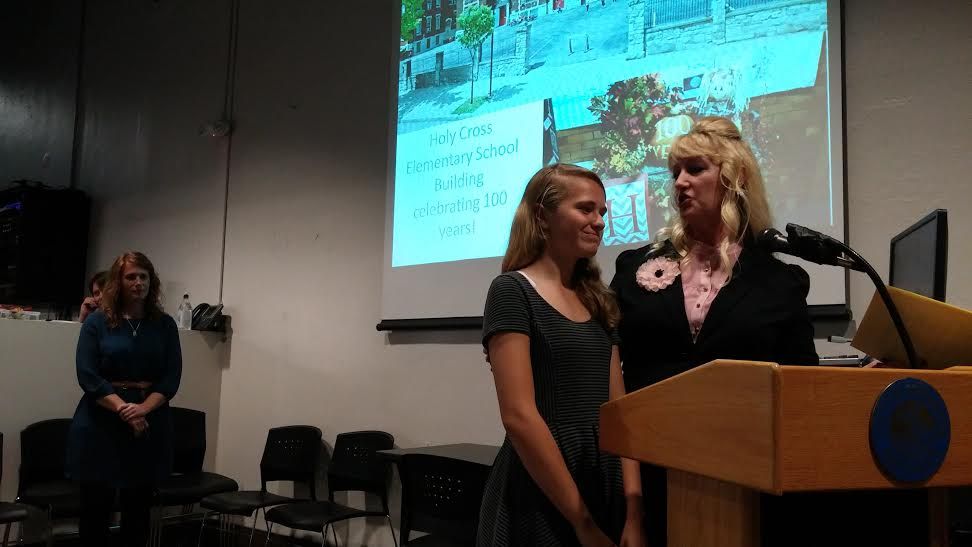 Andi Gardner (R) and Alexia Davis at podium as Natalie Gardner watches/RCN
"I was nine years old in the fourth grade, and talking to a friend instead of doing work," said Gardner. "I got caleld to the front of the room to get a note sent home to my father for him to sign. It was my mom who gave me the note because she was my fourth grade teacher."
"That story embodies Holy Cross. It is a small Catholic school. It is a gem of Covington, in general and it is definitely a family atmosphere. Teacher Andi Gardner, Natalie's mom and Devou Park Ranger Jim Gardner's wife, recited a poem with seventh grade student Alexia Davis.

Holy Cross is rich in history, it's like one big happy family
The school was built so long ago, the year was 1914, you know
The Benedictine Sisters gave us our start, they molded and guided with all their heart
Many kids and teachers have since come and gone, but they lit a torch that will carry on
We don't just learn things like science and reading, we also learn life skills that we'll be needing
Like how to get noticed for all the right ways, and how to carry on on the toughest of days
Faith and love shall remain strong at Holy Cross, with Miss Matts as our principal and Jesus as her boss
Our building turning 100 is worthy of commemoration, and all year our school will join in the celebration
So in conclusion we thank the mayor and commission for honoring our school and our tradition
Written by Bryan Burke, associate editor
(Michael Monks contribued)

Photos: