New Taylor Mill Street Named and Dedicated
Wed, 10/22/2014 - 07:11
RCN Newsdesk
Gary E. Holland, Jr, was given an honor Tuesday afternoon that hasn't been afforded to 
many in the city of Taylor Mill. A brand new street was named after Holland, and that dedication 
took place with a good amount of Holland's family looking on with pride.
"Today the City of Taylor Mill's Commission, Roger Reis, Ed Kuehne, Debby Kreimborg, 
and Dan Murray voted unanimously to name the first street in the Districts of Taylor Mill for a 
person who really qualifies in all the categories that matter," said Taylor Mill Mayor Daniel Bell. 
"There are many different reasons why streets, bridges, buildings, and highways are named after 
people. It may be the philanthropy of giving or donating property, giving your time to a special 
charity, or personal service to an organization, school or community. Maybe it is just having 
enough confidence in a community vision to invest the hard earned dollars from his own 
business. Gary Holland is all of those reasons."
With that, Mayor Bell read a proclamation listing the accomplishments and accolades 
attributed to Holland, and then presented the plaque to him. Not missing a beat, Mayor Bell then 
presented Holland with a key to the city, mentioning to all that Holland had joined a very elite club 
of people who possess a key to the city. Then it was Holland's turn, and he wasn't speechless, 
but it seemed that much of his prepared speech had already been spoken.
"This is a great honor, one I was not expecting," Gary Holland said. "I just wanted to be a 
big part of Taylor Mill's growth. It was the Commission's idea to name the street after me—I 
actually tried to talk them out of it. I am excited about the growth; the planning and zoning is in 
place and this will be a
walkable
city. This is a game changer, and we get to be the ones to kick it 
off."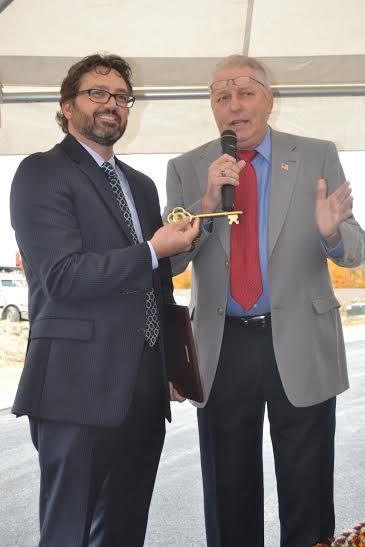 Holland (left) and Bell
Holland grew up in Independence, attending Twenhofel middle school and Simon Kenton 
high school, but he considered Taylor Mill a natural extension of his hometown. He grew up to be 
a co­-owner of Holland ­Rosen Restaurant group which started with one restaurant and five 
employees and has grown it to seventeen restaurants and 1,000 employees. The restaurant group includes 
La Rosa's, Skyline Chili, and First Watch locations.
Currently, the huge three story building under 
construction next to the new Holland Drive is a ten million dollar development project anchoring 
the new Districts of Taylor Mill. Called the
Trifecta
, the new building will house a La Rosa's, a 
Skyline Chili, and a
Graeter's
ice cream and bakery on the first floor, and the third floor will be 
home to Holland Rosen's corporate offices, as well as the Golf Exchange, leaving 7,000 square 
feet for lease. It is no wonder the city is very excited about the start of this project coming into reality.
"It's ironic, but on September 17, 2013, I stood here with Buddy LaRosa, and we had a 
groundbreaking ceremony for this building on my left," said Mayor Bell. "I stated then that Taylor 
Mill was beginning an economic development journey that will enhance the city and the 
surrounding area. A year and a month later that development is becoming a reality. I am very 
pleased. And this is part of a 25-year plan, so the rest of the development keeps going on."
"I am glad to see the planning is coming together," said Commissioner Ed Kuehne. "I am 
looking forward to the next few years."
"This is a proud day," said Commissioner Dan Murray. "I have been here 31 years and I 
have never seen a building like this in our city. It is fantastic, and I am very proud."
Mayor Bell had a few more words before summing up the ceremony with a handshake 
and a hug for Holland.
"A lot of things went into our choice to name this street for Gary," said Bell. "It is not just 
that he put a building in our city. He is a success because he never stopped listening to the 
people around him, and learning from his mentors and helping people and institutions. He is an 
entrepreneur who is always giving back to the community from which he came. You can't get 
more Kenton County than that. He is a first class guy."
"I want to thank my wife, Heidi, and my kids, Drew, Mitch and Katie, and Charlie Deters, 
who is my mentor, but couldn't be here today," said Holland with emotion. "I want to thank my 
customers, and my managers and employees. This street should be named team Holland, 
because it has been a joint effort. When I set out, I wanted to create a company I could be proud 
of, and take care of my customers. Seven years ago, I woke up and realized I couldn't believe I 
was living this life. Now I have been given an honor I am having trouble believing. I know I will 
chuckle to myself every time I drive past the sign. The city has been great to work with, and I feel 
very good about this."
Follow The River City News on Facebook, Twitter, or email us!
Story & photos by Patricia A. Scheyer, RCN contributor