These Photos of Dogs and Children in Halloween Costumes Will Greatly Improve Your Monday
Mon, 10/27/2014 - 06:42
RCN Newsdesk
On a perfect Sunday in autumn, Goebel Park went to the dogs as costumed pups flocked to Covington's Mainstrasse Village for the annual Pawrade.
The neighborhood was hopping amid the perfect weather and the monthly antiques bazaar on the promenade and a visit from US Senate candidate Alison Lundergan Grimes.
Linus, a one-year-old Shih Tzu, is ready for the 13th annual Pawrade at Mainstrasse in Covington Sunday with his owners, Sherry and Greg Walters from Edgewood.
Princess Mia, a long haired Chihuahua belonging to Sandi Stonebraker, owner of Stoney's Gift and Toy Shoppe in Mainstrasse, visits the Pawrade with her friend, Tracey Kidd.
Princess Mia, a long haired Chihuahua, makes friends with seven-year-old Lily Witsken of Cincinnati before the Pawrade Sunday.
pic four--Erika Gay, of Pleasantville, Kentucky, dressed her dogs for a visit to the Pawrade Sunday.
Heidi, a two-year-old Rottweiler, came as a she-devil, and Little Bit, a five-year-old Rottweiler chose a witch costume like her owner.
Batman and Robin appeared at the Pawrade on Sunday. Batman, alias Zeus, is a 1 1/2 year old Doberman, and Robin, alias Kimber, a one-year-old German short-haired Pointer, both belong to Megan and Cory Tackett of Pleasant Ridge, Cincinnati.
Eddie, a Yorkie-Shih Tzu mix belonging to Alison Gray of Erlanger, decided to change genders for the day and went to the Pawrade Sunday as Miss Piggy.
Cheryl Darr, dressed as Minnie Mouse, came with Mickey, a five-year-old Cavapoo belonging to Roseanne Klahm of Cincinnati. But another Minnie came, five-year-old Molly, a Cavashon belonging to Sharon Lawrence of Cincinnati. Added to the group is Jalon Steele, 6, dressed as Captain America, from Mt Washington.
Jalon Steele, 6 of Mt Washington, holds Mickey Mouse, belonging to Roseanne Klahm of Cincinnati.
Molly, alias Minnie mouse, belonging to Sharon Lawrence of Cincinnati, makes friends with Natalie Colonel, 3 of Covington during the Pawrade at Mainstrasse Sunday.
Liam Blanton, 2 1/2, of Ft. Thomas, hugs his dog Buddha, a five-year-old Shih Tzu dressed as a motor Mutt for the Costume Pawrade Sunday.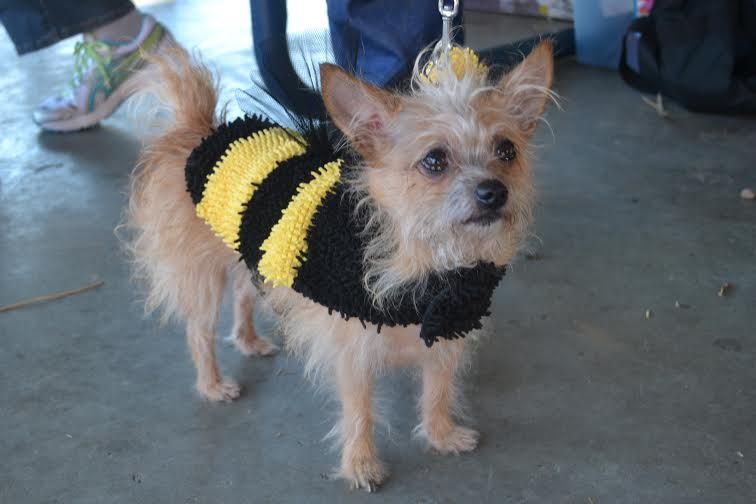 Lilly, a Chihuahua mix belonging to Annette Henkel of Oxford, Ohio, is ready to start the parade at the Pawrade on Mainstrasse Sunday.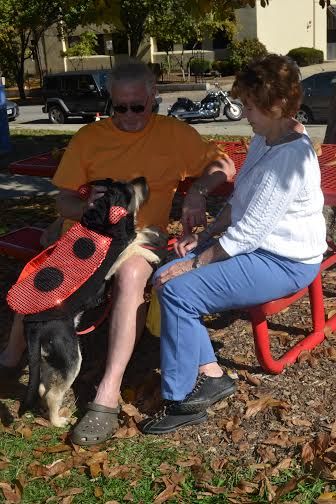 Brady, a three year old shelter dog dressed as a ladybug, is in seventh heaven getting attention from his owner, Debbie Ball of Highland Heights.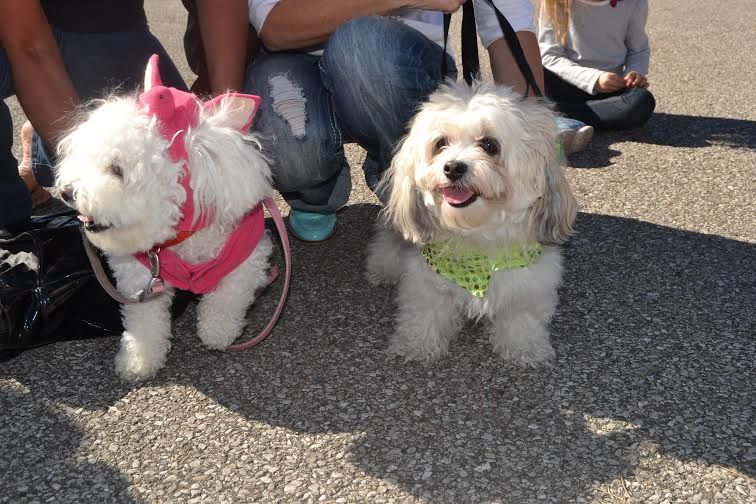 Macy, a 6 year old Bishon, belonging to Dawn Riegling of Hebron, is dressed as a pig for the Pawrade, and Abbey, a 6 year old Bishon-shih Tzu, belonging to Lisa Cain of Covedale in Cincinnati is sporting a mermaid costume
Stacey Phillips of West Harrison, Indiana, brought Zoe, a two-year-old Pug, to the pawrade dressed as the Yellow Submarine.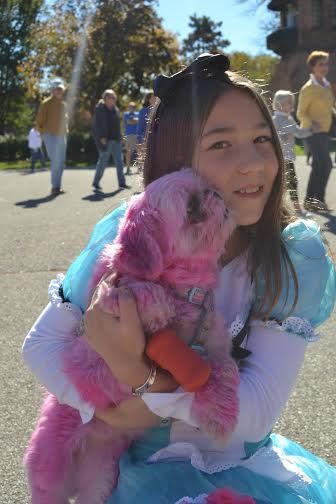 Neve Slurkish, 10 of Ft Mitchell dressed as the Queen of Hearts and brought her beloved dog Vivi, a shih Tzu-Pekinese mix as the Cheshire cat, although she turned out a little more pink than purple.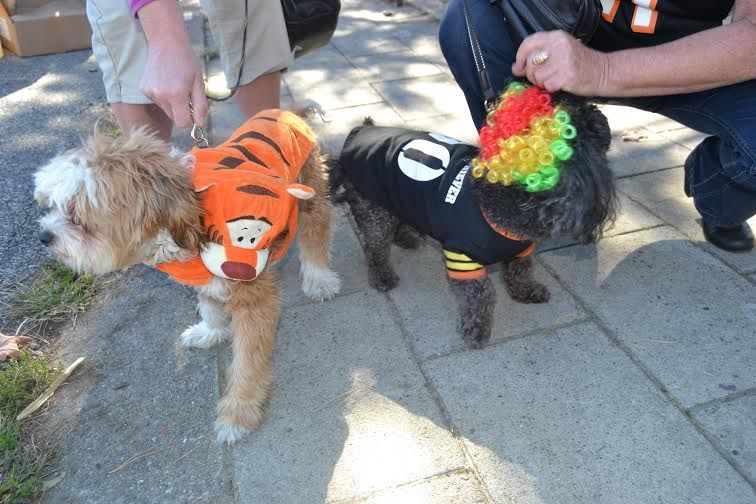 Tigger, alias Jackie, is an 8 month old Chinese Crested belonging to Vanessa Dean of Lawrence, Indiana, and also Brutus, a poodle belonging to Vicki Shipley of Newport, who attended the pawrade as an ultimate fan.
Jenson Wolf, 2 months, of Taylor Mill, the son of one of the volunteers, takes it easy during the Pawrade because he knows this is all about the dogs.
Fezik, a one-year-old Anatolian mix belonging to Mike Stenger of Cincinnati came to the Pawrade as himself Sunday.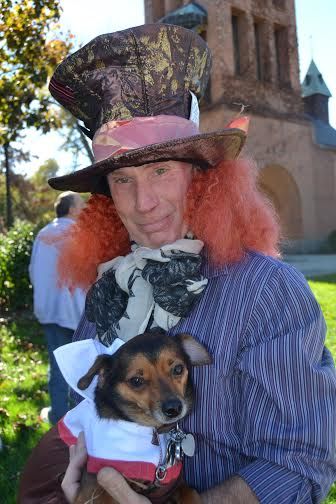 Jack, a three-year-old Chi-Weenie, belonging to the Mad Hatter, Dan Creed of Old Seminary Square, came to the pawrade dressed as a tootsie roll.
Bennie, a one-year-old long haired Chihuahua, belonging to Julie Creed, is dressed as candy corn for he pawrade Sunday. 
Miley, a year old maltipoo dressed as Minnie mouse, had her owner, Clara Stryker of Covington, dress as Minnie, also. 
Looking like bookends,or an old married couple, Grace, 4 and Bogie,3, Giant Schnauzers belonging to John Neeb of Amberly Ohio  wait for the pawrade to begin.
Photos & text by Patricia A. Scheyer, RCN contributor