In Dayton Schools, Students Honored and Attendance Improves
Tue, 10/28/2014 - 17:34
RCN Newsdesk
The audience for the regular Dayton School Board swelled to standing room only as 
parents and relatives came to the meeting Wednesday night to see their child recognized for 
being a student of the month. Elementary Assistant Principal, Heather
Dragan
, announced the 
names and one by one the children came up to the front of the room holding their certificates.
Superintendent Jay Brewer congratulated all the students, who ranged from those in kindergarten 
to seniors in high school, and they all received a round of applause.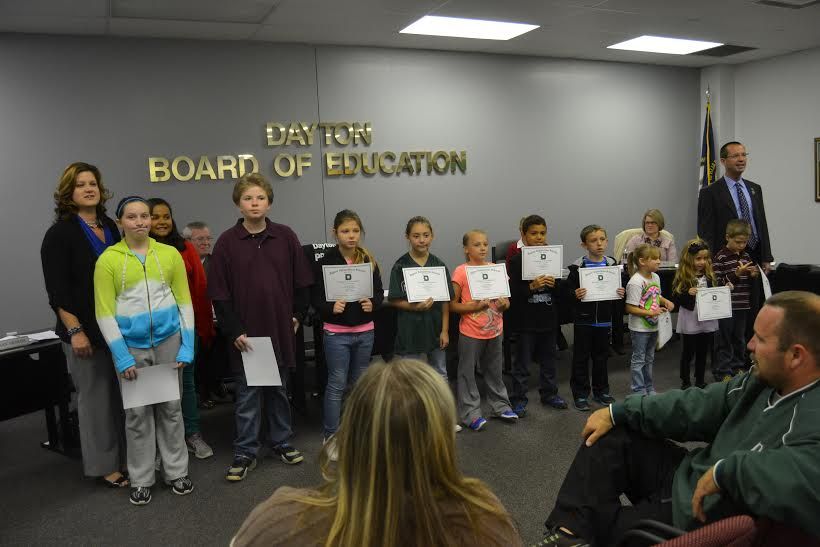 Testing done in the schools to measure how the students are doing was discussed by 
the board after the principals gave their reports.
"The Explore program, which is 8
th
 graders, had the best scores we have seen in five
years, and maybe more but we only went back five years," said Jay Brewer, Superintendent of the 
Dayton Schools. "The ACT and Plan programs were down a little but not bad. We have made 
adjustments in our staff, our course work and throughout the schedules. These are all college 
ready indicators."
Attendance for the second month of school was reportedly up from last year, from 840 
last year to 895 this year.
The board voted to install a company called Completely Clean to clean the schools 
starting next year. Apparently the company has had a good review from Southgate schools, and 
Dayton schools need the help. This will not eliminate any housekeeping positions that are already 
in the schools.
A unanimous yes vote was also given to a revision of one of the food policy rules which 
allow students to be rewarded by food. It has been observed that food is a good vehicle of 
recognition, but the board agreed that if there were pancake breakfasts, or meals that were 
rewards, they would have to be held off campus.
Story & photos by Patricia A. Scheyer, RCN contributor