This Will Be the Most High Tech Cabin from the 1850s You'll Find Around Here
Tue, 10/28/2014 - 11:14
RCN Newsdesk
Atop a hill near a busy entrance to the Northern Kentucky University campus stands an 1850s log cabin given to the university library decades ago by Kentucky's Gosney family.
The cabin, moved from Grants Lick to A.J. Jolly Park before it was gifted to NKU, was placed on campus by the university's former president Dr. W. Frank Steely. It is a symbol of how far education has come in Kentucky, from a one-room school house to a major university.
Since the cabin's campus arrival in the late 1970s, not much has been done with it. That's about to change. The historic cabin is being restored, with a techy twist. It will be equipped with modern necessities like Wi-Fi so it can be used as a learning center.
Dr. Brian Hackett, director of the Masters in Public History Program at NKU, leads the cabin project, and said he sees the building's transformation as a link between history and modern day.
"In the past, on first day of school, I would always take my museum management students out to the cabin and ask them, 'What would you do if someone suddenly handed you this cabin,'" he explains.  "The building was in rough shape. I knew if we didn't do something, it would fall apart."
To keep the cabin somewhat authentic, he hopes to put in some primitive lighting and an electric stove for heat.
"We want the building to be restored to what it looked like in the 1850s. It needs to have proper windows, the correct door and the right steps," said Hackett. "But we also want to make the grounds as useable as possible, to let students truly use the cabin as a center for learning."
The students and staff at NKU understand that modern technology greatly aids learning, so the cabin will be equipped with Wi-Fi and other modern-day learning technology.
As with many projects at NKU, the cabin brings together many different departments and fields of study. The Ecological Stewardship Initiative (ESI) group and students in the Masters in Public History program helped put together plans for the cabin's transformation. The NKU carpentry department is running electricity to the cabin and building the windows and doors.
Students in biology, history, English, and the arts will use the building as a natural living laboratory. The structure will provide a place for inspiration and learning.
Hackett said he has noticed that students working on the restoration project are surprised about the amount of work involved in restoring this piece of Kentucky history. It is obvious to him that the students take pride in knowing that the building they're putting hard work into will stand long after they're gone.
"The cabin has really given the students a sense of pride," he said. "You've got students working on their master's degrees in history out there getting dirty, chipping, and hammering. Students are already getting so much out of working on the cabin, and the project will not be completed until early next spring."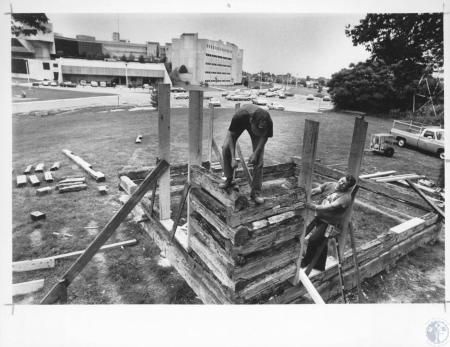 Cabin being reconstructed after its move from AJ Jolly Park
Hackett said he believes that just because society has these technical tools, it doesn't mean learning automatically takes place. He sees that education today has many distractions, and the cabin is a way to be closer to the roots of learning.
"It's interesting how learning works. The way people learn has not changed, but the tools that allow people to learn have changed," said Hackett. "With internet and Wi-Fi, we have more access to information than we've ever had before."
The cabin is not intended to be a permanent classroom, but a place classes can go to learn in nature. NKU has always had a strong interest in the environment and being green, and the cabin will reflect this.
"We know that the use of technology in the cabin will bring people together, since there will be a lot more sharing than in a conventional classroom," Hackett said.
By blending, history, nature, communication, and technology, the cabin will provide an unconventional, unique learning facility for NKU students.
"The tools you need to synthesis and understand knowledge are the same," he said. "People still learn the same, through observation, by doing and having discussions. That's where the cabin comes in, learning will happen there. And technology will augment that, just like it does in any classroom at our university."
From Northern Kentucky University
Photos via Kenton County Public Library's Faces & Places page