Deer Herd Expanding Significantly in Kentucky's Urban, Suburban Areas
Thu, 10/30/2014 - 07:05
RCN Newsdesk
A generation ago there were very few white-tailed deer in Kentucky's Bluegrass Region.
Today, deer populations in some counties in the region are higher than management objectives, despite a gradual lengthening of hunting seasons and liberalizations of bag limits through the decades.
Today, the state is divided into four deer management zones. Each county is assigned a zone status. Basically, the management goals are: Zone 1, herd reduction; Zone 2, keep herds at present population levels; Zone 3, slow herd growth; and Zone 4, maximum herd growth.
In the fall 2014 issue of Kentucky Afield magazine, published by the Kentucky Department of Fish and Wildlife Resources, deer program biologist David Yancy said despite last winter's prolonged cold "fawn survival should be comparable" to past years.
Department deer biologists have been saying for years that the state's deer herd numbers about 1 million, but there is strong anecdotal evidence that deer herds are expanding significantly in some counties.
Hunters kill more bucks than does. Without the continued aggressive harvest of antlerless deer, the reproductive component of herds, deer numbers will increase. That's basic biology. Deer have a high reproductive potential in good habitat.
Overall, hunters have taken a higher percentage of bucks than does for the past six seasons, including 53.8 percent bucks and 46.2 percent does last season. These skewed numbers are partly because hunters in Zone 3 and Zone 4 counties have limited opportunities to take antlerless deer with firearms. The good news is in some Zone 1 counties in Central Kentucky, more does than bucks are being taken by hunters, but there needs to be even more hunting pressure on does to stabilize herds.
The gap between the counties — the haves and the have-nots — appears to be widening, with deer herds in the Zone 1 counties near urban/suburban areas prospering.
Jefferson County is a good example. Deer harvest has increased dramatically through the decades, primarily from hunting in the rural parts of the county: 24 deer taken in 1983, 712 deer taken in 1993, 860 deer taken in 2003, and 1,375 deer taken in 2013. But, because metropolitan Louisville has so many big urban parks and fertile bottomland along the Ohio River, deer herds are booming.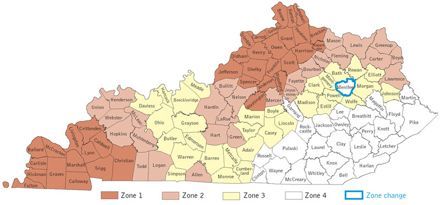 Kentucky's deer hunting zones for the 2014-15 season (Map from Kentucky Department of Fish & Wildlife Resources)
Urban/suburban deer hotspots in the county include: Valley Station, Fairdale, Fern Creek, Indian Hills, Anchorage and Pewee Valley, on the Oldham County line.
In Northern Kentucky, urban/suburban deer herds have also boomed. Campbell County's deer harvest jumped from 64 deer taken in 1983, 449 deer taken in 1993, 860 deer taken in 2003, to 1,263 deer taken in 2013. In neighboring Boone County, 2,138 deer were killed by hunters last season.
Concerns about high deer numbers, and all the fallout — damage to landscaping and backyard vegetable gardens, automobile/deer collisions and the possibility of contracting Lyme disease from tick bites — prompted the city of Ft. Thomas in Campbell County to create an urban deer hunting program, utilizing archers to take deer in areas where firearms hunting wasn't possible.
"In Boone, Kenton and Campbell counties there's been a large number of houses built on two- to three-acre wooded lots," said Clay Smitson a private lands wildlife biologist with the Kentucky Department of Fish and Wildlife Resources, who works a strip of nine north-central Kentucky counties along I-75 between Lexington and the Cincinnati-Northern Kentucky.
"In towns like Hebron and Covington, a wide riparian forest along the Ohio River puts deer right in peoples' backyards."
The Fort Thomas City Council recognized that a growing deer herd compromised public safety, posed a nuisance to homeowners and dramatically impacted small urban forests. So on Dec. 17, 2007 they voted to allow the discharge of arrows from bows and crossbows. This action cleared the way for deer hunting within the city limits under a strict set of guidelines. Hunting began during the winter of 2007-08. They also enacted a ban on feeding deer.
The program included some commonsense rules and regulations such as setting limits on the hours and days when archery hunting is allowed, establishing a minimum acreage where hunting could take place, designating areas that are closed to hunting, proper location of field dressing of deer and disposal of waste, and carcass transportation through the city.
Deer/automobile collisions continue to be a problem, especially in counties with larger cities, and fast traffic on busy roadways. The five-year peak of deer/automobile collisions in Kentucky was in 2010, when there were 3,118 accidents reported, with four human fatalities and 169 injuries.
The Kentucky State Police reported that about 47 percent of all deer/automobile collisions occurred during the months of October, November and December. The five-year average of urban/suburban counties with the most deer/automobile collisions included: Boone, 154, Campbell, 103, Jefferson, 100, Franklin, 73 and Shelby, 53.
To get more details on deer/automobile collisions visit the Kentucky State Police website.
One of five physiographic regions in Kentucky, the Bluegrass Region is divided into two sub-regions — the Inner and Outer Bluegrass. There are about 15 counties at the heart of the region, bounded roughly on the north by Harrison County, on the east by Bourbon County, on the south by Mercer County and on the west by Woodford County.
Kentucky's physiographic regions (Map provided)
Many of the Inner Bluegrass counties have limited deer habitat, but due to high soil fertility and changing agricultural uses, deer populations have steadily grown in recent decades. Consider this deer harvest data, obtained from the Kentucky Department of Fish and Wildlife Resources, on five selected counties:
Bourbon County: Two deer taken in 1983, 46 deer taken in 1993, 189 deer taken in 2003 and 259 deer in 2013.
Fayette County: No deer taken in 1983, 16 deer taken in 1993, 150 deer taken in 2003 and 261 deer in 2013.
Harrison County: 131 deer taken in 1983, 494 deer taken in 1993, 1, 125 deer taken in 2003 and 1,731 deer in 2013.
Mercer County: 83 deer taken in 1983, 372 deer taken in 1993, 733 deer taken in 2003 and 964 deer in 2013.
Woodford County: 53 deer taken in 1983, 450 deer taken in 1993, 499 deer taken in 2003, and 700 deer in 2013.
The counties to the north and west of Lexington, particularly the counties of Kentucky's so-called Golden Triangle between Louisville, Lexington and the southern suburbs of Cincinnati, have had the state's densest deer herds for at least 25 years. This region is often referred to as the "Hills of the Bluegrass." This season, all the counties in Golden Triangle are Zone 1 counties, except Fayette County, which is a Zone 2.
"North-central Kentucky was one of the first areas in the state to have dense deer herds, and quality hunting," said John Phillips, who was deer biologist for the Kentucky Department of Fish and Wildlife Resources for 20 years, during the later stages of deer restoration. "When I became deer biologist in 1979 deer herds had already been restored throughout the Golden Triangle counties, but populations were low."
But it didn't take long for that to change. Phillips attributes the rapid growth of deer herds in the region to quality habitat. "The limestone soils are fairly fertile, and the timber had lots of vegetation in the understory. There was plenty of food for deer."
From 1979 to 1985, the combined deer harvest of 16 northern Kentucky counties jumped from 1,002 to 6,554, which represented 21.79 percent of the state's total harvest of 30,075 deer.
Word traveled fast about the region's big deer herds and excellent hunting.
Owen County was, and still is, in a class by itself. The meteoric rise in deer harvest is difficult to comprehend.
In just six years, between 1979 and 1985, the deer harvest rocketed from 193 to 1,645. By 1999, at the end of Phillips' two decades as deer biologist, the harvest had grown to 2,814. More than 3,000 deer have been taken in Owen County every year since 2000, including a record 4,069 checked in last season.
Deer herds in Central Kentucky's Inner and Outer Bluegrass Region will continue to grow in upcoming years, despite a growing human population and changes in land use. Deer are adaptable and will thrive wherever they can find food and cover.
Perhaps now is the time for the Kentucky Department of Fish and Wildlife Resources to consider creating an urban/suburban deer biologist to coordinate efforts to hunt deer that live in close proximity to homes and businesses. And possibly establish a late firearms season for antlerless only deer in the Zone 1 counties, where firearms hunting is safe and possible.
Art Lander Jr. is outdoors editor for KyForward. He is a native Kentuckian, a graduate of Western Kentucky University and a life-long hunter, angler, gardener and nature enthusiast. He has worked as a newspaper columnist, magazine journalist and author and is a former staff writer for Kentucky Afield Magazine, editor of the annual Kentucky Hunting & Trapping Guide and Kentucky Spring Hunting Guide, and co-writer of the Kentucky Afield Outdoors newspaper column.
To read more from Art Lander, click here.