With No Horse Racing Reference Forgone, Hillary Clinton Rallies at NKU for Grimes
Sat, 11/01/2014 - 16:21
RCN Newsdesk
"I love the idea of putting this Kentucky filly in the winner's circle."
Hillary Clinton stood on stage at Northern Kentucky University's Bank of Kentucky Center before 1,500 supporters of Democratic US Senate candidate Alison Lundergan Grimes, and urged the people of Kentucky to retire Republican Senator Mitch McConnell.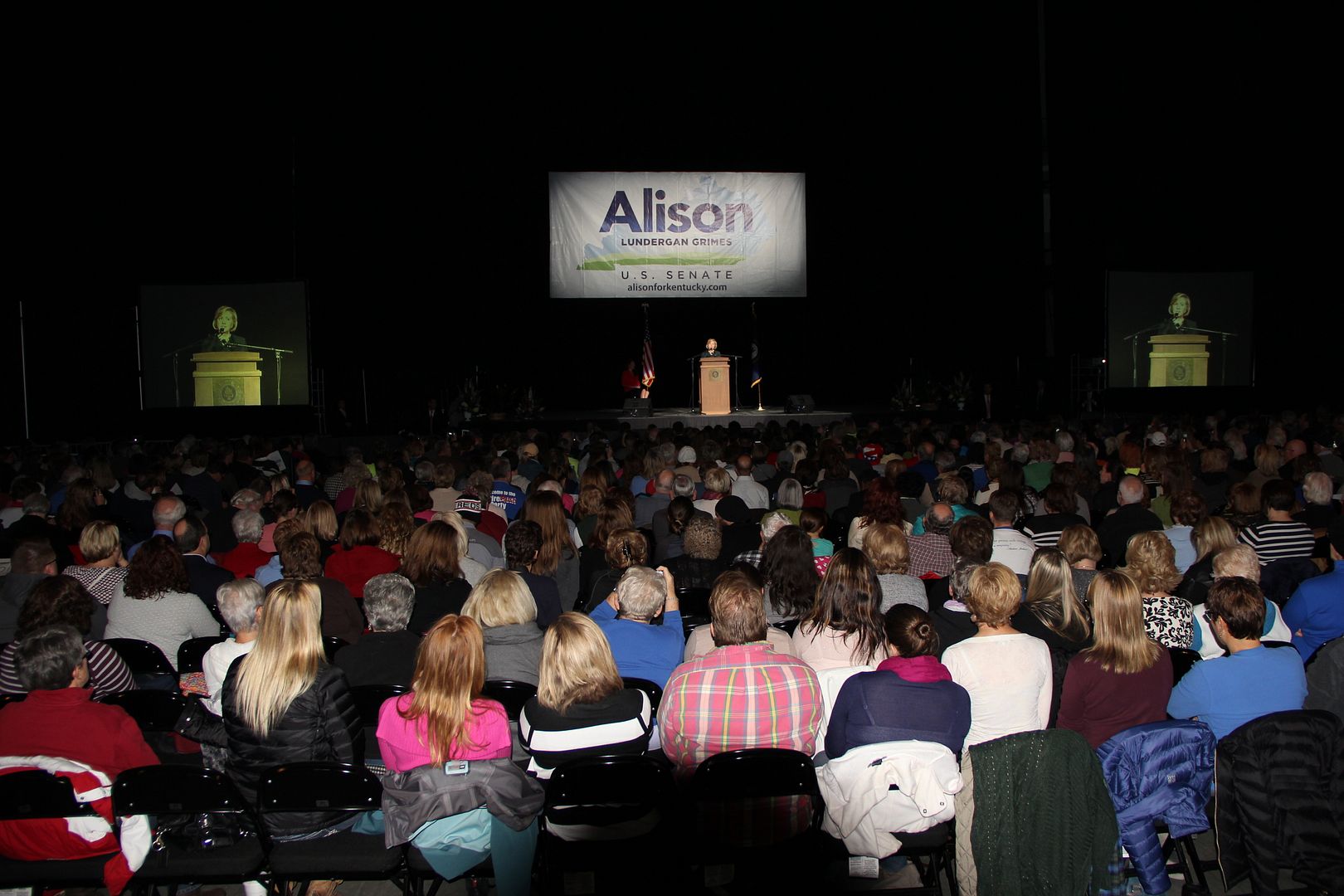 The former First Lady from Arkansas, US Senator from New York, and Secretary of State under President Barack Obama said that she watched Grimes grow up. The candidate's father is prominent Democratic supporter Jerry Lundergan. "Now the entire country is watching Kentucky," Clinton said. "The voters of Kentucky have a choice not just to send a message but to alter the course of politics and government."
Polls show McConnell and Grimes, Kentucky's Secretary of State, in a tight race, though the most recent one shows the six-term incumbent up five points, and both Grimes and Clinton seized upon every horse racing reference they could to describe the urgency of the campaign. "There is a lot at stake on Tuesday and this race is coming down to the wire," Clinton said.
"This Kentucky filly, I've got a lot of kick left in me, I'm ready to go," Grimes said. "(McConnell) keeps trying to take our garland of roses, are you gonna let him?" She urged her supporters to be "jockeys" on Election Day and ride her all the way to the winner's circle and to put McConnell "out to pasture".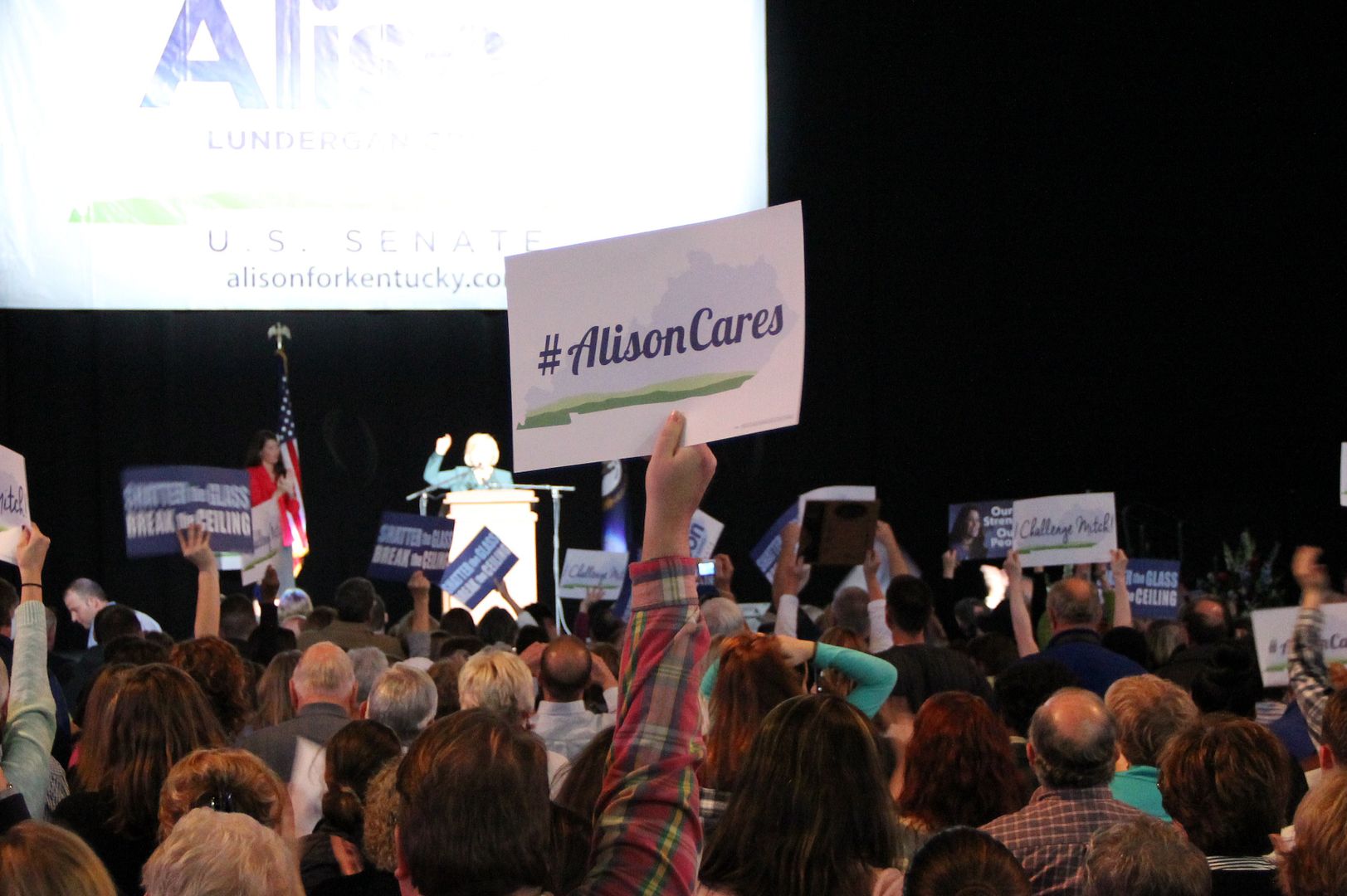 Other than the addition of Clinton, who also joined Grimes at a rally in Lexington afterwards, much of the message was the same: Grimes promises to find funding for the Brent Spence Bridge project without having to resort to tolls, she will fight to close the wage gap between the genders, she will campaign for an increase in the minimum wage, and she will seek to close corporate tax breaks for companies that ship jobs overseas.
Clinton was not the only Democrat to join Grimes on stage. State Rep. Arnold Simpson (D-Covington) welcome the crowd. "This is a pre-retirement party for someone who needs to come back to Kentucky," Simpson said of McConnell. He also said that he believes Grimes will deliver the funding for the estimated $2.6 billion Brent Spence Bridge project.
"How bad do you want to beat McConnell?," asked Attorney General Jack Conway, a candidate in next year's governor's race. "If you do your job for the next 72 hours, McConnell will be out of a job." Former Governor Martha Layne Collins, a frequent presence at Grimes rallies, also took the stage,
Then the current Governor Steve Beshear took over and blasted McConnell for wanting to repeal the federal Patient Protection and Affordable Care Act that made Kentucky's Medicaid expansion and affordable health insurance pool, kynect, possible. "If Mitch McConnell is reelected to the US Senate, he has promised to tear that health insurance out of the hands of 521,000 people, and we're not gonna let that happen," said Beshear, who was defeated by McConnell in 1996 for the seat up for grabs this year. "He has stood in the way of every progressive idea of the last thirty years."
McConnell was in Covington on Thursday, speaking before the Northern Kentucky Chamber of Commerce at the Metropolitan Club. On Saturday, Clinton was not the only possible 2016 presidential candidate in the area. Senator Rob Portman (R-OH) rallied for McConnell at Kenton County Republican Headquarters in Ft. Wright.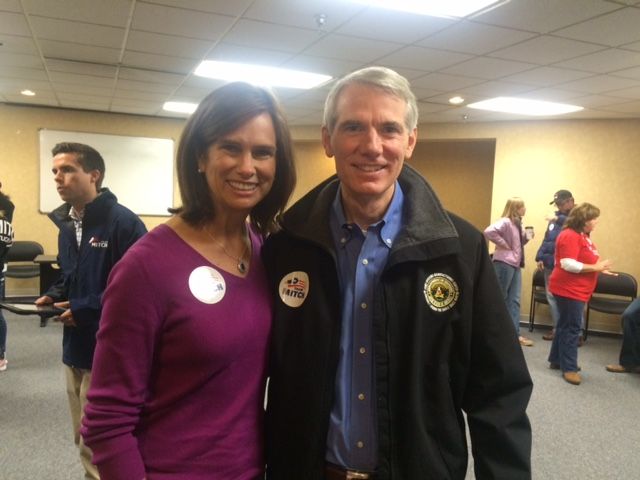 Rob & Jane Portman in Ft. Wright (by Rick Robinson)
"Alison Lundergan Grimes likes to compare herself to a ​race horse in her stump speech, but with multiple visits from the Clintons in the final days of her campaign, she might want to consider calling herself a one trick pony instead," said Republican Party of Kentucky spokesperson Kelsey Cooper, in a statement to The River City News.
McConnell has made the case that if he is sent back to DC and his Republican Party takes control of the Senate, he will no longer be the Minority Leader, but rather the Majority Leader, or, as he has put it repeatedly, the offensive coordinator instead of the defensive coordinator. Grimes said that McConnell is only campaigning for a bigger office while she is campaigning to give Kentuckians a bigger paycheck. "His seniority hasn't brought us much. It might be worth something if Mitch McConnell weren't for sale to the highest bidder," she said.
Clinton, who called Beshear "a model governor" and urged Kentucky to give him a partner in DC, began her closing with a question. "This election comes down to one question: Who is on your side?," Clinton asked the crowd. "Now is your chance to say no to the guardians of gridlock. Make the change we so desperately need."
"Kentucky's motto is 'United We Stand, Divided We Fall'. That is not just a slogan for Alison, that is a way of life," said Clinton, who expressed her happiness at recently becoming a grandmother. "You should not have to be the grandchild of a former Secretary of State or President to get the opportunities you deserve as an American."
Written by Michael Monks, editor & publisher of The River City News
Photos by Brian Frey, RCN photographer