I Miss Chez Nora at Election Time the Most
Mon, 11/03/2014 - 20:29
RCN Newsdesk
Boy, what I wouldn't do for a little premature Christmas music to pop on the jukebox right about now.
I'm prone to sentimentality and melancholy when the leaves start to change their colors and my heart becomes heavy with memories, maybe of high school or college, or a trip somewhere, or friends I don't know anymore.
But it was waiting for a traffic light to change color at the corner of Sixth & Main Streets that triggered a little reflective heartache a few days ago as I took in the dark building next to me.
It hit me like a towering pile of bricks: Tuesday will be the first Election Day without Chez Nora, that corner beehive of all things Covington politics, where no matter your stripes or persuasion, if you ever followed local elections, you saw many a fingernail bitten, many a drop of sweat wiped from many a brow, many a shot of nerve-calming bourbon, and many a display of congratulation and adulation as a victor emerged, or the sadness of a failed campaign.
Chez Nora closed in January after nearly two decades as the center of the universe. Eleven months later, the property remains empty, and dark in the evenings.
Who's gonna fill those shoes?
On any night, that bar was full of local who's-whos throwing back cocktails and spitting truths or telling lies, or performing some combination of the two.
Chez Nora was "the kitchen" to my friends and I, a place where we ate as often as four or five times a week, and always on Sunday morning. Being longtime residents of Mainstrasse Village and taking full advantage of the opportunities for revelry that come with that, Chez was always there the next day when the recovery would begin. Sunday brunch would find our table full of friends, laughter, and new faces depending on any individual's success out and about on Saturday night. Jim and Pati Gilliece were always warm hosts, and even joined in when we'd have fun at their expense as a Christmas music CD remained in the regular rotation on their jukebox for years.
It was always Christmas in July there. August, September, and October, too.
But the first Tuesday in November was really Christmas morning. If there was an election, you wanted to be there when the results started to roll in. Whatever happened locally on Election Day would be the catalyst for many conversations at the bar or over dinner at Chez Nora up to and through the next election.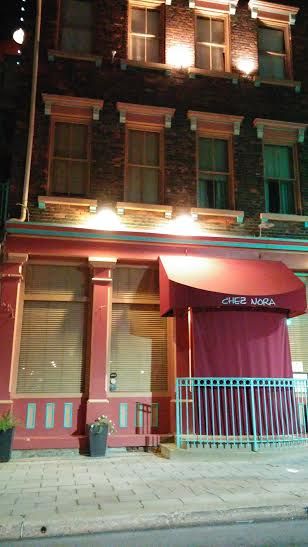 Eleven months ago I sat alone in Chez Nora's only booth, right next to the jukebox (recently upgraded to a digital system that no longer included the Christmas CD), and I snapped a picture with my phone. I wanted to take in the view and preserve it for safe keeping. That seat had become my favorite place to sit in all of Covington, and at that point, more often than not, I sat there by myself. Like leaves, people change their colors, fall and drift apart. Somehow I got a little older and don't much partake in Mainstrasse revelry anymore, at least not like I used to, and I moved out of the neighborhood in favor of a loft downtown.
But I was never alone at Chez Nora. No one was. The server, the bartender, Jim and Pati, the regulars, they were there with you. The day I took the picture from my seat in the booth, Jim and Pati invited me upstairs to their private office, which strangely I had never been to, and they told me that that would be their final day of operation. They wanted me to write the story, but I could hardly listen. I couldn't believe what I was hearing. Why don't you just close down the whole town!
Chez Nora closing? Oh, stop.
Yes, Chez Nora closed, and yes, through a tearful interview, I got a story out of it. And a lifetime of memories in just a handful of years. 
Now, as another Election Day nears, Covington will have to make do without its unofficial campaign headquarters, its universal watering hole where all political types were found. That upstairs patio with its striking view of the city, the bar, the restaurant, will be empty and dark on Tuesday night, just as it was as my car idled outside over the weekend. 
But if you listen closely enough, I bet you can still hear the faint sound of a Christmas song starting to play out of season, and a table full of hung over brunching boys having a laugh about it, and if you do, maybe take a moment to make a Christmas wish: Somebody get that place up and going again.
Covington is hungry and thirsty and in need of a good chat.
-Michael Monks, editor & publisher of The River City News - Facebook, Twitter, Email