Jackie Demaline: What's Hot at Local Theatres in November
Mon, 11/03/2014 - 19:05
RCN Newsdesk
The best of November on stage includes a couple of longtime favorites, but – yay! – it looks like a very 
good month for area premieres. Most from the last five years and there's love, love, love – family love,  
platonic love, romantic love, off-kilter
21st 
century love.
As always, the list is in chronological order, and my Top Pick just happens to come first:
Driving Miss Daisy 
Nov. 1-16. The Carnegie, 1028 Scott Blvd., Covington. 7:30 p.m. Friday and 
Saturday, 3 p.m. Sunday. Tickets are $25 adults, $18 students. 859-957-1940 and www.thecarnegie.com.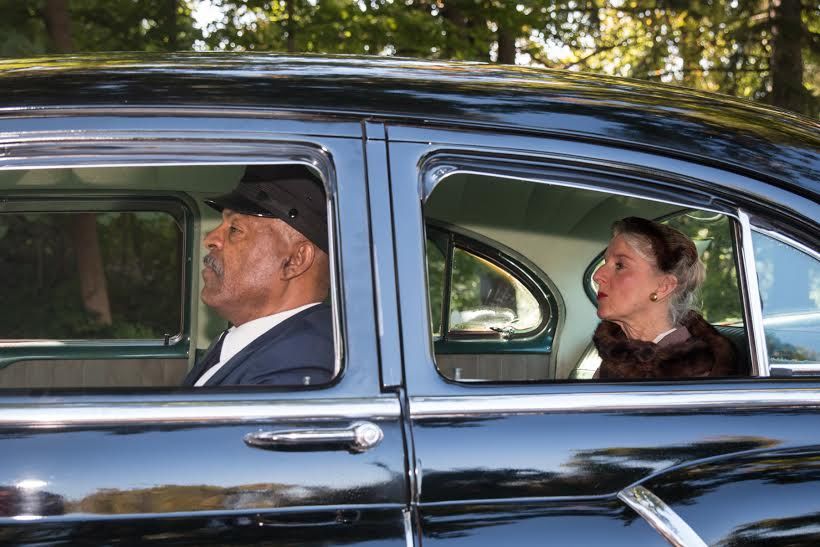 Favorite actress Dale Hodges makes her Carnegie debut in the title role, with talented co-stars Reggie
Willis and Randy Lee Bailey, directed by Mark
Lutwak
. 
Daisy
 promises to be a polished revival of a sometimes funny, sometimes tragic, always thoughtful
play about the 25-year, rarely easy relationship of snarky, elderly Jewish widow Daisy
Wertham
and her
African-American chauffeur in Atlanta, beginning post-WWII and continuing through the Civil Rights
movement. 
Speech and Debate, Nov. 6-8. CCM Drama, Cohen Family Studio, College-Conservatory of Music, 
University of Cincinnati. 8 p.m. Thursday and Friday, 2 & 8 p.m. Saturday. Free, but reservations  
required. Tickets can be reserved beginning 12 p.m. Nov. 3 at 513-556-4183. Adult themes,
recommended for mature audiences.
The regional premiere of a nationally acclaimed and delightfully subversive coming-of-age tale follows
the lives of three high school social pariahs as they try to make sense of themselves and the sobering
world they live in today.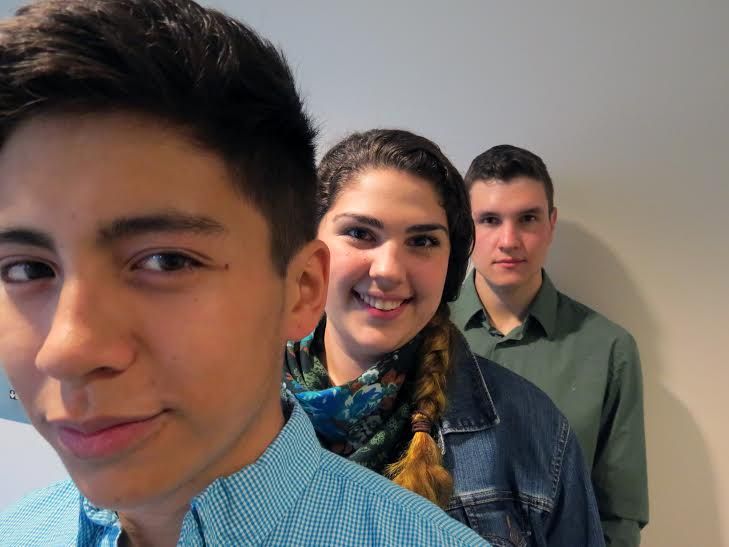 Ryan Garrett, Katie Langham and Owen Alderson. Photo by Richard Hess.
New York Times
: "A triumph...hilarious, cliché-free, and immensely entertaining... Stephen Karam's 
dark comedy seems to be about a frumpy girl, a nerdy guy and an openly gay guy who band together 
to disclose the truth about a teacher who preys on his male students. But that topical plot is almost 
window dressing. The play's real accomplishment is its picture of the borderland between late 
adolescence and adulthood, where grown-up ideas and ambition coexist with childish will and bravado."
All New People, Nov. 7-30. Untethered Theater, Clifton Performance Theatre, 404 Clifton Ave., 
Clifton. Check performance dates and times, they change week to week. Tickets: 513-939-0599 and
https://cpt.tixato.com/buy/. For more information: Click Here
Written by Zach Braff (yup, the TV star, movie director/actor/screenwriter of
Garden State
 and more)
and directed by Jared
Doren
, whose work is always worth your time. At the Jersey Shore, Charlie's
birthday first goes wrong when Emma stumbles in, disrupting his suicide attempt. Emma, Myron and
Kim
throw
Charlie a party to convince him to keep living. They all learn everyone is running from
something, but, in the end, life is what you make it. 
New York Times
: "'
All New People
' may be seriously contrived in its mechanical assemblage of 
characters brought together for a day of drinking, drugging and, eventually, needlepoint-worthy lessons
in learning to connect, but it's consistently and sometimes sensationally funny."
Peter Pan, Nov. 7-9. Cincinnati Ballet, Aronoff Center for the Arts, 650 Walnut St. Downtown 
Cincinnati. Tickets $32-$100. 513-621-5282.
Peter and Wendy, the Darling Family, Nana the dog, The
Lost Boys, Tiger Lily, the pirate Captain Hook and his mortal enemy, a
tick-tocking
Crocodile who can
also
boogaloo
. There's plenty of swashbuckling and, of course, flying, too, all set to an original score by
Cincinnati Ballet Music Director
Carmon
DeLeone
.
Once
, Nov. 11-23. Procter & Gamble Hall, Aronoff Center for the Arts, 650 Walnut St.,Downtown 
Cincinnati. Tickets: $29 and up. 513-621-2787 or www.cincinnatiarts.org.
Based on the 2006 film, The Tony and Grammy award-winning musical is the wistful romance of a Guy, 
a Dublin street musician who's about to give up on his dream and a Girl, who takes a sudden interest in
his haunting love songs. The chemistry heats up, so does his music, but of course Guy and Girl are both 
involved with other people. More or less. The ensemble of actors play their own instruments on stage. 
New York Times
: "'Once' uses song and dance in a way I've never experienced in an American musical 
(even if its sound will be familiar to alternative radio listeners): to convey a beautiful shimmer of might-
have-been regret... What lends a special, tickling poignancy to Mr.
Hansard
and Ms.
Irglova's
songs is 
their acceptance of loneliness as an existential given."
Failure: A Love Story, Nov. 20-23 and Dec. 3-7. 8 p.m. Wednesday-Saturday, 3 p.m. Sunday. Corbett 
Theatre, Fine Arts Center, Northern Kentucky University, Highland Heights. $14 adults, $11 seniors, $8 
students. 859-572-5464 and here.
A magical musical fable set in 1928 -- the last year of each of the Fail Sisters' lives. Nelly was the first of
the Fail girls to die, followed soon after by her sisters Jenny June and
Gerty
. As with so many things in 
life -- blunt objects, disappearances and consumption -- they never saw death coming. The show traces 
the sisters' triumphs and defeats, lived out in the rickety two-story building by the Chicago River that 
was the Fail family home and clock shop.
Almost, Maine Nov. 16-23, Villa Players, Thomas More College, 333 Thomas More Parkway, 
Crestview Hills. 859-344-3421. 7:30 p.m. Friday and Saturday, 2 p.m. Sunday. Ticket prices (and the play) a
re currently not on the
TMC
website. Keep a lookout for updates. Once it's updated you should be able 
to order online here.
On a cold, clear, moonless night in the middle of winter, all is not quite what it seems in the remote, 
mythical town of Almost, Maine. As the northern lights hover in the star-filled sky above, Almost's 
residents find themselves falling in and out of love in unexpected and often hilarious ways. Knees are 
bruised. Hearts are broken. But the bruises heal, and the hearts mend—almost—in this
midwinter
night's dream.
New York Times
: "...a whimsical approach to the joys and perils of romance. Magical happenings bloom 
beneath the snowdrifts."
Comedy of Errors, Nov. 21-Dec. 13. Cincinnati Shakespeare Company, 719 Race St. Downtown 
Cincinnati. 7:30 p.m. Thursday-Saturday, 2 p.m. Sunday. Tickets $32 and $36 adults,$28 and $32 seniors, 
$22 and $26 students. Previews Nov. 19-20, $21. Click Here or call 
513-381-2273.
CincyShakes likes a romp to start the holidays. This year it's two sets of identical twins, masters
and servants, who cause mass confusion. Of course the two sets were separated at birth and don't 
know of each other's existence. Of course they end up in the same town on the same day. Comic 
misunderstandings abound.
A Christmas Carol, Nov. 28-Dec. 28, Playhouse in the Park, Eden Park. 7 p.m. Tuesday-Sunday, 2 
p.m. matinees. Check performance dates. No performances on Thanksgiving Day, Christmas Eve and 
Christmas Day. Tickets $35 and up. For adults and subject to change. $30 and $45 children and students. 
513-421-3888, (toll-free in Ohio, Kentucky and Indiana at 800-582-3208) or visit www.cincyplay.com. 
Call 513-345-2248 for Telecommunications Device for the Deaf accessibility.
It isn't the holidays in Cincinnati without it. Charles Dickens' timeless cautionary tale of the dangers of 
man's inhumanity to man, and of letting "ignorance and want" go unchecked is as real today as it was 
almost 200 years ago. Happily it's all wrapped up in one of the great ghost stories that promises there 
can be redemption, even for cold-hearted Ebenezer Scrooge. One of the great delights of Carol"– a 
cast populated with Cincinnati actors, led by Bruce
Cromer
, celebrating 10 years as Scrooge. God bless 
us, every one!
Mame
through Nov. 23. The Human Race, The Loft Theatre, Metropolitan Art Center, 126 N. Main 
St., Dayton. 8 p.m. Wednesday-Saturday, 2 and 7 p.m. Sunday. $40 adults, $37 seniors, $20 students. 
Unsold seats in the side sections are available at most performances, and go on sale two weeks prior to 
performance.
Dayton, you ask? The Dayton in Ohio? Sure – go on a Saturday or Sunday and take in an exhibit at terrific 
Dayton Art Institute, catch dinner before or after a matinee. And who doesn't love Mame? The songs 
never stop in the story of
Mame
Dennis who "lives life all the way," even through the Roaring Twenties 
and the Great Depression. When she becomes guardian to her young nephew Patrick, she "opens a new 
window" for him.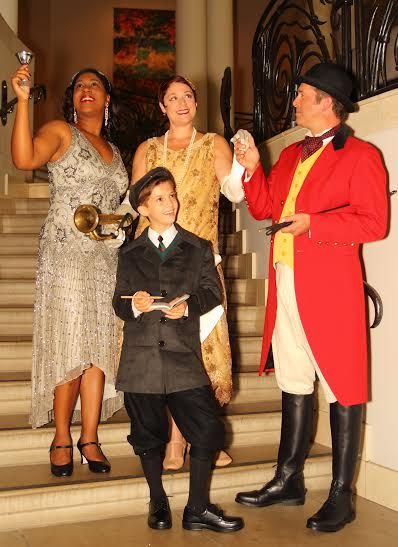 One of the things I'm most looking forward to
– remember
Chicago
 in summer 2013 at The Carnegie? 
Broadway vet Leslie Goddard was absolutely sensational as murderess Roxy Hart? Goddard does 180 
degrees to play sad-sack secretary Agnes
Gooch
. Goddard assures, "It's a role I've wanted to play for 
years. She really goes on a journey during the course of the play and it's been fun finding her 
transformative moments." She's having a blast. Among her co-stars is another local favorite, 
Torie Wiggins, as
Mame's
'bosom buddy' Vera Charles.
Goddard recommends somewhere in Dayton's historic Oregon District or the Pine Club for 
dinner.
Written by Jackie Demaline, River City Arts