Abramson to Work for Obama Administration, Luallen to Become Lt. Governor
Thu, 11/06/2014 - 10:33
RCN Newsdesk
Calling it "an historic announcement", Governor Steve Beshear on Thursday announced the resignation of Lieutenant Governor Jerry Abramason who has accepted an appointment with President Barack Obama's administration.
Former State Auditor Crit Luallen will be appointed to replace Abramson and will be the third lieutenant governor to serve under Beshear. Daniel Mongiardo south the Democratic nomination for US Senate in 2010 and did not run with Beshear during the governor's reelection campaign in 2011.
"In ways big and small these appointments will bring tangible benefits to Kentucky, the nation, and its people," Beshear said in a news conference in Frankfort. He called Abramson, who will become Deputy Assistant to President Barack Obama and Director of Intergovernmental Affairs in the White House, one of the most active lieutenant governors in history, citing his work on the blue ribbon tax reform commission and the Kentucky Health Now Commission, and Abramson's own Close The Deal initiative which he adopted from his days as the longtime Mayor of Louisville to a statewide effort. That program aims to increase the number of high school seniors going to college.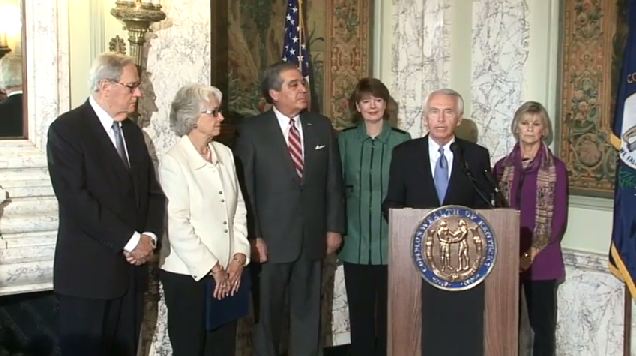 Abramson has been to Northern Kentucky multiple times for the Close The Deal initiative and referenced Holmes High School in Covington where he said the number of students headed to college doubled.
Beshear said that Abramson's new job will land him an office directly above Obama's, a significant connection for Kentucky. Abramson said he looks forward to "working on the issues so important to this president and this country in terms of the domestic agenda".
Beshear also spoke highly of Luallen, who served two terms as state auditor and Luallen returned the flattery. "This govrrnor has led the state through the worst economic crisis since the Great Depression with a firm and steady hand, and Kentucky has emerged on the other side of that crisis poised for progress."
The greatest legacy of the Beshear administration will be a healthier Kentucky, Luallen said, noting the Kynect program which placed more than half a million people in the status of being insured when they previously were not. 
Luallen will be sworn in during a private ceremony next Thursday and then in a public one on Friday next week. Abramson's resignation is effective next Thursday. Luallen said she will not be running for governor in 2015.
Abramson was contacted two months ago by the White House, he said. He visited the White House and spent the day there, met with staff leaders and then went home thinking that there was "a chance I could add value", he said. 
"The challenges that face America's local communities – such as workforce training, education, infrastructure investment, shrinking budgets, affordable housing, public transportation, and emergency response – are the issues that I've worked on for more than 30 years in local and state government. I'm honored to be in a position to help this country's mayors, county executives, governors and other local officials tackle these issues and work to find innovative solutions," said Abramson. "I'm grateful to Gov. Beshear for bringing me on board three years ago, and I'm proud of the work we've done together to bring jobs to our state and to strengthen Kentucky families.  My experience in the Kentucky Capitol will be vital as I step into my new role."
"This is a bittersweet moment for me and for our administration. Jerry and I have been friends for more than 30 years, and I chose him as my Lieutenant Governor because I knew that his extensive experience as longtime mayor of Louisville, his contagious enthusiasm and his knack for building momentum around new ideas would make him a great partner in leading our state," said Gov. Beshear. "But the White House noticed all those skills, too, and realized that he will take those same gifts and put them to work on our nation's domestic agenda. He will be an outstanding addition to the President's administration, and we will miss him terribly."
"The good news is that now, there's a Kentuckian in the White House. What an asset for our state to have someone who understands Kentucky's needs and can make a direct appeal on federal decisions and policies." 
-Staff report