Northern Kentucky Collectors of Early Black & White Photos Part of Taft Museum Exhibit
Mon, 11/10/2014 - 08:41
RCN Newsdesk
If you're planning to see
Paris Night & Day
 at the Taft Museum of Art – and you'll want to see
Paris 
Night & Day if you haven't already – make sure you make time for a tiny exhibit of photo art owned 
by local collectors, shown in conjunction with and featuring work from the same period, the early
20th 
century, when photography developed into an art form.
Black, White, and Iconic: Photographs from Local Collections
 features 10 works by legendary, mostly 
American photographers including Edward
Steichen
, Alfred
Stieglitz
,
Berenice
Abbott, and
Ansel
Adams, 
owned locally, much of it rarely exhibited.
The uniting theme of the show is photography that focuses on the human figure, from portraiture to 
social documentary, said assistant curator
Tamera
Lenz
Muente
. Both exhibits are on view through Jan. 11.
Northern Kentucky collectors Cal Kowal and Anita Douthat of Alexandria and Connie and Jack Sullivan 
of Ft. Wright are among the local collectors that have photos in the intimate exhibit.
Kowal and Douthat are both highly regarded, working photographers. Kowal's work is in collections 
including The Art Institute of Chicago and the Museum of Contemporary Photography;
Douthat
, 
assistant director of Carl
Solway
Gallery, most recently exhibited a collection of her
photograms
, Under 
the Sun, at the
Aronoff's
Weston Art Gallery earlier this year.
Portrait of Lotte Lenya (pictured above) by Lotte Jacobi from 1928 Lewis Hine's Power House Mechanic Working on Steam Pump (below) from 1920 are from their collection.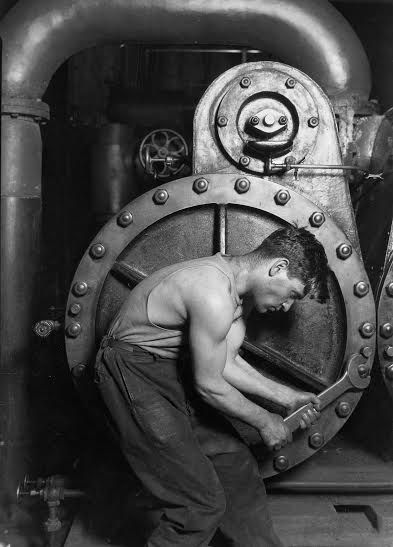 The Sullivans loaned Edward Steichen's Auguste Rodin (below), a photogravure from 1911.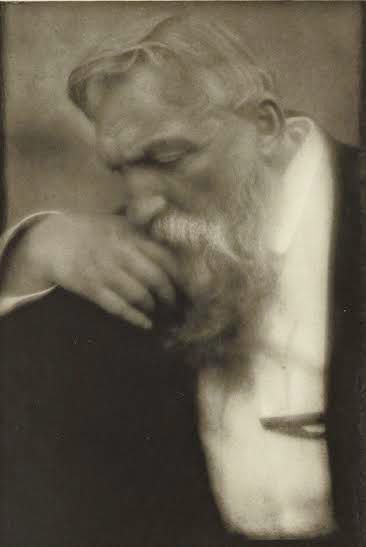 Muente explained the emphasis on mostly American photographers from the same era (1900-1940) was 
to "give people a chance to see what other kinds of photographs were being made in other parts of the 
world by contemporaries of the artists featured in Paris Night & Day."
"Some used the figure to create a narrative, emotion, or mood," said Muente, "while others 
incorporated the figure as a design element. Still others photographed people to reveal important social 
issues."
The Kowal/Douthat photos are examples of both.
Kowal spent a long-ago day with Jacobi in Boston, accompanying his brother, sculptor Dennis Kowal. A 
"billion years" went by and
Kowal
and
Jacobi's
path crossed again. She offered to let him buy a print. He 
chose the arresting, close-in portrait of
Lotte
Lenya
, with her challenging eyes and dark red lips and her 
head propped on her hand holding a lit cigarette. 
Kowal is also an admirer of the metaphor-filled work of Hine, whose
Power House Mechanic
 is 
muscular and at hard labor, wielding a huge wrench to tighten huge bolts. Invisible to the outside world, 
he's hot, he's tired, he's struggling, he's stoic. 
Hine actually became a photographer to support his social justice activism, perhaps best-known for his 
child labor series. "He
aestheticized
social issues,"
Kowal
noted. 
Kowal has recommendations for viewing both of the Taft Museum exhibits and art in general. "Don't 
make value judgments. Good collectors study about work. These artists had fascinating lives. Find out 
about them," before you go to an exhibit. 
When you're in the gallery, "Ask yourself what about the work intrigues you – and if it doesn't intrigue 
you – ask why."
Black, White and Iconic: Photographs from Local Collections, through Jan. 11. Taft Museum of Art, 

316 Pike St., downtown Cincinnati. 11 a.m.-4 p.m. Tuesday-Friday, 11 a.m.-5 p.m. Saturday and Sunday. 

Admission $10 adults; $8 for seniors, students, and teachers; $4 ages 12-

17; and free for children 11 and under. The Museum is free to all on Sundays. Call 513-241-0343 or visit 

the website at www.taftmuseum.org for additional information.
THERE'S MORE: 
The popular annual tradition
Antique Christmas
 that decorates the museum in historic ornaments 
continues through the holidays.
Lectures and talks continue about
Paris Night & Day
 through December. Muente's final free gallery 
talk is at 2:30 p.m. Nov. 11 ($5 general admission includes refreshments.) There's an artist talk by Barry 
Andersen at 1:30 p.m. Dec. 4 ($10 general admission, reservations required.) Reservations can be made 
online at www.taftmuseum.org.
Free Book Talk:
The Bones of Paris
 will be 2:30 p.m. Nov. 14, the culmination of a community-wide 
read-along sponsored by the museum and the Public Library of Cincinnati and Hamilton County. , 
David Sider, popular library manager, and Stephanie Cooper, fiction librarian, will lead the discussion. 
During
Paris Night & Day
, everyone who shows their library card at the Taft admission desk will 
receive free admission.
Written by Jackie Demaline, RCN Arts
Photos provided