New Ludlow Cafe Combines Coffee and Everything Folk
Tue, 11/11/2014 - 08:30
RCN Newsdesk
"The Folk School Coffee Parlor is a comfortable and friendly space for reflective moments and spirited conversation."
That's how the owners of Ludlow's newest hangout describes their creation on Facebook.
The Folk School Coffee Parlor opened quietly last week, the brainchild of married couple Matt and Mary Williams, and partner Casey Campbell. They were lured to Ludlow by local artist Mike Amann, the founder of Covington-based BLDG who died last year after a battle with cancer. "He said, come over to Ludlow. Things are brewing," Matt Williams said.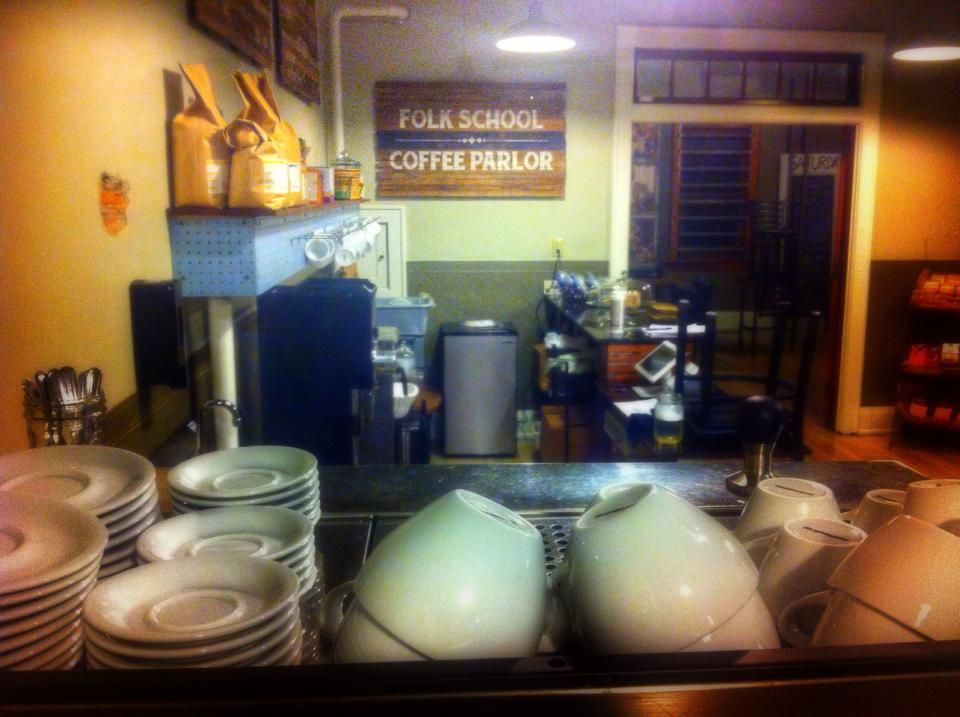 Matt and Mary bought the building at 332 Elm Street two and a half years ago. They live upstairs and now operate a business downstairs and love the quiet River City they call home. "We're two doors down from the circus," Williams said, referencing Circus Mojo. "Seeing a small river town with so much potential that's right next to downtown but quiet and secluded enough where you get the big city feel because you're right there, but it's a small town, too. It's quite a unique little place."
"Everyone walks to school still. It's run by teenagers," he laughed. "It feels like you're in a small town."
The new parlor is also a unique little place. "The concept being, it is a folk school and a coffee parlor," Williams said, "so we'll be doing small workshops for anywhere between ten to twenty people. Mostly roots, Americana-based. Guitar, banjo, fiddle, mandolin, songwriting, and all sorts of unique little workshops." Campbell, 30, will manage the school while Matt, 33, and Mary, 30, keep their eyes on the coffee. 
"We're at the starting point of all that stuff so we're slowly booking those," Williams said. He expects more workshops to be added by January.
As for the coffee, the new shop uses beans from local roaster Deeper Roots and everything is small batch. There is not a lot of food items, though Folk School Coffee Parlor carries locally-made products like Grateful Grahams, Whirly Bird Granola, and Dean's Nuts. "We're focusing more on the coffee and music aspect," Williams said.
When it comes to slinging coffee in Ludlow, though, the new shop has some friendly competition just down the street: Wynner's Cup, which is operated by Mayor Ken Wynn. 
"We're going to complement each other well," Williams said. "(Wynn) does more food and all that. I offer some pre-packaged items, but our main focus is the coffee and the music. I'll gladly promote Kenny's sandwiches."
That spirit of cooperation is a positive sign for the up-and-coming city. "There's nowhere to go but up around here," Williams said. "The rumblings I'm hearing over here, it could be a very exciting time."
Follow The River City News on Facebook, Twitter, or email us!
Written by Michael Monks, editor & publisher of The River City News
Photos provided