Not the Same Old Taylor Mill: City Prepares for Change from Quiet Town to Destination
Sun, 11/16/2014 - 07:49
RCN Newsdesk
Taylor Mill has changed, and it no longer resembles the small, sleepy burg where many 
people grew up. Anyone who hasn't visited Taylor Mill in a while will be in for a shock as soon as 
their car exits I­-275. The choices are to turn to go into the city and keep going straight down the 
hill, to be funneled onto Old Taylor Mill road at the present time, or swerve into the left hand turn 
lanes which will put the driver on a more familiar path, the old Kentucky 16 which they are used to. Or they 
could chicken out and head down the hill toward
Latonia
to recoup and see if anyone has a map 
of the new Taylor Mill so they won't get lost.
"It is confusing," said Jill Bailey, City Administrator for the city of Taylor Mill. "It will get 
better as people get used to it. It has been a long process, and it is not finished yet. The traffic 
patterns in the city are totally different, and it is challenging, but it is just different, and better in 
many ways."
The drastic road changes began on paper in 1998 as the result of a project design by the 
Kentucky Highway Department.
"The Transportation Cabinet and a consultant engineer from Lexington studied the traffic 
in the city, and found that the two lane highway that is Kentucky 16 was handling 20,000 vehicles a day," 
said Mike Bezold, Design Supervisor from District 6. "The design possibilities on how to fix the 
traffic problem came down to two, and several meetings were held to get public feedback. What it 
came down to is the fact that to widen the current
Ky
16 would have necessitated 100 more 
relocations, and the current plan only mandated 59 relocations. We went with the plan that 
accommodated more traffic but required less changes."
The old Kentucky 16, or the road that goes past the city building, will now be known officially as 
Kentucky 3716, but the City of Taylor Mill has also given it the name Taylor Mill Road. Taylor Mill has 
attempted to take advantage of the traffic changes and has created an area called the Districts, 
which is composed of four unique districts, the Main street area, the off-Main street area, the 
Hospitality and Retail Row area, and the Professional Business Hub area. The foremost 
development in District 3 is due to open early next year.
The Holland Restaurant group will open 
the doors on an 18,000 square foot retail and office facility that will house a La Rosa's sit-down 
restaurant, a
Graeter's
ice cream shop, and a Skyline Chili. All of these areas will be connected 
by sidewalks so that residents can leisurely walk to any business they want to without fear of 
traffic. This giant facility is set to open in February of 2014.
"The Graeter's is going to be the real pull in my opinion," said Al Rust, a teacher at 
Gateway who has lived and taught all over Taylor Mill for years. "There is a location in Ft Mitchell, 
and one on Grand Avenue in Ft Thomas, but people will come to Taylor Mill for Graeter's. There 
is a pretty big LaRosa's in Independence and a Skyline, but Independence has nothing 
comparable to Graeter's."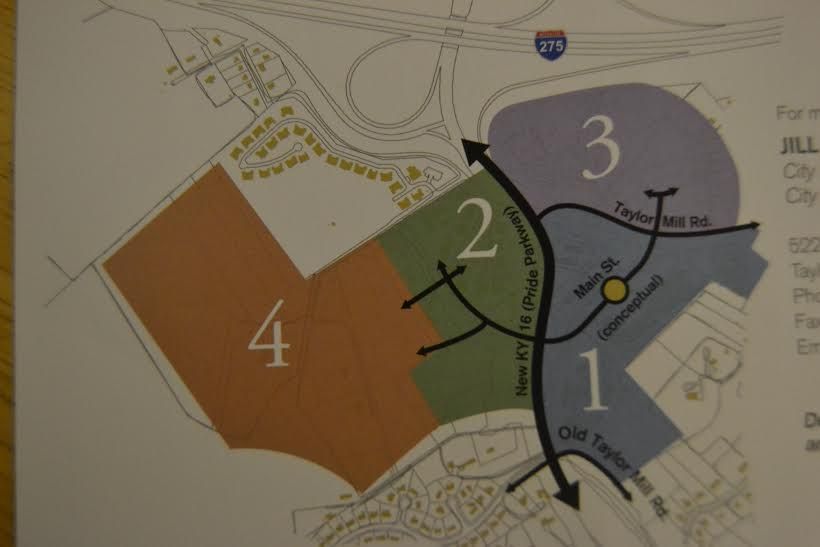 Rust was born in Ohio, but moved to Piner for the first through fourth grades, and 
attended Walton High School. After gaining a degree from Eastern University, Rust was drafted in 
1971 and then came home and taught at Park Hills and then at Scott High School in 1978
. He would become athletic director and the baseball field there is named for him.
"I think the real change came for Taylor Mill when I­275 came in," said Rust. "I remember 
as a kid that Taylor Mill was pretty much inaccessible. Very few went through the city and those 
who did lived here. In the 50's and 60's Taylor Mill was a sleepy little community on the edge of 
the rural community. You could drive along 16 and see the occasional bait shop or gas station. 
But then they constructed I­275, and that was a drastic change. I­75 was already up and running, 
and with I­275 you could get anywhere, lickety split."
The Shoppes at Taylor Mill/RCN
The town grew more slowly. According to Rust, Mill Valley was still a ball park, and most 
of the streets off
Kentucky
 16 were dead ends. But once it was accessible, businesses like Fidelity 
Investments were interested enough to call Taylor Mill home, and the same happened with 
Remke's grocery store.
"Before, everybody knew everybody," remembered Rust. "If you lived here more than five 
years, you belonged. The Grocery Bag was a staple, as was the
IGA
in the Cherokee Shopping 
center. You could go to
Latonia
, but most people preferred to stay here."
Now that the state has made enough changes to render Taylor Mill residents and visitors 
unsure of where they are supposed to go, Rust thinks it could be good or not so good, even 
though the die has been cast.
"I remember when they were trying to decide whether to put the road right in front of 
Scott High School, and they have done that, which might require more police presence," Rust 
stated. "Scott used to be fairly isolated from traffic, and when kids came out of the school parking 
lot they couldn't go very fast because there were two lanes, they were crooked with a lot of turns 
and there was no place to fly to. Now there will be a multi­lane highway, all smooth, and kids will 
come out of the parking lot with their foot on the accelerator. So is it more safe? I don't know."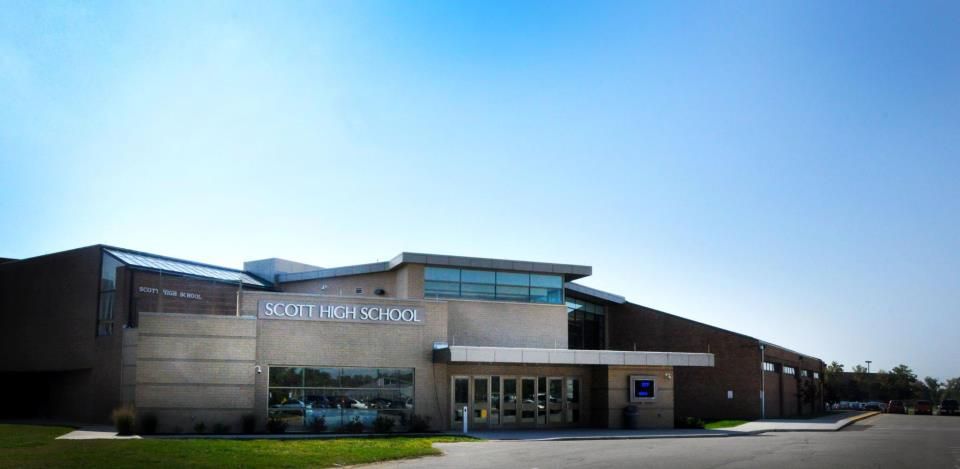 Scott High School also underwent a massive construction project/provided
The entire project is scheduled to be finished next summer. Currently, according to 
Bezold, Phase one is complete, phase two is about 95 percent finished, and phase three is 
approximately 75 percent done. Crews are working on bridges that span some gullies and creeks, 
and the roadwork that completes Pride Parkway, the portion of road that is the right hand fork in 
the road.
"The whole road changed," explained Bezold. "No one change is more drastic than 
another. We take care of roads in 11 counties in Kentucky. We haven't heard any complaints."
At the present time, Taylor Mill Road intersects with the new Kentucky 16 just past Pride Park. 
Jill Bailey acknowledges that that intersection could be a problem, but said they are still 
considering traffic signals at that place.
"Even though we didn't have a choice for this project because the roads are state roads, 
we did try to make it better where we could," said Bailey. "We asked for and got some 
landscaping by the I­-275 exit. Covington doesn't have that because they didn't insist on it. And 
one lane of the new bridge is supposed to be finished at the end of December. All in all, I think it 
has divided the town - ­­­half are happy because their area has less traffic, and half are dissatisfied 
because they have more traffic. Some just don't want the changes."
Al Rust is on the fence about the changes.
"I think the changes will attract more families to the area," he said. "And the sidewalks 
are very family friendly, almost like walking in Edgewood, except there will be more shops and 
businesses here. My wife is in a wheelchair for longer distances and we are looking forward to 
going for walks and up to the park. Also, I think if the businesses do really good, it will pull people 
off the expressway. The changes are probably good for the city, but the individual varies. Those that
like privacy and don't have a progressive mindset tend to be frustrated. Others are happy to 
be in a city that is more cutting edge. I will be interested in what it does to property values."
He is still of the opinion that the current changes couldn't have taken place without the 
initial change of opening I­275 in November of 1977, thirty­seven years ago this month.
"There was never a big turnover of residents in Taylor Mill and that is a sign of a stable 
community," he said. "Turnover was always a sign of a problem. We have certainly changed from 
a sleepy little agrarian support community to what is now shaping up to be a destination."
Story & photos by Patricia A. Scheyer, RCN contributor