Burglars Wanted After Ft. Mitchell Theft, Electronics Purchases
Tue, 11/18/2014 - 13:10
RCN Newsdesk
Police believe the man in the above photo broke into a Ft. Mitchell home on Monday, November 10 between 11 a.m. and 12:30 p.m. and stole a purse full of credit cards.
Those cards were then used within an hour to purchase large televisions and electronic equipment at multiple locations in Kenton and Boone Counties.
The suspect is pictured with a female who was seen by investigators in another video related to an investigation in Crestview Hills.
The suspect was seen using a black Chevrolet Avalanche.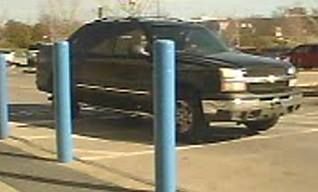 Suspect's vehicle
Meanwhile, Ft. Mitchell Police are also looking for this suspect:
He is wanted in connection with a home burglary on November 7 that took place at 8:45 a.m. Another suspect involved has been identified but police are looking for information about the man pictured above.
Anyone with helpful information about either of these cases should call Detective Ron Wietholter at 859.426.6745 or Crimestoppers at 513.352.3040.
-Staff report