Defeated Dayton Mayor: "For someone to drag me through the mud... is horrific."
Wed, 11/19/2014 - 10:09
RCN Newsdesk
Tuesday night marked one of long­time Dayton Mayor Ken Rankle's last city 
council meetings as the city's executive, and he took the opportunity to 
express both gratitude to some and frustration with others in what was the 
first time council met since his decisive loss to councilman and Mayor­-elect 
Virgil
Boruske
on Election Day.
Rankle began the meeting by offering his congratulations to all those who 
won a seat on Election Day, saying, "I hope everything moves forward and 
we have a very cooperative council."
Rankle then took the opportunity to name Dayton Park Board member Tom 
Schwartz as Dayton's Volunteer of the Year, which included a mayoral 
proclamation and presentation to Schwartz, whose involvement in Dayton's 
parks and recreation initiatives for years Rankle applauded, with a key to the 
city.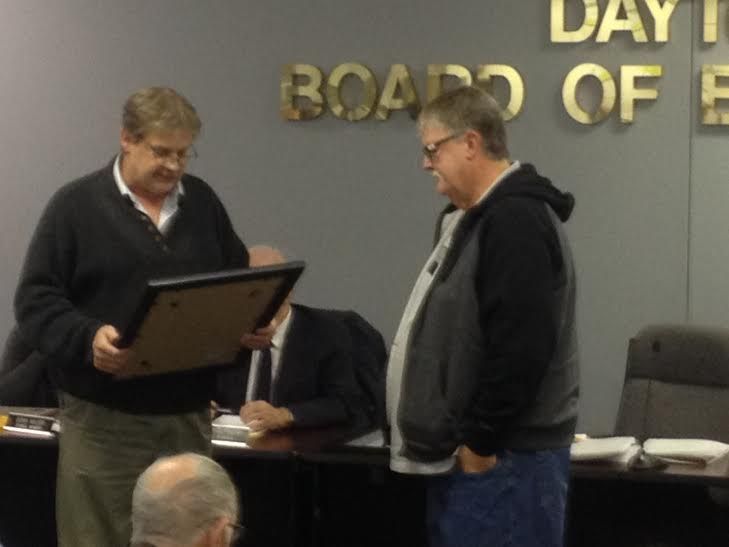 Rankle also recognized councilwoman Cathy Volter for her 18 years of 
service on city council, and her years of service that preceded and is to 
come, he said. "She's not been exceeded in her efforts to serve the people 
of Dayton," Rankle said, as he handed
Volter
also a key to the city. 
Volter is the longest­-serving woman to sit on Dayton city council, Rankle said
.
"I didn't realize it was 18 years!," said Volter, who was also defeated in the city council race
. "I'll miss it, and I won't. I appreciate it, 
and I'm still
truckin'
for Dayton!"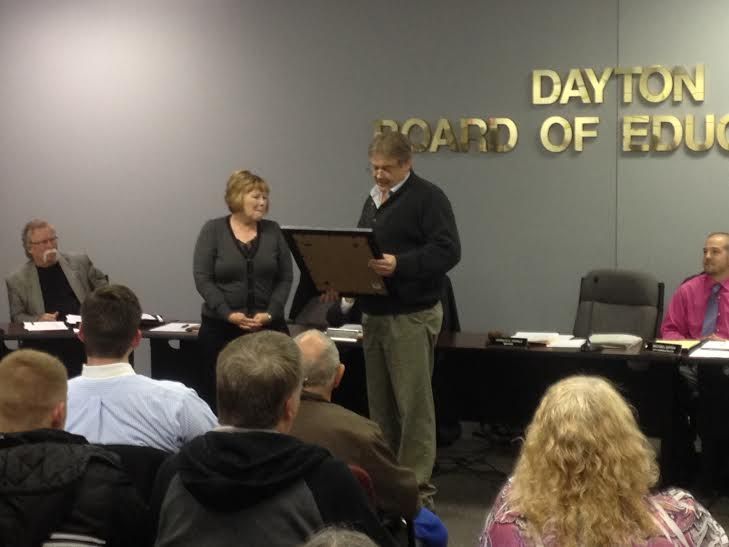 But not long after Rankle concluded his accolades, his voice turned down, 
shaky, a bit more reserved.
"I take what I do for Dayton very seriously," he began, "but for someone to 
drag me through the mud, especially at the end of this term, is horrific."
Rankle, like the rest of Dayton City Council, has been no stranger to 
controversy over the past year. Most notably, he found himself in some hot 
water regarding comments directed at the Bellevue/Dayton Fire Department.
During Monday night's lame­duck session, though, Rankle claimed he was 
slandered during his campaign for re­election. In particular, Rankle 
made mention of an email from a Dayton resident that, Rankle alleged, 
accuses the mayor of using city funds and resources to finance campaign 
activities.
"These are nothing but lies," Rankle said.
The resident, who was in the audience, fired back that they were not 
accusations but inquiries into an event Rankle's campaign hosted, which 
was rumored to have used city resources.
"There are so many stories out there," she said to the mayor. 
Rankle replied by asking City Clerk Donna
Leger
and Police Chief Scott 
O'Brien if any city or police resources were used for the event, and both 
said that there had not been.
"I don't have to sit here anymore and take lies like this," Rankle said, as 
many in the audience applauded and even stood, offering an ovation for the 
ousted mayor.
When it came time for residents to address council, Jennifer Sierra, who also 
ran unsuccessfully for a seat on Dayton's city council, stood up to decry what 
she called drama and bullying that occurred during the campaign, of both 
candidates and residents. Specifically, Sierra pointed to Facebook as a 
hotbed.
Like many other cities, residents of Dayton have started several Facebook 
pages and groups in recent years, meant as message boards for sharing 
news and thoughts about the community. Sierra believes them to be causing 
more harm than good.
"The Facebook bullying is tearing this city apart," she said. "If I believed 
everything I heard, I wouldn't be talking to half of these people. Shame on 
people for getting on Facebook and posting negative crap."
Sierra, who publicly voiced her support for Mayor Rankle during her 
campaign, echoed the mayor's initial hope for a cooperative council moving 
forward, pleaded with council and residents in the audience, some of whom 
were council members­elect not yet in office, to work to achieve some level 
of harmony.
"Whether you agree or disagree with the election results, I sure hope people 
of this city can appreciate those who sit on this council."
Dayton's new city council takes office in January.
Story & photos by Pat LaFleur, RCN contributor