After Beating Breast Cancer, Trainer Creates Own Line of Fitness Apparel
Fri, 11/21/2014 - 08:27
RCN Newsdesk
Jamie Hoffpauir has overcome some serious challenges on her way to developing her own fitness fashion line.
In 2001, she was 22 weeks pregnant when she was diagnosed with stage 3 breast cancer. Terrified she would not survive to give birth, Jamie immediately began aggressive treatments. Three months after discovering her cancer, her son Jack was born.
Hoffpauir, of Bellevue, is a personal trainer with a business in Newport and has been in the fitness industry for over twenty years. While she began receiving treatments for her breast cancer, she felt it was important to carry on exercising.
"Having a sudden diagnosis during that time, I was like oh my gosh, I'm on the other side of the spectrum, I'm the unhealthy one," Hoffpauir said, "but I felt good and decided I would continue to train people and continue to work out. The challenge was trying to find something to wear that represented what I wanted to wear."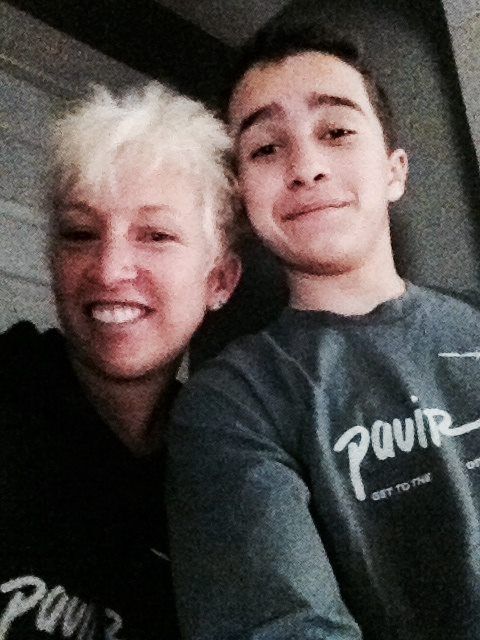 Because of the struggles that she went through, Hoffpauir designed a workout top that meets the needs of women diagnosed with breast cancer as part of her company called Pauir Athletic Apparel.
"When you have any kind of breast surgery, the range of motion in your shoulders is very limited. It's also a lot of scarring and tightness from radiation and surgery. It was a major pain to find something to wear that was easy to put on that looked like regular clothes."
The workout top she has designed is black and zips up the middle like a jacket without requiring a woman to lift her arms to put it on.
"I thought, wouldn't it be cool to design something that fits my personality. I have to believe that there are other people out there like me who don't subscribe to all that pink," she said.
Hoffpauir says that she wanted to make women feel more empowered to go to the gym while they fight breast cancer and believes her workout top is a step in that direction.
"It's not really the product I want to push, it's the feeling of nobody's perfect."
Hoffpauir is involved in a number of other business and organizations. She created Fusion Studio (now iTrain724), co-founded Pink Ribbon Girls and received the Breast Cancer Alliance Award.
The top is still in production but is scheduled to become available for purchase in January. Hoffpauir is doing a kick-starter campaign to fund the first 200 shirts and then will take pre-orders for purchases. Pauir Athletic Apparel also has plans for other workout clothing in the future.
Written by Bryan Burke, associate editor
Follow The River City News on Facebook, Twitter, or email us!
Photos provided