Message to Heroin Dealers in Kentucky: "Get Out... Or You'll Be Staying a Long Time"
Fri, 11/21/2014 - 13:05
RCN Newsdesk
This year will be different for a heroin bill in Frankfort, Northern Kentucky legislators assured during a news conference Friday morning.
Senator Chris McDaniel (R-Taylor Mill), a candidate for lieutenant governor on Agriculture Commissioner James Comer's ticket in 2015, was joined by Senator John Schickel (R-Union), and State Rep. Diane St. Onge (R-Lakeside Park) in announcing the legislation that will be introduced in both chambers of the Kentucky General Assembly when it convenes for its biennial 30-day session in early 2015.
A similar bill, championed by retiring Senator Katie Stine (R-Southgate) died in the waning hours of this year's session after being quickly approved in the Senate but delayed in the House.
"I'm confident it's going to pass and pass very quickly," Schickel said. 
"The time has come to end the scourge of heroin addiction in Kentucky," McDaniel said Friday at the news conference held at the Kenton County Detention Center in Covington. He credited Stine and Schickel for crafting the 2014 bill, much of which reappears in the new version. It will be the first bill sent to the Senate Judiciary Committee, McDaniel said. St. Onge will deliver a companion bill in the House.
McDaniel said the bill targets heroin users at a time when they are most responsive to treatment: when they are incarcerated. The bill calls for $7.5 million in funding for county jails to assist in the treatment of inmates and $5.8 million for mental health agencies to treat addicts. Medicaid would also cover treatment options.
The bill also targets the criminal aspect of heroin use and would mandate that those convicted of trafficking heroin or supplying heroin that led to someone's death would serve at least fifty percent of their sentence before being eligible for parole.
"We're putting the penalties back to four years ago before we had these problems," Schickel said. Kenton County Sheriff Chuck Korzenborn said Friday that members of a business group he is a part of Cincinnati now fear Northern Kentucky more than their own city, a change in perception based on heroin reports. Law enforcement and legislative leaders have said frequently that Ohio dealers work in Kentucky because penalties are less harsh.
The bill was endorsed Friday by the Kentucky Jailers Association and the Northern Kentucky Chamber of Commerce. "Senator McDaniel has worked tirelessly with our association and others throughout the interim to develop a piece of legislation that addresses all major areas of addiction," said Mike Simpson, president of the Jailers Association, in a statement. "The bill addresses the rehabilitation of individuals both in and outside of our justice system while cracking down on the traffickers who continue to feed the ever-growing problem."
Terry Carl/RCN
Kenton County Jailer Terry Carl said that when the bill was presented to the Jailers Association, it received overwhelming support. "We are privileged to be part of this process," said Carl, whose jail has been over capacity with an influx of heroin-related arrests.
The bill was also supported by People Advocating Recovery, the Northern Kentucky Heroin Impact Response Team, and at least one family member of a heroin overdose victim. Jess Tomlin lost her sister Tabatha to heroin in 2013. After being arrested multiple times, it appeared that Tabatha had beaten her addiction. "I had my sister back and things were good," Tomlin said, standing behind a photo of her sister. "She didn't get the treatment that would help her grow as a person."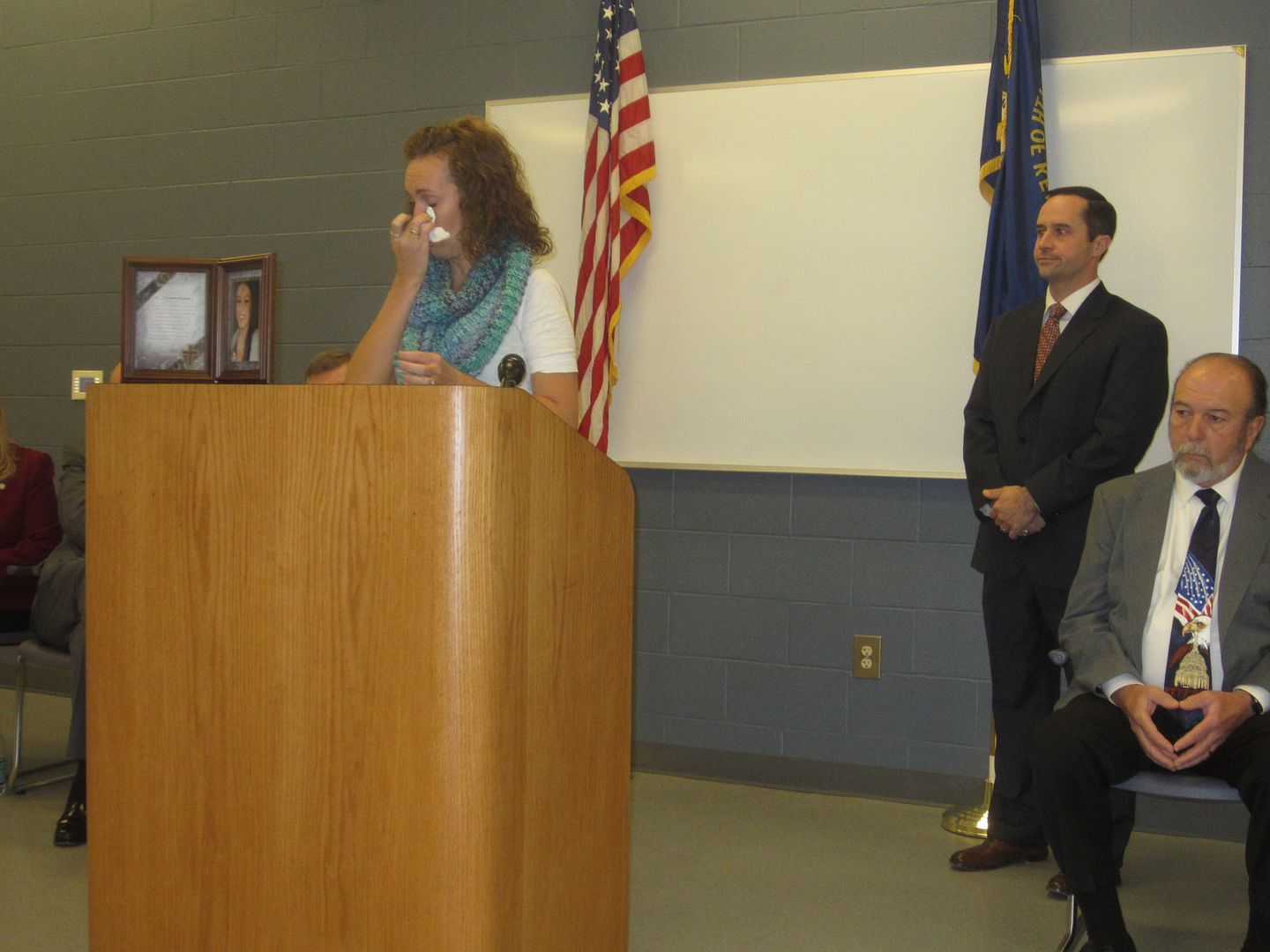 Jess Tomlin/RCN
"I told her to get over it. I have obviously learned now that it is a disease that they can't just stop. They need help."
Jason Merrick of People Advocating Recovery said that he was excited about the legislative efforts to increase access to on-the-street treatment such as Naloxone that can be used by first responders to combat an overdose. Jim Thaxton of the Heroin Impact Response Team, a region-wide effort to explore treatment options, said that the bill did not meet all of the group's priorities but that the bill is a move in the right direction. "It reminds me of an old drug song from the Sixties," he said, nodding to The Rolling Stones. "You can't always get what you want but sometimes you get what you need. It's not everything we want, but it is what we need and we need it desperately."
Kenton County Commissioner Kris Knochelmann, who becomes Judge-Executive in January after campaigning on putting more treatment beds in the county, applauded the bill, too. He said the bill's goal goes in line with his own for the county.
Will the legislation run into trouble in the House again? St. Onge is optimistic that the bill will pass without any partisan gridlock. "It's costing us lives, it's costing us money," she said. McDaniel cited statistics that show an increase in heroin deaths from 31 in 2010 across eight Northern Kentucky counties to 72 in 2013 in just Boone, Campbell, and Kenton Counties. "This bill is a bill which addresses to the best of its ability all the players in the game, including the users. ... I hope people have wisened up. This is not a political line I'm giving you. This is from my heart as a mom."
The players in the game also included the dealers and Schickel sent a harsh warning their way. "If you traffic heroin in Kentucky, you're going to prison for a long time."
McDaniel issued a similar warning: "Let me be clear to those who want to peddle in Kentucky. Get out, or you will stay for a very long time."
Story & photos by Michael Monks, editor & publisher of The River City News
Follow The River City News on Facebook, Twitter, or email us!