Dixie Shuts Out Simon Kenton, Advances to State Semifinals
Sat, 11/22/2014 - 08:31
RCN Newsdesk
The last time the Colonels made the regional finals, it was 2004; the state semi-finals, 1982, with the 
likes of future Buffalo Bill Mark Pike. Head Coach Dave
Brossart
and his team would gladly add 
another chapter to the storybook of Dixie Heights football, one that has yet to be written.
"If we believe in each other, we can beat anybody," he told his team. "You left points on the field early. 
You only had three, but we should've had 10 or 14,"
Brossart
said.
Despite the final score, Simon Kenton 
threw a wrench into Dixie's offense early on, taking away senior quarterback Drew Moore's ability to 
run. "They tested us because they were damn good. But that makes us better," he added.
Alluding to Brossart's point, the Colonels' offense missed key opportunities early. After solid runs from 
senior running back Luke
Zajac
and a 35-yard scramble by Moore, Dixie's momentum stalled deep in 
Simon Kenton territory.
Down to the Pioneers' eight, Moore fumbled the snap on third down, taking a four-yard loss and falling 
on the ball. Dixie then called timeout. Out of the timeout, the Colonels had to immediately burn their 
second one due to miscommunications on the play call. 
Back on the field, the Colonels' kicked a field goal to get on the board, 3-0.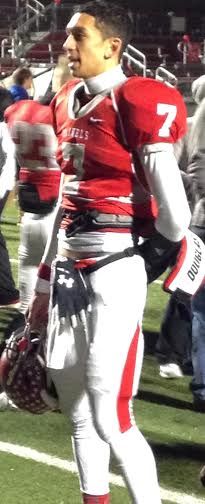 On their first possession of the night and a microcosm of their game, Simon Kenton drove down field 
deep into Dixie territory, only to have sophomore quarterback Cam
Racke
throw a pick in the end zone.
Dixie's next drive ended much like its first: driving down the field only to call timeout. Only this time, it 
came away with no points. When the second quarter arrived, Dixie's fortunes began to change. Stuffing 
Racke for no gain on fourth down, the Colonels' offense kicked into gear.
Moore ran around the left side 32 yards for a touchdown and a 10-0 Colonels' lead – and they never 
looked back. 
On their following drive, Racke scrambled out of the pocket and lofted a pass towards the left sideline, 
assuming he was throwing the ball harmlessly out-of-bounds and his team would have to punt. Only 
Zajac was waiting near the sideline and picked the ball out of the air.
Racke's
teammates bailed him out, 
picking off a Moore pass shortly before halftime. 
Out of the half, Simon Kenton was forced to punt on their first drive and lost their quarterback to injury 
on the second, severely stifling the Pioneers' chances for a second half comeback.
With the ball and driving, on the strength of runs by Moore and Zajac, Dixie broke through again via a Z
ajac
four-yard run. The Colonels' stretched the margin to 17.
Entering the final quarter, each team traded punts and could not get on the scoreboard until late, when 
Dixie took advantage of a Pioneers' personal foul penalty on top of a long
Zajac
run. On second down 
and 13, sophomore running back Cameron Barrett ran 24 yards into the end zone for a 24-0 Colonels' 
lead and its final score of the night.
For Dixie Heights and Brossart, their "better" may end up being their best. A chapter the Colonels' sure 
would like to be written.
Other Northern Kentucky Playoff Results:
Beechwood 34, Frankfort 21 (Class 1A)
Newport Central Catholic 42, Newport 26 (Class 2A)
Highlands 37, Covington Catholic 34 (Class 4A)
Cooper 61, Anderson Co. 14 (Class 5A)
Story & photos by Jason Finnell, RCN Sports