Icy Roads Create Frozen Trouble on Saturday
Sat, 11/22/2014 - 08:18
RCN Newsdesk
Icy conditions on the roadways seem to have caught drivers by surprise on Saturday morning.
Pictured above is backed up traffic on I-275 at Taylor Mill at around 8 a.m. The highway is reportedly closed in both directions over Kentucky 17 (3L Highway).
Pictured below is I-275 shut down in both directions in Indiana just west of the Kentucky border.
Six cars and two trucks were involved in a crash there.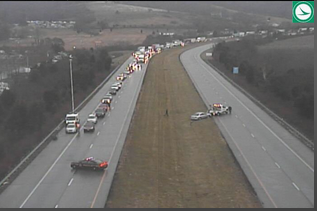 Ice on the bridge between Kentucky and Indiana caused the highway to be shut down both ways. According to media reports, salt trucks were dispatched to the area shortly after 4 a.m., but had not arrived even three hours later.
Cincinnati Police recommended that motorists stay off the road. Temperatures today, according to the National Weather Service in Wilmington, are expected to rise to 50. Temperatures will stay warmer than they have been over the next few days. Sunday and Monday will see highs in the mid to upper fifties before Tuesday arrives with colder air.
If you have any traffic information, tell us about on Facebook, Twitter, or email us!