Here's What You Need to Know About UDF Showdown in Taylor Mill
Mon, 11/24/2014 - 16:45
RCN Newsdesk
The man who owns a piece of land in Taylor Mill that he hopes to have United Dairy Farmers developed upon will return to the city commission on Tuesday evening.
Phil Peace's plans were rejected at a city commission meeting earlier in October.
Peace bought the property along the new Kentucky 16 north of where McDonald's sits several years ago and had originally planned to build a home for his family there. The construction of the new road changed those plans and now he has been searching for a commercial development. Peace found a possible partner in UDF but zoning around the new road in an area known as The Districts of Taylor Mill do not allow for the gas station to move forward.
In January, Peace's plans were the dominant topic of a three-hour long city commission meeting. The city agreed at the point to evaluate a formal plan should one be brought forth.
In February, a design plan was presented. From The River City News article:
The entire project would encompass a little more than two acres and 82,000 square feet. The store itself would be five-thousand square feet and would feature seven fueling stations with fourteen dispensers under a canopy. UDF architect John Johnston said he would recommend pursuing what the company calls its "residential-style" store instead of a more commercial one. Similar stores can be found on Turkeyfoot Road and in Alexandria and Independence.

"Residential-style would be most appealing for this location," Johnston told the city commission. "We recently completed on in Ohio and were given an award for architectural excellence which we're very proud of."

The UDF signage would be placed right at the intersection in front of a rain garden.

"It's refreshing to have something to look at. We haven't had that privilege in the past," Mayor Dan Bell said.

Johnston said that the design for the proposed UDF would be consistent all around its building which would be wrapped with all the same details from front to back. "It's a continuous presentation and we think that would be important here because of the residential apartments that are here close to the site," Johnston said.

"It's been enjoyable to work on the site. I think we fit well on the site and I think we would be a good participant in the community and a valued place for the Taylor MIll community to come and get provided services," he said.

"It's a really nice looking building," City Commissioner Dan Murray said. "I've been to a lot of your places and never saw one that wasn't well taken care of, I'll give you that."

City Commissioner Ed Kuehne said he met with the Peaces recently and expressed his intentions. "I look forward to a lot of things going on in the city and I think UDF would be a good neighbor for us," Kuehne said. "There are a lot of things that need to be taken care of." He listed watershed actions, zoning, and green space requirements. 

"It may be a week, it may be a year, it may be two years to get everthing done but we've all expressed our intentions. Let's go forward," Kuehne said.

Mayor Bell shared that sentiment. "I see a lot of text amendments that need to be done here," he said, referencing various potential zoning issues.

 

"We know it's going to take some work. We want to be here and we're willing to be here," Johnston said.

 

"If we're looking at working with you, there has to be some give and take," Bell said.
That plan was not compliant with any of the design guidelines for the district, City Administrator Jill Bailey said at the time. One of the issue was over the setback of the gas station, something the city commission agreed in May to have changed by the Kenton County Planning Commission. But on October 15, the city commission voted on whether to allow a change to the zoning just for Peace's property and not the entire section of the Districts it is in. By a vote of 3-2, the plan was rejected.
Peace told 
The River City News 
last week that he is on the agenda for Tuesday nig
ht's meeting (which was rescheduled from November 12). He has been placing signs at the site
telling
motorists that there is no
UDF
 because "the city changed its mind".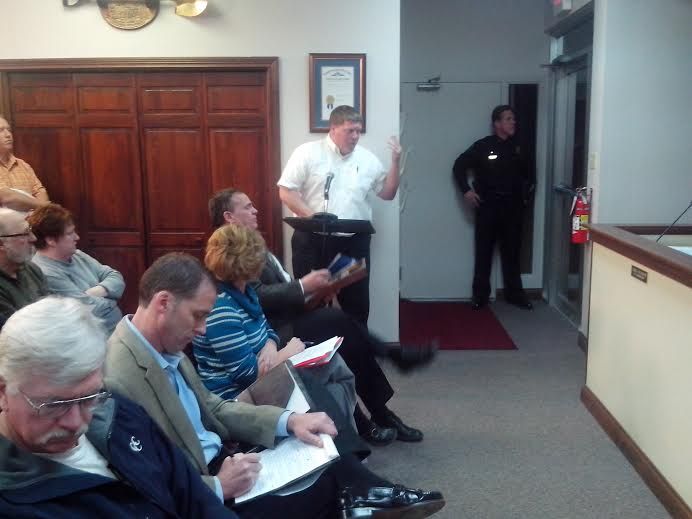 Peace speaks at a meeting in January/RCN file
Mayor Dan Bell and City Administrator Jill Bailey spoke with The River City News shortly after the October vote and indicated that the property faces difficulties for a UDF beyond the proposed setbacks because some of the work would require approval from the state, a process that could take years, they said. Bell voted in favor of the zoning change. 
The River City News will be at the meeting in Taylor Mill on Tuesday and will have full coverage of the discussion.
-Staff report
Top photo: Peace's property where he hopes to place a UDF/RCN