With New Coach & Region's Biggest Star, Holmes Basketball Ready for Upcoming Season
Mon, 11/24/2014 - 07:51
RCN Newsdesk
The Holmes Bulldogs come into the basketball season with the proverbial chip on their shoulder.
Last year in the 9th Region Championship game, the Bulldogs fell four points short to Covington Catholic, keeping them out of a state tournament that they very well could have won. Holmes had a long and athletic team a season ago and proved a formidable opponent to the state's toughest teams.
Instead, the Colonels claimed that crown, too.
This year, Holmes is not as tall and is younger across the board, but the Bulldogs have one very prominent bright spot in senior James "Beetle" Bolden. Having already committed to play for Bob Huggins at West Virginia next season, and widely viewed as the region's best player, Bolden begins the season a local star. Head coach Mike Listerman is lucky to coach such a talent, but also knows the dangers of having a star player on the roster.
"What I've been trying to do is work very hard to ensure that we don't stand around and watch Beetle play," Listerman said. "One of the things I've talked to with the kids is that Beetle has to allow the other players on the team to help him and then they have to be willing to step up and do some things themselves. If we stand around and watch Beetle, I think we won't be the kind of club we can be."
Bolden is a dynamic guard who can take players off the dribble and stroke jump shots from the outside all day. He plays under control and demands the attention of all five defenders on the opposing team. Over the summer, he strained his knee, but the team was very cautious with him and have rehabilitated him back to full strength. Bolden scored 34 points in a scrimmage to Scott County last week.
This is Coach Listerman's first year at Holmes after serving as head coach for eleven years at Covington Catholic and then as an assistant at Holmes for the three previous years. He accepted the head coaching position in August following the sudden departure of Jason Booher who left to become athletic director at Pikeville. He has inherited a team full of talent but would like to curtail a few bad habits picked up along their way. In particular, he would like to see his team dribble less and pass more.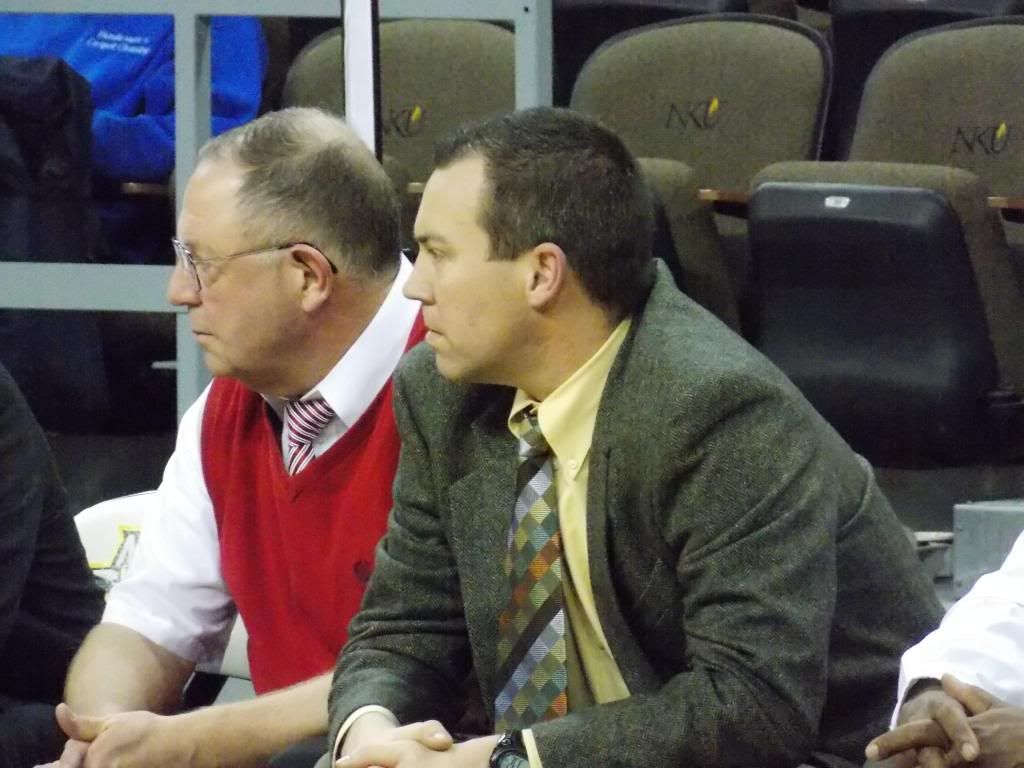 Listerman (left) and Booher/RCN file
"One of the differences I hope people see is more ball movement," he said. "If I were to describe us in the past, I would say we were a much more dribble-oriented type of team. I believe that you can move the ball faster by passing than you can by dribbling it and as a consequence, sometimes I think we have not taken full advantage of our athleticism and the quickness that we do have when we dribble too much."
Of course, the team is not just Beetle and a bunch of no-names. After losing the height that Marcus Hill and Quinton Chames provided the Bulldogs a year ago, Listerman is counting on his whole team to make up the difference on the glass, not just the big guys. Senior forward Rod Avery flashed his talent off of the bench last season when backing up Hill and Chames, but will be relied on much more this year. So will sophomore center Jaiden Greene.
"Rod's got a little bit of height, and he's got the leaping ability of those guys we had last year, but he does not have anywhere near the bulk and the strength. Jaiden Green is pretty much similar in that sense. I think eventually Jaiden will get the bulk that Marcus Hill had last year, but he's only a sophomore and has a couple of years to grow and to fill out," said Listerman. "To counteract that lack of strength inside, we're going to have to have all four or five people go back to the defensive boards to help us because some nights, teams like New Cath and maybe Dixie and a few others they can cause us some real problems."
Indeed, Cov Cath in the regional final game last year packed the lane and dared the Bulldogs to shoot it from the outside, which they struggled with throughout the evening. Other teams, especially the bigger ones like New Cath, are likely to employ a similar style of defense. Because of this, Holmes will have to prove that other players other than Bolden will have to consistently knock down outside shots and score points in transition when possible.
"Our outside scoring will have to be good. Markell McLendon is going to have to compliment Beetle Bolden. Marcus Mullins is the same way. They're going to have to make some concentrated efforts."
Another facet of his team Listerman would like to see improved is their general toughness. He thinks they can handle adversity better than in the past and has spent the offseason reinforcing this to his players.
"We will still be a team that wants to run and push the ball up the floor. I hope that people see a team that is a little bit tougher when it comes to adverse times during the game. You're not going to play the perfect game every night, every quarter, and so being able to have that tenacity to stick with, is something I hope they pick up from me as a coach," he said. "I think you're going to see a team that plays man-to-man defense better than what we've done in the past. A team that helps each other more, and I mean that not only with team defense but in all other aspects."
It's easy to sense that Listerman is focused on harboring a strong sense of team unity within his group.
"One of the things we've talked about with the kids is the Bulldog way which is composed of three things: being a good person, being a better teammate and being the best student that you can be and so we put a lot of emphasis into those three categories and we've defined those with the kids to let them know our expectations are. We're constantly going back to that and refer to that and reviewing that.
"I want a team that just goes out and plays their heart out. I've talked to the kids a lot about that: give me your heart. Bust your tail, give me your heart and we'll let the chips fall, and if our kids can do those two things for me which they have up to this point in preseason practice, I think it's a team that is going to be a regional contender before we're done. I think it will be a team that the people of Covington will be proud to have on the floor."
The Bulldogs open up the regular season at Lawrence County in the Fast Lane Classic Basketball Tournament against Louisville Ballard on November 30. The Holmes home opener is against Henry Clay on December 2.

Written by Bryan Burke, associate editor
Photo: James "Beetle" Bolden takes the floor/RCN file