Jackie Demaline: Why Clay Street at The Carnegie is a Must-See
Tue, 11/25/2014 - 07:08
RCN Newsdesk
Here's why
Clay Street Press: Cincinnati Portfolio I-IV
 at The Carnegie through Feb. 7 is a 
must-see:
"With Clay Street Press," said The Carnegie's exhibitions director Matt Distel, "you see how a 
printmaker has essentially
curated
four exhibitions over 30 years that each serve as a snapshot 
of the work being made in the region in 10 year intervals."
It's a remarkable passion project by Mark Patsfall, who is Clay Street Press and this is the first 
time work from all four portfolios is brought together for an exhibit. You can follow them 
around the room in chronological order.
At a preview, Patsfall stood in the main gallery of the The Carnegie, surrounded by 40 poster-
sized prints, a retrospective of a generation of work by some Cincinnati area's best-known 
artists.
There are 10 pieces from each of four art print portfolios created in 1983, 1993, 2003 and 2013. 
Along with the well-known are lesser-known talents whose work invite consideration.
Portfolio I:
Kevin Booher, Stephanie Cooper, Stuart Fink, April Foster, Jan Harrison, Diana 
Duncan Holmes and Timothy Riordan, Jack
Meanwell
, Brent Riley, Sandy Rosen, Jim Williams
When he began the portfolio project in 1983, Patsfall invited "people I knew and had worked 
with before, people I bumped into" to contribute a piece. Some were printmakers, most were 
not.  It was a formula that worked and that's what
Patsfall
kept doing. 
The first year was the only time there was a theme: "something that might be relatable to 
Cincinnati."
There are playful entries: Jack Meanwell's "Queen Sitter" and Stephanie Cooper's "Pigs in 
Porkopolis" featuring a woman and her small pink herd on the run.
Diana Duncan Holmes and Timothy Riordan, still creating art together, as always bring together 
visual and literary art. Her etching is based on a Polaroid she took at Cincinnati Zoo. Kevin B
ooher takes a look at the Reds Stadium with artistic license.
Portfolio II:
Jay Bolotin, Kim Burliegh, Stuart Goldman, Peter Huttinger, Vicki Mansoor, Stephen 
McCarthy, Kelly
McKaig
, Joel
Otterson
, Bruce Riley,
TODT
In 1993, there are more terrific local artists: nationally renowned Bolotin was creating "A 
Mechanical Opera" and raw, woodcut men suggest monumental efforts.  
Vicki Mansoor has the show's only three-dimensional work – a black-and-white print that is a 
paper dress, the pattern tiny black lines.
Mansoor
was remarking on the repetitive nature of 
women's work,
Patsfall
said. 
Portfolio III:
Farron Allen, Andrew Au, Holland Davidson, Heidi Endres, Mark Fox, Rob Jefferson, 
Andrea
Knarr
, Ellen Price, Michelle Red Elk, Thom Shaw
This was the year there almost wasn't a portfolio. In 2003, the economy was less than friendly 
but
Patsfall
decided to continue the series. It includes some political comment like Thom Shaw's 
"Urban Medals" – a battered, middle-aged African-American man in his armchair in front of a 
TV, a few scars and a lot of empty beer cans.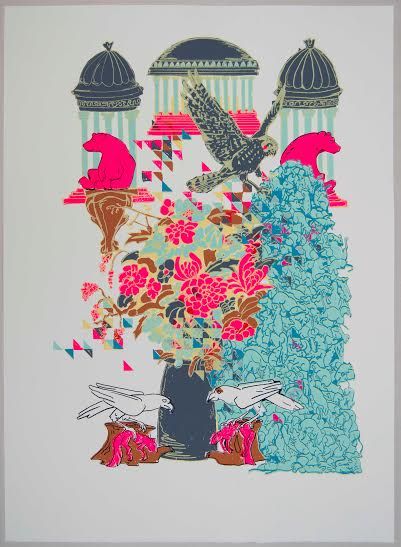 Portfolio IV:
Noel Anderson, Terence Hammonds, Tony Luensman, Tim McMichael, Kate Kern, 
Yvonne Van
Eiden
, Casey Riordan Millard, Joe
Winterhalter
, Katie Parker and Guy Michael 
Davis, Jennifer
Purdum
The prints are smaller (the economy, Patsfall observed) but portfolio is filled with a wide variety 
of techniques, like Anthony
Luensman's
subtle color field,  a pattern of soft circles printed on 
glass. 
Mark Patsfall, by the way, says it doesn't feel as if it's been 30 years. 
If the exhibit makes you hungry for more, running concurrently at the University of Cincinnati's 
DAAP Galleries is "Printer's Proof," a survey of 33 years of prints and editions produced by Clay 
Street Press, which reaches far beyond Cincinnati.
Also on view:
Distel noted that the work in the two exhibits "are all investigations, over decades."
In
Over Time
, on view in the upstairs galleries, John Lanzador draws inspiration from a small 
plastic figurine of a female bowler. For more than 20 years he has revisited this image to create 
more than 200 bas relief wood carvings with the figurine as a central component.
Also for 20 years, photographer William Messer has routinely visited Monet's garden at Giverny 
to create black and white photography that seeks to reveal the changing environment and 
landscape from which Monet drew inspiration. T
David Parks' photographs from the '70s and '80s document his bike rides around Denver, an 
urban center's gradual change and one photographer's relationship to his environment.
Clay Street Press and Over Time, through Feb. 7. He Carnegie, 1028 Scott Blvd., Covington. F
ree. Gallery hours: 12-5 p.m. Wednesday-Saturday. 859-491-2030 and www.thecarnegie.com.
Written by Jackie Demaline, RCN Arts
Photos provided