Dixie, Newport Catholic, & Highlands Head to State Finals
Sat, 11/29/2014 - 08:08
RCN Newsdesk
Northern Kentucky will send three teams to Kentucky High School Athletic Association (KHSAA) football title games next week. The region had five teams vying for spots across five different classes. Dixie Heights in Class 6A, Highlands in Class 4A, and Newport Central Catholic in Class 2A marched on, while Beechwood in Class 1A and Cooper in Class 5A came up short in the semifinals.
Dixie beats Ballard, will face powerhouse Trinity
\Dixie is headed back the state championship. For Head Coach 
Dave Brossart, it is not a minute too soon. The Colonels' overcame an early 7-0 deficit to Louisville 
Ballard, ultimately running away, 48-21 at Rice
Mountjoy
Stadium Friday night.
As a high school player at Beechwood, and as a high school coach, Brossart had not been fortunate 
enough to soak in the championship experience – until now. "It's a tremendous moment. ... But this is 
about the kids and this is a great, great opportunity to be able to jump on the bus and be able to play 
a team like Louisville Trinity, who is a top-25 program in the country. It just says volumes about Dixie 
Heights," he said.
The last roadblock to en-route to Bowling Green began a bit bumpy for the Colonels. Marching down 
the field on its first drive of the night, Ballard took advantage of a Dixie
offsides
penalty on fourth down, 
giving the Bruins a first down deep in Colonels' territory. Junior Ryan Dawkins took a
handoff
from 
senior quarterback
Kenshawn
Washington in for a 7-0 lead, leaving the Colonels' and their home crowd 
silent.
"I think the kids had to adjust to their speed," Brossart said of the Bruins' drive. "That wing-T, it's hard to 
defend. It took us a while to kind of bear down, but we responded."
On its ensuing possession, Dixie responded in a big way. On fourth-and-three from their own 27, the 
Colonels' decided to go for it instead of punting, due to a strong wind blowing against them. Needing 
three yards, senior running back Luke
Zajac
gained three and a new set of downs. Two plays later, senior 
quarterback Drew Moore ran 46 yards for a touchdown and left any doubt about Dixie's chances behind 
him. With 2:16 remaining in the opening quarter, the Colonels and Bruins were tied at seven.
"A lot of people say he can't throw. He can throw, we choose not to," Brossart said of his standout 
quarterback. "He's a dual threat back there with Luke
Zajac
and we run an option scheme. It's different 
than most people around here and around state. He makes great decisions, his reads are great. He has 
great
playmaking
ability at anytime, anywhere on the field," he said.
As good as Moore's exploits, he's just part of a great crop of quarterbacks to wear a Dixie uniform, 
Brossart added.
After forcing the Bruins on a three-and-out on their ensuing drive, the fourth down snap sailed over 
punter Daniel Levine's head and Dixie recovered on Ballard's three-yard line.
Zajac
put Dixie ahead 14-7 
one play later with a three-yard run.
Following a Ballard punt, Dixie distanced themselves from the Bruins as the first quarter ended and 
the second one began. Taking advantage of a pass interference that gave them the ball at the Ballard 
15,
Zajac
again found the end zone, this time on one of the toughest 10-yard carries you will ever see, 
dragging five Bruins across the goal line for a 21-7 lead.
On its ensuing possession, Ballard appeared to be driving, with the ball on the 50, but Washington's 
option pitch was batted away by a host of Dixie defenders. Rolling around on the turf and exchanging 
hands between each team multiple times, the Colonels' finally recovered at the Ballard 33. Moore then 
called his own number straight through the middle, 17 yards for the score and a 28-7 Colonels' lead.
They were not done.
Before the half, Dixie again found the end zone. Rolling to his left, Moore found a diving Gunther Faeth 
in the back of the end zone for a 42-yard score and a four-touchdown lead at the break, 34-7.
Out of halftime, Ballard knew its chances were wearing thin. After converting a fake punt, the Bruins' 
next four plays resulted in another punt. On the Colonels' ensuing drive,
Zajac
would not be denied 
again, scoring his third touchdown of the evening, widening the gap, 41-7.
Having already sealed its ticket to state, Dixie's final touchdown came via a run by backup Andrew 
Shearouse, putting the home team up 48-7 early in the fourth.
The Bruins were able to add two more scores on the board, but far too late, as Dixie won its thirteenth in 
a row, 48-21.
"This is what it's all about. I'm just so proud of them," Brossart said.
The Colonels take on powerhouse Louisville Trinity at 6 p.m. (Central Time), Saturday, December 6
 at Western Kentucky University's L.T. Smith Stadium.
Newport Central Catholic back in finals against familiar foe
Newport Catholic put away Shelby Valley early and now heads to Bowling Green for a state title match-up against (Louisville) DeSales, the team that toppled the 'Breds in last year's finals.
New Cath junior Jacob Smith had three touchdowns before the intermission where the Thoroughbreds lead 43-0. New Cath would give up two touchdowns in the second half but all the necessary work had been completed and the 'Breds won, 43-14.
After an 0-4 start to the season, New Cath is looking for its sixth state title.
Highlands does what Highlands does
The Bluebirds are back in the state title game for the eighth year in a row and are looking for their 23rd championship after easily beating Lexington Catholic in Fort Thomas on Friday Night. Highlands pulled away to a 28-13 lead by halftime, and led by quarterback Beau Hoge put away the Knights, 47-26. 
It was the fourth straight year that Highlands beat Lexington Catholic in the state semifinals. Highlands gained 588 yards in the game.
Highlands faces Owensboro in next week's final.
Beechwood, Cooper fall
The Beechwood football season came to an end thanks largely to two important interceptions. These two mishaps aided the 35-24 loss in Fort Mitchell on Friday night to visiting Mayfield.
The night started with an ominous tone as quarterback Kyle Fieger threw an interception on the second play of the evening that allowed for a Mayfield touchdown and forcing the Tigers to play catch up the rest of the night. Despite controlling the line of scrimmage, Beechwood became their worst enemies as they were unable to score quickly thanks to their grind it out style.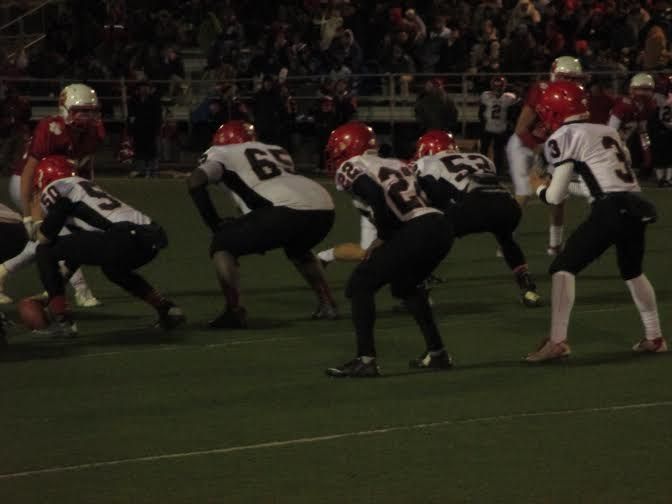 That was on display as the Tigers drove the ball all the way down to the one-yard line before being stopped on fourth down. The Mayfield Cardinals then completed a bomb in stride to Lane Kennemore from their own goal line that allowed for a 99-yard touchdown pass.
Beechwood had another nice drive on the ensuing possession but was stalled again inside the Mayfield 10 and had to kick a field goal, making the score 14-3. On the next Mayfield drive, a slant route was completed to Marshall Bacon who broke a tackle for a 53-yard touchdown grab, putting the Cardinals up 21-3 in the first half; the game appeared to have already slipped away from the Tigers.
Once Beechwood finally scored a touchdown on a 15-yard pass play to Jeremey Burns on a 15-yard catch, the lead was cut to 21-10 at halftime and gave the Tigers some breathing room for a comeback.
That comeback was made possible by a fumbled punt on the first drive by Mayfield that was recovered by Riley McKown and returned to the one-yard line which was translated into a Joe Struder touchdown run to close the gap to 21-17.
The game ebbed and flowed in the second half until Brett Slusher caught a 24-yard touchdown lob in the endzone on fourth down that made the score 28-24. The game looked in tact until Bacon picked off another Feigler pass and returned it for a score on a play where it looked like the receiver tripped.
The Tigers played hard, but their mistakes were just too many to come out with the win. Mayfield will play in their Class 6A state title game for the sixth straight year.
Cooper also came up well short on Friday night, falling to Pulaski County, 33-7. Pulaski was last year's runner-up and advanced over the Jaguars to face Graves County in the finals this year. 
Cooper finishes the season at 9-5.
-Jason Finnell in Crestview Hills, Bryan Burke in Fort Mitchell, staff reports
Photos by Finell and Burke