Jackie Demaline: Don't Miss These Holiday Shows
Sun, 11/30/2014 - 08:21
RCN Newsdesk
The River City News's Jackie Demaline takes a look at the holiday shows -- and the non-holiday shows playing on area stages in December.
A Christmas Carol
, Through Dec. 28, Playhouse in the Park, Eden Park. 7 p.m. Tuesday-Sunday, 2 p.m. 
matinees. Check performance dates. No performances on Christmas Eve or 
Christmas Day. Tickets $35 and up. For adults and subject to change. $30 and $45 children and students. 
513-421-3888, (toll-free in Ohio, Kentucky and Indiana at 800-582-3208) or visit www.cincyplay.com. 
Call 513-345-2248 for Telecommunications Device for the Deaf accessibility.
It isn't the holidays in Cincinnati without it. Charles Dickens' timeless cautionary tale of the dangers of 
man's inhumanity to man, and of letting "ignorance and want" go unchecked is as real today as it was 
almost 200 years ago. Happily it's all wrapped up in one of the great ghost stories that promises there 
can be redemption, even for cold-hearted Ebenezer Scrooge.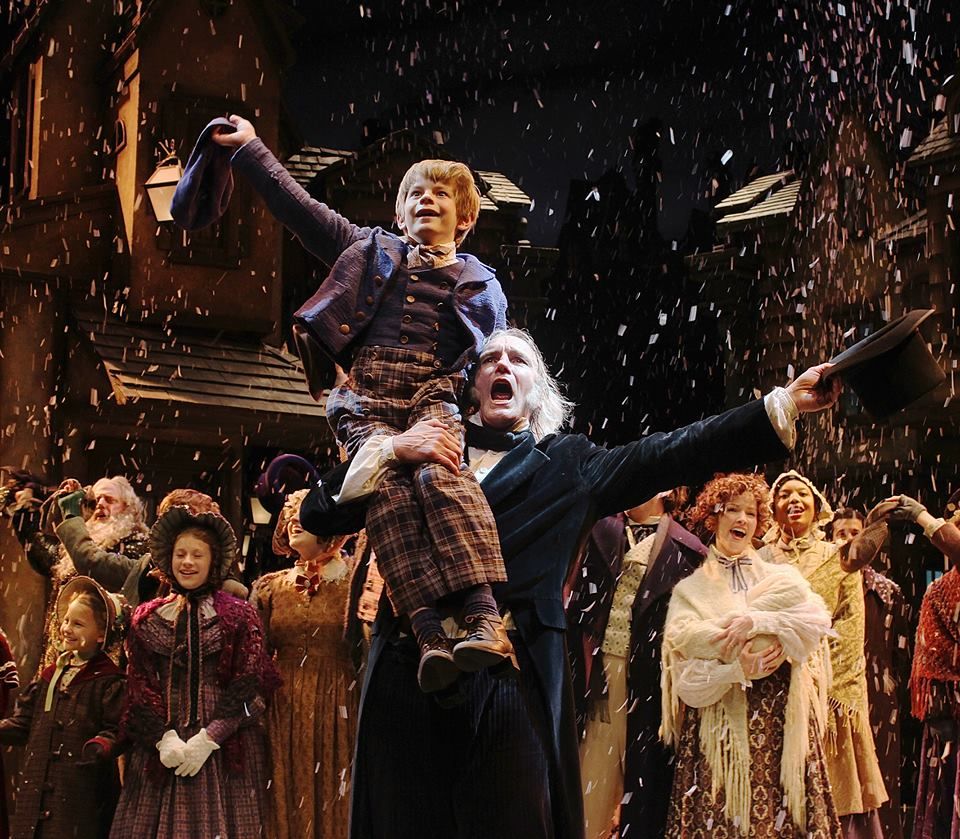 One of the great delights of
Carol
 – a cast populated with some of Cincinnati's best actors. Dale 
Hodges is back this year; and Nick Rose, Kelly
Mengelkoch
, Jared Joplin and Stephen
Skilesare
now 
veterans and Greg
Procaccino
get shrieks and laughs every year as, respectively, Jacob Marley and 
ragpicker Old Joe. Annie Fitzpatrick makes her Carol debut this year.
Of course the show is led by Bruce Cromer, celebrating 10 years as Scrooge. God bless us, every one!
Elf, Dec. 2-7. Broadway Across America-Cincinnati,
Aronoff
Center for the Arts, 650 Walnut St., 
Downtown Cincinnati. ALERT! ONLY SCATTERED SINGLE TICKETS AVAILABLE. 7:30 p.m. Tuesday-
Thursday, 8 p.m. Friday, 2 and 8 p.m. Saturday, 1 and 6:30 p.m. Sunday. Tickets: $29 and 
www.CincinnatiArts.org and  513-621-2787.
Orphan Buddy crawls into Santa's big red bag of toys and – whoosh – a sled ride later he's at 
the North Pole where he grows up (and up) but never fits in with the other elves. What's Buddy 
to do? Yes! Go to New York and find his father, discover his true identity and help New York 
remember the true meaning of Christmas! Ho, ho, ho! NYC reviews were filled with thumbs-up, 
including The New York Times: "Splashy, peppy, sugar-sprinkled holiday entertainment", and Variety 
proclaimed it "happy enough for families, savvy enough for city kids and plenty smart for 
adults!"
Sleeping Beauty
, Dec. 3-Jan. 4. Ensemble Theatre Cincinnati. 1127 Vine St., Over-the-Rhine, 
Cincinnati. 7 p.m. Thursday-Friday, 2 and 7 p.m. Saturday, 2 and 6 p.m. Sunday. No 
performances Dec. 24-25, 31 and Jan. 1. Additional performances: 7 p.m. Dec. 22 and 29, 2 and 
7 p.m. Dec. 23 and Dec. 30. No 6 p.m. performance Jan. 4. Tickets $18-$44. 513-421-3555 and 
www.ensemblecincinnati.com.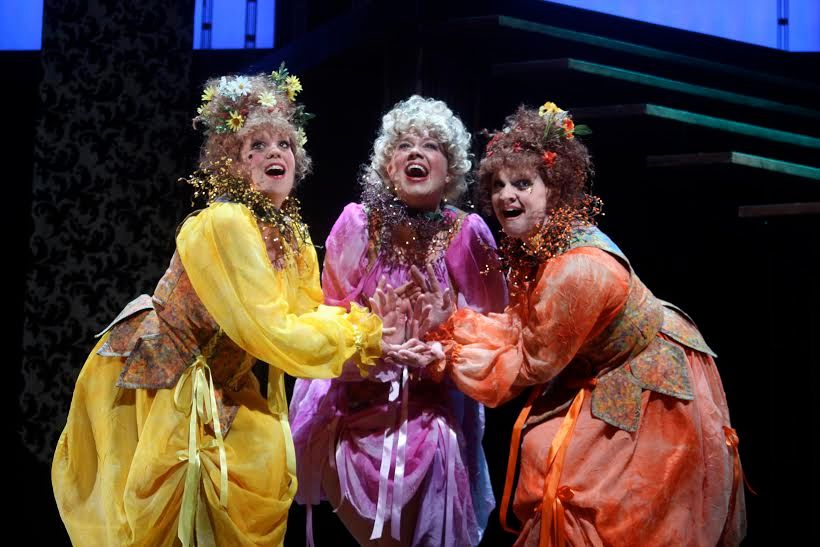 One of our favorite things for the holidays – Ensemble's annual musical fractured fairytale by 
David
Kisor
and Joseph McDonough. Sleeping Beauty is a charmer: Romance, comedy, 
action, rock n' roll, and opera—this magical, musical version of Sleeping Beauty has it all! Meet 
Briar Rose, her overprotective parents, three wacky fairies (and a wicked one), and a dragon 
with an attitude as our contemporary twist on the classic tale returns to Ensemble's stage. It's 
geared toward families –
lickity-split
action and running time to accommodate kids' attention 
spans. 
Forever Plaid: Plaid Tidings
, Dec. 4-21. Covedale Center for the Performing Arts, 4990 Glenway 
Ave., West Price Hill. 7:30 p.m. Wednesday and Thursday, 8 p.m. Friday and Saturday, 2 p.m. S
unday.  Additional performance 2 p.m. Dec. 20. Tickets: $24 adults, $21 seniors/students. 513-
241-6550 and www.cincinnatilandmarkproductions.com 
Here's why you don't want to miss this: One of the sleeper hits of the 2013 summer season was 
Forever Plaid, with talent shipped in from
CCM
Musical
Theatre
, including the artistic team. 
The quartet of stars were sophomores then, with energy that didn't stop and harmonies to die 
for. 
They're back! Tyler Huckstep, Charlie Meredith, John Battagliese, and Thomas Knapp return for 
another posthumous Plaids performance. (Quickie
backstory
: It's the Fifties and the boys were 
killed instantly (and painlessly!) en route to their breakthrough gig.) 
CCM prof and best darned music director around the local small theater scene Steve Goers 
does double duty again as director with
choreo
by Patti James. The show includes such gems as 
a riotous, 3-minute, 11-second version of The Ed Sullivan Show (featuring the
Rockettes
, the 
Chipmunks and The Vienna Boys Choir!) and a Plaid Caribbean Christmas which puts the "Day-
O" in
Excelsis
! 
The Eight Reindeer Monologues/Striking 12
, Falcon Theatre, Monmouth Theatre, , 636 Monmouth St., 
Newport. 513-479-6783. Falcon calls the December shows "naughty and nice."
Monologues: 8 p.m. Dec. 5-13. Tickets: $19 adults, $17 students and seniors. *There is a service 
charge if you buy online.
First up – naughty. The eight reindeer legends dish about the real 
Santa. You've heard about the rumors about him and what he does in the toy shop. You've 
seen Vixen on late night talk shows, and heard about Rudolph's big secret… Definitely for 
adults. Lots of good community actors in the cast, including Eric Day, Mike Fielder,
Linnea
Bond, 
David Levy, Leah
Strasser
.
Striking 12
: Dec. 18-27. Tickets: $18 and $20. A groovy Groove Lily intimate musical that plays 
on The Little Match Girl. A depressed guy skips a New Year's Eve party, picks up a copy of Hans 
Christian Anderson – and his life changes.
Soldier's Christmas
, Dec. 12-21.  Actors & Playwrights Collaborative with New Edgecliff 
Theatre, Corbett
Theatre
, Northern Kentucky University, Highland Heights. 8 p.m. Friday and 
Saturday, 3 p.m. Sunday. Tickets are $22 adults, $20 seniors and $18 students. Tickets: 
www.Cincyticket.com and 1-888-428-7311. More information: www.soldierschristmas.net.
One hundred years ago, on Christmas Eve, 1914, two soldiers – one British, the other German – 
meet by chance as they gather straw to keep warm in their respective frozen trenches along 
the Western Front. They don't shoot.
The Christmas Truce is famous (Cincinnati Opera presented a version last summer), with 
soldiers on opposing sides laying down their weapons and celebrating the holiday with each 
other, exchanging gifts and singing carols. 
Northern Kentucky playwright Phil Paradis' "Soldier's Christmas" was more than 10 years in the 
making, and an earlier version was a finalist in the Kentucky
Theatre
Association Roots of the Bluegrass 
New Play Contest.  
Director Robert Allen calls the play, "a timely parable of war and peace dramatizing the choices we 
all face. It shows the impact of World War I on the lives of front-line soldiers and their families on the 
home-front. With plenty of heart, humor, and
gravitas
, it's a wonderful alternative holiday play for 
modern audiences -- a new Christmas classic."
Frisch's Presents The Nutcracker
, Dec. 19-27. Cincinnati Ballet, Aronoff Center for the Arts, 650 
Walnut St., Downtown Cincinnati, 7:30 p.m., 2 p.m. matinees on Dec. 20, 23, 26, 27. Sunday 
performances: 1 and 5:30 p.m. Tickets $32-$85. 513-621-5282 and cballet.org.
Sugarplums dance, toys come to life, and a little girl goes on a Christmas Eve through the Land 
of Sweets with the Nutcracker Prince. Cincinnati Symphony Orchestra performing Tchaikovsky's 
iconic score.
LOCAL NKY HOLIDAY SHOWS 
Santa Spikes the Eggnog (and other family secrets)
, Dec. 5-14. Village Players of the Fort 
Thomas Woman's Club, 8 N Ft. Thomas Ave., Fort Thomas. 7:30 p.m. Friday, 1:3- and 4:30 p.m. 
Saturday, 3 p.m. Sunday. Tickets $10, 859-392-0500 and www.villageplayers.biz
Family-friendly comedy explores life in the almost-normal Claus household.  Santa's children 
are missing.  The elves are planning vacations to Vegas. And Mrs Claus is trying to keep them all 
in line and focused on the impending Christmas deadline.
The Best Christmas Pageant Ever
, Dec. 6-28. Kincaid Regional Theatre, 500 South Chapel St., 
Falmouth.  859-654-2636. For information visit www.krtshow.com.  The
Herdman
kids 
cause mayhem when it's time for the annual church Christmas pageant.
PHOTOS PROVIDED BY THE COMPANIES (TOP PHOTO VIA CINCINNATI PLAYHOUSE IN THE PARK FACEBOOK PAGE)