This is the Most Intense College Football Rivalry According to Northern Kentucky University Research
Sun, 11/30/2014 - 07:18
RCN Newsdesk
The Louisville-Kentucky rivalry lived up to the hype on Saturday with a shootout ultimately falling the Cardinals' way.
That makes four wins in a row for Louisville over their arch rivals from Lexington and the pair find themselves on a list of the most intense college football rivalries, according to research by students at Northern Kentucky University.
As the college football season's Rivalry Week concluces, the debate surrounding college sports has reached a fever pitch in a Northern Kentucky University course on rivalries in sports.
Dr. Joe Cobbs, assistant professor of sports business in the Haile/US Bank College of Business and instructor of the Sports Business 200 class, has been studying sports rivalry for over five years with a colleague from Western Carolina University, Dr. David Tyler, and NKU alumnus Matthew Walton. Together Drs. Cobbs and Tyler developed the website www.knowrivalry.com to highlight their recent research on rivalry in college football. 
"Knowing about rivalry is crucial as new schedules are developed and future conference realignment is considered," said Dr. Cobbs. "On a larger scale, neglecting or misunderstanding rivalry may lead to misaligned marketing strategies, improperly structured compensation incentives, and inaccurate estimations of attendance and viewership demand among fans of assumed 'rival' teams."
To quantify rivalry in college football, Drs. Cobbs and Tyler asked 5,317 Football Bowl Subdivision (FBS, or Division I-A) fans to allocate 100 "rivalry points" across up to 10 other teams. They aggregated the responses of each team's fans and calculated the mean point allocation, or "rivalry score," toward each opponent (100 maximum). Using social network analysis, they then determined the strongest mutual rivalries, the most lopsided rivalries, the most likely rivals, and the teams with the greatest rivalry power in the network of FBS football.
What rivalries are the most intense?
The most intense rivalries are those where each side sees the other as a rival, which is reflected in the study by high aggregated reciprocal point allocations. For example, the Ohio State-Michigan rivalry received 159.55 points, with Ohio State fans allocating just over 90 (out of 100) rivalry points to Michigan and Michigan fans assigning almost 69 points to Ohio State; this total ranked the rivalry as the second-most intense rivalry in the study. The most intense FBS rivalry according to the fans' aggregated points was Arizona versus Arizona State (171.76).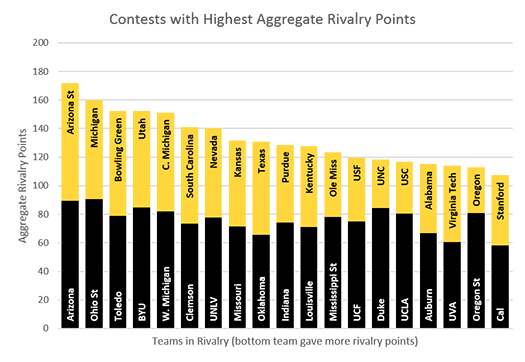 Which team is most likely considered a rival?
Notre Dame – named as a rival by 30 other teams' fans – was the most frequently named rival in the survey, followed by Alabama (29), Ohio State (27), Southern California (24), and Auburn and Texas (23 each). Several of those teams, with the addition of Florida, also exhibited the highest difference between being named by other teams' fans and the total rival teams named by one's own fans.
"Such disparities provide evidence of unidirectional rivalry, where one team's fans view an opponent as a rival but the opposing fans do not share the same impression," Dr. Cobbs explained.  
The greatest allocated point disparity was observed for Boston College-Notre Dame, where Boston College fans assigned 74.17 points to Notre Dame, but Notre Dame fans reciprocated with just 1.71 of their possible 100 points. For marketers and broadcasters, the potential for unidirectional rivalry is important to recognize – designating a contest as a "rivalry game" can depend on which side of the field one sits.
For the sports business professionals trusted to oversee our college athletics ecosystem, data on the intensity of rivalries provides insight into fan passions. In addition to using rivalry intensity as a factor in determining league, conference, and division structure, rivalry impacts the broader world of sport marketing. Rivalry drives ticket and broadcast demand, fosters stronger fan identification with favorite teams, and affects sponsorship activation strategies as sponsors seek involvement with prominent games that evoke enduring passions rather than a waning, one-sided competition.