More New Housing on the Way to Dayton Riverfront. Here's What it May Look Like.
Wed, 12/03/2014 - 07:49
RCN Newsdesk
Dayton city officials and residents got a small glimpse into what the latest Manhattan Harbour 
project might look like at Monday night's city council meeting.
Brendan Sullivan and James Read, of James Read and Associates, presented a 
slideshow giving what they called a "preliminary concept design" of the planned 73­acre 
residential and multi­use community development along Dayton's riverfront. The purpose 
of his presentation was not only to give a glimpse, but also to solicit feedback and field 
questions from the community.
"The best project is going to come from a lot of homework," Read, the architect behind the 
design, said in his opening remarks. "We're really interested in building a community 
here, but also in linking to what you already have here in Dayton."
The concept for the development Read and his team have designed includes a mix of 
commercial, multi-­family, and single­-family buildings that hug along both the north and 
south side of the Dayton flood wall.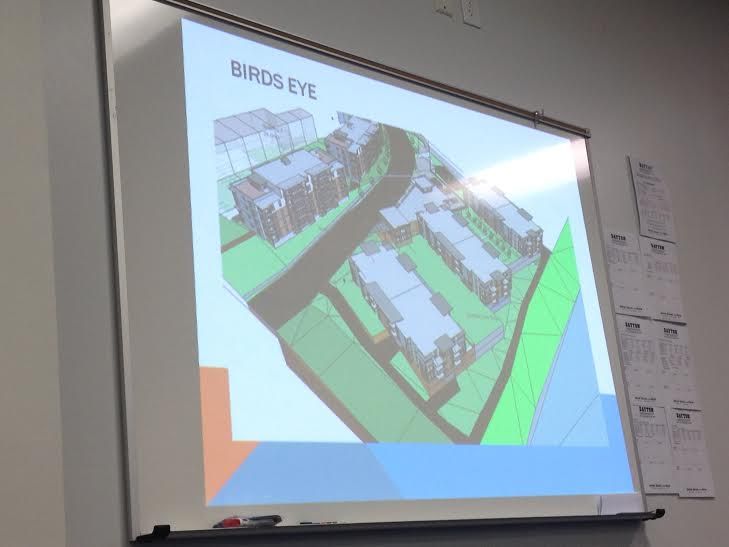 Emphasizing that this design is only meant to outline the concept, Read and Sullivan did 
mention that, if this plan's final version is approved, construction would begin with two buildings
on the south side of the flood wall.
"These two buildings will set the bar high," Read said, going on to explain how all the 
residential buildings planned would be positioned so that all units will have a view of the 
Ohio River. Read also plans to design these buildings with "green roofs," which would 
include solar paneling for energy generation and storage for the buildings.
The team also originally considered high­rise designs for some of the buildings, but 
ultimately favored mid­rise and town house designs, Read said.
Beyond the buildings, though, Read emphasized the design will stimulate community 
engagement and activity. "We want to bring
livability
to the lifestyle of Manhattan 
Harbour," he said. "It's not so much about the buildings as it is about the lifestyle in, 
around, and between them."
Walkability plays a major role in this, Read said. "Being a walkable community is very 
important to making this project work," he said.
"There can be a lot of energy on Route 8," Read mentioned toward the close of his 
presentation. "I'm really excited about the potential here."
It's still a long road ahead of them, though, Sullivan mentioned, including continuing 
conversations with the Army Corps of Engineers, who has jurisdiction over maintenance 
of the flood wall. Sullivan hopes to begin construction on the first two buildings late next 
year. "The approval process for this will take about a year," he said.
Residents did have some concerns, though. Some had heard rumors that the developers 
were intending to purchase more land surrounding the current properties slated for 
Manhattan
Harbour
. Both Mayor Ken Rankle and Sullivan laid that rumor quickly to rest.
"We have no plans to buy any more land," Sullivan assured the audience. "We've got 
plenty to handle already."
David Imboden, with DCI, the developer overseeing the project, was also in the audience 
Monday night and made the same assurance.
Another resident also raised concern about the environmental impact of such a large 
development project on surrounding properties.
"Construction inevitably brings chaos," she said. 
Sullivan responded somewhat generally, not able to comment on the impact construction 
will have on a specific property, but assured the resident that they will take every measure 
within their grasp to keep that impact under control, returning to the overall strategy 
behind the design, to add to what Dayton already has. This includes, he said, being 
sensitive to those who already live in the area.
The team plans to deliver a more finalized version of the design plan at the next Dayton 
City Council meeting, scheduled for January 6.
Story & photos by Pat LaFleur, RCN contributor