They Left to Join The Circus. Now They're Back & Opening a New Distillery in Ludlow.
Tue, 12/09/2014 - 14:09
RCN Newsdesk
A new distillery has cropped up in Ludlow which promises to add an interesting quirk to the existing small-town charm of the city. Second Sight Spirits sits adjacent to the Wynners Cup coffee shop on Elm Street and plans to open its doors in late January.
Many years ago, Northern Kentucky friends Rick Couch and Carus Waggoner decided to leave town and join the circus. They went to Las Vegas and joined Cirque Du Soleil and while they were there, they got interested in distilling. They went to a distilling festival and found out that a man in Las Vegas was getting ready to open up a craft distillery.
"We hooked up with him at the right time, he was just getting his equipment in and we helped him put all of the equipment together," Rick Couch said. "We worked with him for about a year, and then we decided to make a move back home and give distilling a try."
Second Sights Spirits has been in the works for the past three years. The two acquired the building last February. The federal licensing took over eight months alone. They worked with the Northern Kentucky Planning Commission which took another three months to be sure the company was within regulations to have a distillery there.
"They really helped us out to figure out how we were going to make this work, but that all takes time," Carus Waggoner said.
Bourbon is an avenue the two would like to voyage into, but for now, Second Sights distils only clear spirits—gin and rum.
"We just don't have the time to wait for aged spirits to come out; that's the next step," Waggoner said. "Bourbon is another aging thing. We will get to it eventually, but we need a good 18 months to three years after we put it down to be able to sit."
The two have unique skill sets that have allowed them to build a lot of their equipment themselves. Couch is a mechanical engineer and Waggoner is an industrial designer by trade.
"When we started, we knew to set ourselves apart, we had to be kind of different," Waggoner said. "We didn't have the 100 plus years of heritage the big boys down south have or the multimillion dollars some of our other friends have, so we knew we had to get unique. After taking different tours of different facilities, everyone kept looking towards the past to get their inspiration. We thought maybe we'd look toward the future."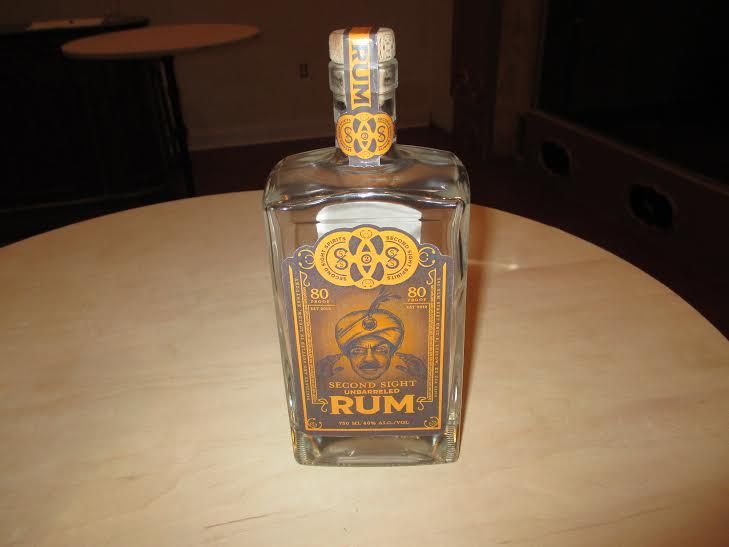 They came up with Second Sights Spirits because it has visions of the future. Based on that, they wanted to make the equipment and the process they use just as exciting as the product itself and reflect the company's name.
"We really wanted to find a way to make the whole process exciting, interactive and personal," Waggoner said. "With Rick being the mechanical guy, I throw out some ideas and he works them out, so we work well together."
They two built about 90 percent of their still themselves, utilizing local copper smiths and since they worked with some of the larger still manufacturers in the past, they were able to gather the materials they needed to make a very interesting piece that people will enjoy seeing. Second Sight Spirits plans to have a big reveal of what their still looks like when they open.
Once open for business, Second Sight can legally give a two-ounce sample to prospective customers, but the establishment is not a bar.
To start, the distillery will have rum available right away with gin to follow and hopes that in a few months, customers can taste each one. Second Sights will have bottles for sale as well as other merchandise.
"Rick and I funded it all and that's why we've had to be really ingenious with coming up with a lot of stuff," Waggoner said.
Some of the lettering and decor of the interior of the business was made by a 3D printer that Waggoner has access to work with.
"Being new and kind of different, we've been able to work with other new companies to kind of push the boundaries. One thing we're trying that hasn't been totally realized is that we had one of our friends dress up like a swami and then we went to a new company called Click 360 which has a 72-camera array and it takes all the pictures at once and then compiles into a 3D image into a computer. Once that happens, we can cut it out from a CNC machine so then a whole body will come into play."
The two owners raved about how cooperative the City of Ludlow has been in terms of allowing the business to take shape in the city. Second Sight has felt the support from a number of city officials.
"The City of Ludlow has been amazing, from the Police Chief to the Fire Chief to the Mayor, the City Council worked with us 100 percent the entire way. I can't stress how grateful we are," Waggoner said. "I don't know how we would have done it without their support. Sometimes when you have questions or have to submit things, it can easily get lost in the machine, but it's been refreshing the way Ludlow has responded to all of our concerns"
Follow The River City News on Facebook, Twitter, or email us!
Story & photos by Bryan Burke, associate editor