In Bellevue, a Goodbye to Four City Servants
Thu, 12/11/2014 - 15:42
RCN Newsdesk
The current Bellevue City Council met for the final Wednesday night, and spent part of the meeting bidding farewell to four city servants.
Mayor Ed Riehl presented keys to the city to three outgoing council members, in
recognition
of their service to the city of Bellevue. Kathy
Almoslechner
, Bill
Helton
, and 
Carol Rich were each recognized by the mayor Wednesday night.
Rich, who was defeated by Riehl in this year's race for mayor, thanked her colleagues 
and constituents, also adding, "Community service is always in my heart, and I will always 
do it. I don't think this is the last you'll see of me."
Helton, who was also defeated at the polls this November, also commented, "I'd like to 
thank the city for giving me the opportunity to sit on the board."
Almoslechner, who announced she would not be running for re­election earlier this year, 
expressed her mixed feelings about stepping down. "It's been fascinating, frustrating, a l
ittle bit of everything," she said. "I've learned a lot, and hopefully I've given a little bit 
back."
Re­elected incumbent Councilman Steven Guidugli, echoing comments made at
last 
week's council meeting in Dayton, pointed out how, despite the public scrutiny that comes 
with taking public office, he is proud to have worked with his outgoing colleagues. "It's 
been a pleasure working with you... The more I stand here, the more I appreciate
working
with
you three."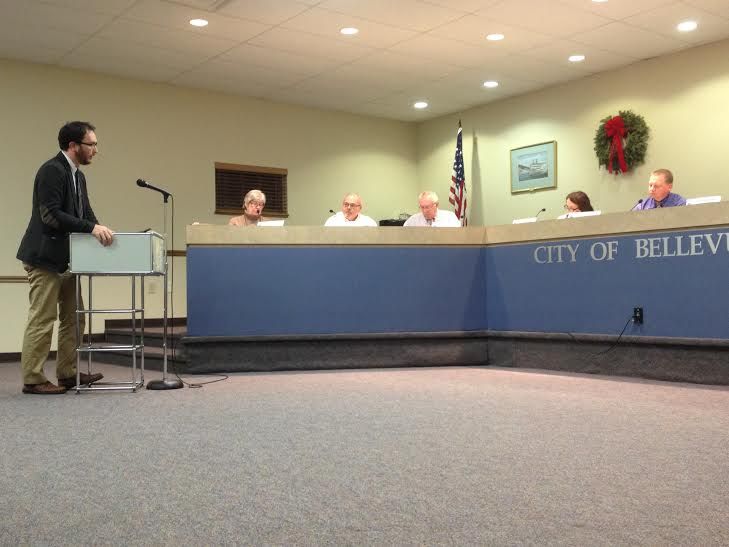 John Yung speaks to council/RCN
After offering his monthly report to Council, Yung offered his gratitude and expressed his 
pride in the city he has served for nearly a decade. "Here in Bellevue, I've been here for eight 
years, and I've accomplished a lot... Over my tenure, the city has become this amazing, 
great place, and I feel it will continue to be that," he said.
Yung's time as a Bellevue staffer has included guiding the city through adopting its new 
form­ based code, as well as other hot­-button issues facing the city's zoning concerns.
"We wish him well in his new endeavors," said Riehl. "He's definitely made his mark on 
Bellevue and made it a better place."
"Thank you all, and I look forward to seeing how the city evolves, and helping out in 
anyway I can from where I'll be,"
Yung
said.
City Administrator Keith Spoelker, also offering his thanks to Yung, informed council that 
the city has been advertising the job vacancy
Yung's
departure has created, and added 
that they have already received 10 or 11 applications so far.
Aside from fond farewells, council also discussed the following items before the close of 
this term:
--Councilman Matt Olliges reported to the rest of council that Southbank Partners have 
offered to provide, at no cost to the city, temporary signage to promote Bellevue's interim 
leg of the Riverfront Commons walking and biking trail, which when completed will stretch along
the Ohio River from Ludlow to Fort Thomas.
"This is great marketing at zero cost to the city," Olliges said. 
Council voted to accept
Southbank's
offer. The next step will be looking at similar signage 
in Newport for design, and determining which Bellevue destinations should be pointed out 
by the signage along the trail.
--Bellevue Police Chief Wayne Turner,
echoing remarks made by his counterpart in Dayton 
last week, warned council and residents of holiday crime. Specifically, Turner pointed out 
phone scams reported in the area. He reported to council that an older woman contacted 
him recently in a panic, having received a phone call from someone claiming to be with 
the IRS. After listening to the recording, police were able to identify it as fraudulent.
Turner recommends anyone receiving suspicious phone calls like these can either 
Google search the phone number - there are several online databases where consumers 
have listed phony numbers, he said - or they can contact the Bellevue Police Department.
--City Clerk Mary Scott read a correspondence from Senior Services of Northern Kentucky 
thanking Mayor
Riehl
and Council for their continued support in providing health and 
nutrition programs and transportation services to, according to the letter, 189 seniors in 
Bellevue.
"We are privileged to work work with you, Mayor Riehl, and the city for working to provide 
for low­income seniors in Bellevue," the letter read.
"We're always glad to contribute," Riehl replied upon its reading.
--Two representatives from the Ohio Valley Chapter of the National Multiple Sclerosis 
Society also made a request to council Wednesday night for use of the Bellevue Beach 
Park as the final destination for its upcoming "Bike MS" charity ride, scheduled for late 
August. Council voted unanimously to approve their use of the park for the weekend of 
Aug. 21­-23, 2015.
They also mentioned that, after seeing the park for the first time earlier this year, they are 
eyeing the spot for their annual Walk MS for the year 2016.
No new ordinances were read or voted on Wednesday night, and the next Bellevue City 
Council will convene for the first time on January 14.
Story & photos by Pat LaFleur, RCN contributor