These Northern Kentucky Kids are Starring in Playhouse in the Park's "Christmas Carol"
Thu, 12/11/2014 - 07:51
RCN Newsdesk
Two of the youngest stars of Playhouse in the Park's holiday favorite
A Christmas Carol
 are Ty 
Joseph Shelton of Crestview Hills, reprising his role as Tiny Tim, and Jordan Shaw of Crescent 
Springs, who plays a variety of small roles.
Carol
, which continues through Dec. 28, is, of course, Charles Dickens' ageless holiday ghost 
story which takes cold-hearted Ebenezer Scrooge to visit his past, present and possible future 
one Christmas Eve. At Playhouse, it has lots of theatrical magic as it zooms along. 
Ty is a fourth grader at Blessed Sacrament School, Jordan is a fifth grader at River Ridge 
Elementary School and they're both already veteran performers. Ty spent last summer training 
in Cincinnati Children's
Theatre's
STAR program. Jordan has many credits with Cincinnati Black 
Theatre Company.
They both have wide-ranging interests when they're not on stage. Jordan is involved with her 
school's morning news team, book club, Girl Scouts and dance club. She enjoys reading, 
dancing, drawing and acting. 
Ty Joseph Shelton
Ty likes the outdoors, soccer, golf, fishing and hobbies in creative design including Legos and 
Minecraft. Ty's face lights up when he says the word "audition." 
They agree about the best thing about being cast in "Carol" – "meeting new people and making 
new friends."  
Kids are backstage for long stretches of time, but there's homew
ork to do – young cast 
members miss class for several student matinees – and Secret Santa every year, and a 
competition for decorating dressing rooms, girls vs. boys.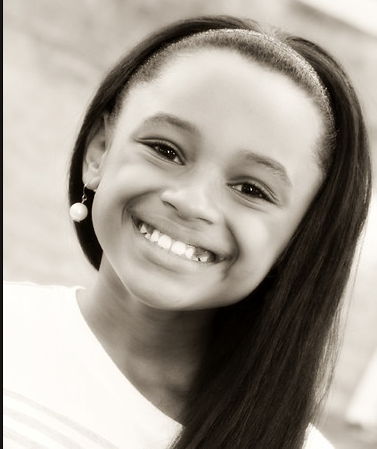 Jordan Shaw
Ty and Jordan answer some questions about acting and Carol:
RCN: What do you like best about acting?
Ty:
I like playing a character, figuring out how the character is inside, and then being like it. Tiny 
Tim is nice and caring and spiritual.
(Even when he doesn't have a role Ty practices on characters in movies – figuring out the Gollum in The Hobbit and the big elf in Elf.)
Jordan:
Acting is my favorite thing. I like to think about what the character's background is and 
interpret it. Want (who, with Ignorance, can devastate the world) is hungry. When we were 
rehearsing, the director (Michael Haney) told me Want hates Scrooge, so I called on my inner 
hate and put my mean face on. (
Jordon
demonstrated her scary 'mean' face.)
RCN: Is performing at Playhouse different from working at other theaters?
Jordan:
It's more serious. There are rehearsal calls and tapes are on the floor, especially where 
the trapdoors open and close.
Ty and Jordan both plan to audition for
Carol
 again next year. Ty wants to play Ignorance and 
Boy Scrooge in the future; Jordan is eager to repeat a wonderful experience.
A Christmas Carol, through Dec. 28, Playhouse in the Park, Eden Park. 7 p.m. Tuesday-Sunday, 2 

p.m. matinees. Check performance dates. No performances on Christmas Eve and Christmas 

Day. Tickets $35 and up. For adults and subject to change. $30 and $45 children and students. 

513-421-3888, (toll-free in Ohio, Kentucky and Indiana at 800-582-3208) or visit 

www.cincyplay.com. Call 513-345-2248 for Telecommunications Device for the Deaf 

accessibility.
Written by Jackie Demaline, RCN Arts