In Finale, Kenton Fiscal Court's Rancor Unresolved as One Final Move May Be Headed to Court
Wed, 12/17/2014 - 11:57
RCN Newsdesk
Judge-Executive Steve Arlinghaus presided over his final Kenton County Fiscal Court meeting on Tuesday morning and remained seated as the meeting concluded. County Commissioner Kris Knochelmann, who defeated Arlinghaus in a bitter Republican primary in May and will replace him in January, approached, extended his hand. Arlinghaus took it and the pair engaged in an awkward handshake.
"Good job," Knochelmann said.
Arlinghaus looked down at his desk, paused a moment, shook his head and said, "Thank you". Knochelmann walked away.
Moments earlier, Arlinghaus gave a farewell address to the people of Kenton County following a meeting full of contention and disagreements like so many previous ones over the past four years. The ousted Judge-Executive hit many of his recurring themes of late, his successes as leader of Kentucky's third most populous county and those issues that he believe cost him a second term, particularly a reporter at the Cincinnati Enquirer and a series of articles about the Kenton County Airport Board.
Arlinghaus listed a $5.8 million surplus, improved computing technology, new public works vehicles, and repairing the finances at the Kenton County Golf Course among his administration's successes. "However," the judge then said, "there is one blemish on our record, due to a blatantly misleading article published by the Cincinnati Enquirer that was written by a disgruntled reporter that strongly insinuated to the public that travel of the CVG Airport Board members was being paid for by taxpayers."
A distaste for the region's largest daily newspaper and reporter James Pilcher in particular has been a public topic of Arlinghaus's remarks for months. Pilcher and other Enquirer reporters spent months documenting expenditures related to travel by board members and food and alcohol provided at the board's monthly meetings, as well as an apparent attempt to fire CVG CEO Candace McGraw, reporting that ultimately led to a scathing examination by Kentucky Auditor Adam Edelen in which Arlinghaus was blasted for his own travel and reputed nepotism after his daughter gained employment at the airport.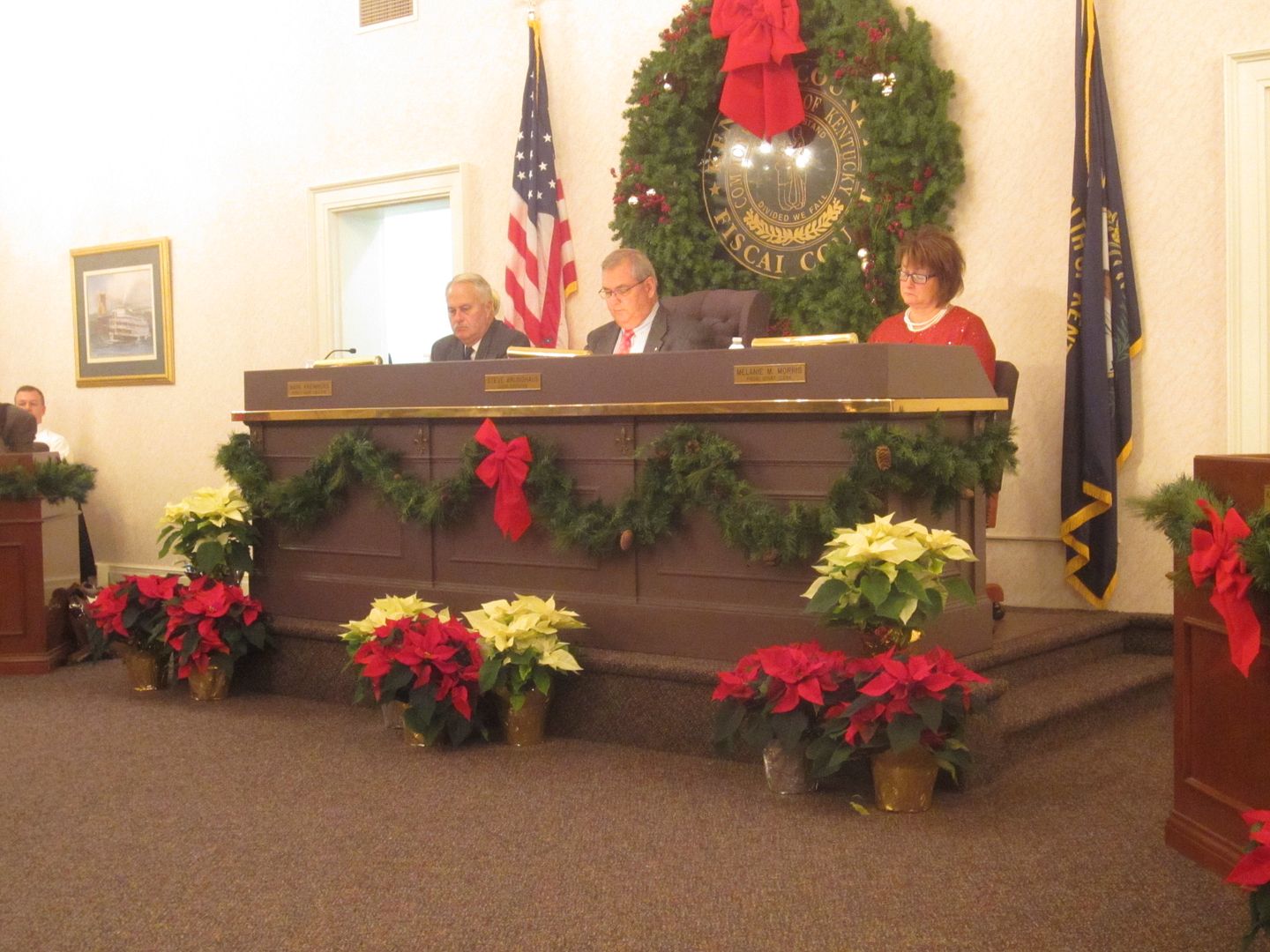 "Numerous follow-up and spin-off articles were written on a weekly basis, often two or three times a week, continually stirring public outrage, all for a reporter to make a name for himself, and the ability for the Cincinnati Enquirer to sell newspapers providing him job security," Arlinghaus read from his prepared remarks, something he said that he is not prone to do, preferring instead to speak freely. "There was no concern for destroying the character of so many good, hard-working, honorable people that serve or have served on the Airport Board."
The refrain had become as common as the disagreements between two halves of the Fiscal Court, continuing right though the bitter end when one more vote ended in a 2-2 tie like so many before it. Arlinghaus and Commissioner Jon Draud voted in favor of appointing Gary Richardson to the board of directors for Sanitation District 1. The appointment ended in a 2-2 tie at a meeting last month because Knochelmann and Commissioner Beth Sewell believe the next appointment should go to a Covington resident. Richardson lives in southern Kenton County. Though the vote was first taken last month and ended in a tie, County Attorney Garry Edmondson said that the vote was invalid anyway because the board seat had not been officially vacated.
As of December 12, the seat was officially vacant, but on Tuesday Edmondson disagreed with Arlinghaus's interpretation that a tie vote would allow the Judge-Executive to make the appointment anyway.
Richardson is a former executive director of SD1.
After the second 2-2 tie, Arlinghaus opted to use what he interpreted, citing Kentucky Revised Statute and legal opinions, as an executive authority to place Richardson on the board. Edmondson also cited KRS and legal opinions in his dissent. The matter could be headed for Kenton County Circuit Court.
"By the authority vested in me, I am going to appoint Gary Richardson to the SD1 Board and it can be challenged from there," Arlinghaus said. 
"In my opinion, a vacancy still exists," said Edmondson, who was also at his final Fiscal Court meeting as he did not seek reelection and will be replaced by Stacy Tapke in January.
Though the bitterness of the past four years and even at this meeting was present in the air, Knochelmann and Sewell struck an optimistic tone in their final remarks. "Plenty of times we've had arguments and disagreements but there is far more that we've accomplished in these four years," Knochelmann said. "Hopefully we can continue to work for the community in our own ways over the next four years."
"I'm looking forward to 2015 maybe more than any year in my life," Sewell said. 
Draud, however, took a different approach. "I think this has been a very productive four years in spite of some major obstacles," he said. He complimented Arlinghaus on his tenure. "I say that at the risk of being called a puppet, a lackey, a yes-man which I was referred to as in the campaign by our future judge, Kris Knochelmann. You have a lot to be proud of. You lost the election but you and your staff have a lot to be proud of."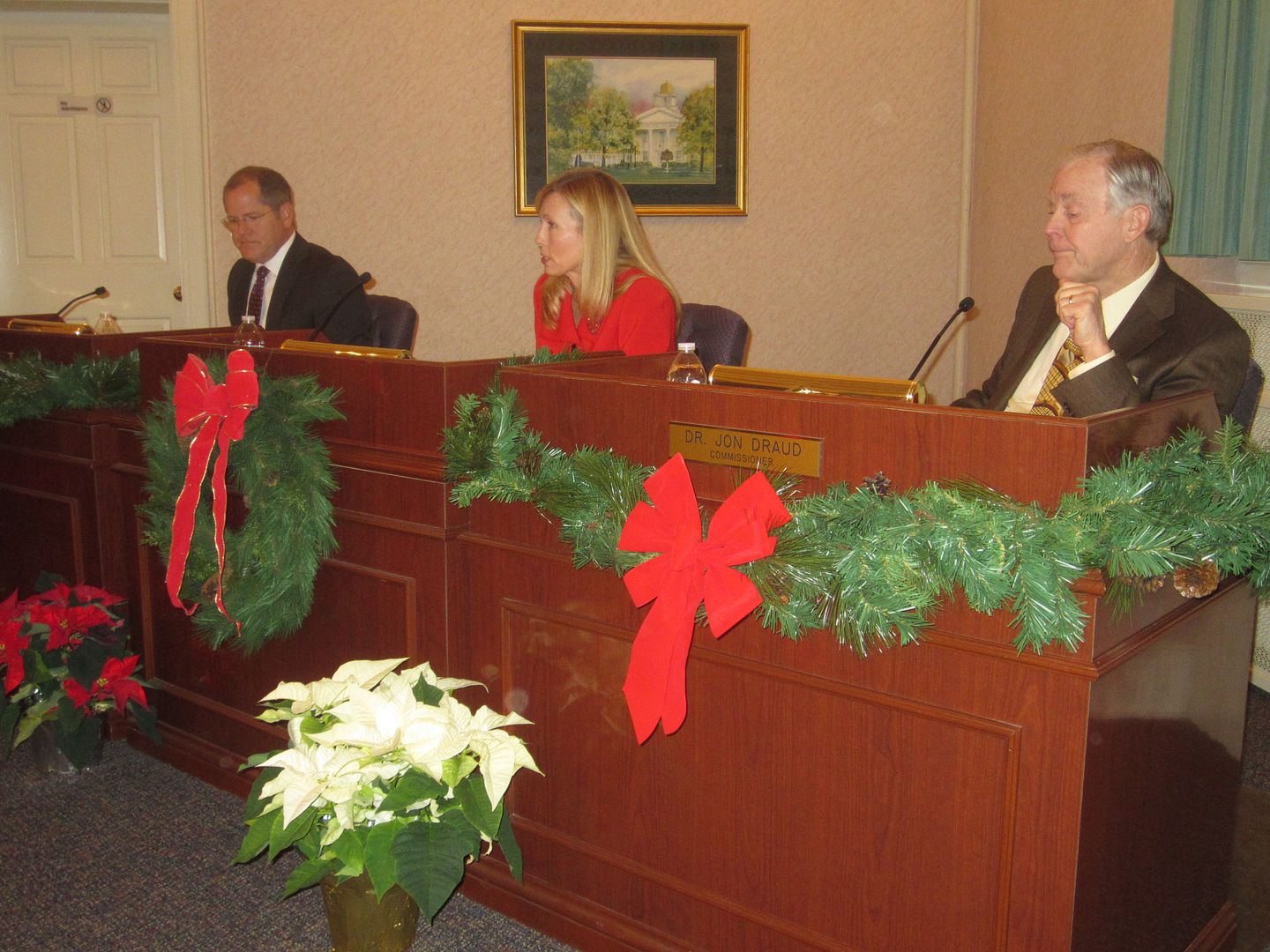 Draud pointed to Roger Wells, fleet manager, and Chris Warneford, public works director, as the employees who will not return to work under Knochelmann. Deputy Judge-Executive Mark Kreimborg and Fiscal Court Clerk Melanie Morris will also move on. County Administrator Joe Shriver will return.
When Edmondson was a high school student Draud was his teacher. The subject: American government. "That's why you've been so successful," Draud joked. 
Edmondson worked at what he counted to be roughly 800 fiscal court meetings (they used to meet every week). "It's been an honor and privilege to do this," he said. "It was a lifelong dream to be county attorney."
Arlinghaus also called his time in office an honor. "This job has been quite a humbling experience," he said, after remembering the deadly tornado that hit the southern end of the county killing four people. "It's been an opportunity of a lifetime and a chapter in my life which I will always cherish and never forget. I have all of you to thank for sharing in my record of success and I truly appreciate what you have done for me and my family and I wish the next administration the same success."
Story & photos by Michael Monks, editor & publisher of The River City News