Trucking Association: Brent Spence is 4th Most Congested in Nation
Fri, 12/19/2014 - 07:26
RCN Newsdesk
The American Transportation Research Institute (ATRI), a subsidiary of the American Trucking Associations, released this week the findings of its 2014 Congestion Impact Analysis of Freight-Significant Highway Locations. 
The place where Interstates 71 & 75 collide at the Brent Spence Bridge in Cincinnati ranked #4 on the organization's list.
The research, which assesses the level of truck-oriented congestion at 250 locations on the national highway system, uses several customized software applications and analysis methods, along with terabytes of data from trucking operations to produce a congestion impact ranking for each location, according to a news release. The data is also used in conjunction with the FHWA-sponsored Freight Performance Measures (FPM) initiative.
The locations detailed in this latest ATRI report represent the top 100 congested locations.
The number one spot on the ATRI list this year is the George Washington Bridge which connects New York and New Jersey. It surpassed the perennial first-place holder, Chicago's Circle Interchange (#2 on the list). 
ATRI's analysis points to construction on the top deck of the George Washington Bridge which created significant delays for trucks in 2013.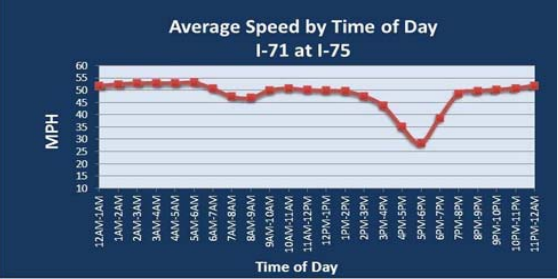 From ATRI
According to the research, the average speed at this point is 47 miles per hour which drops to 39 at peak times. 
The Brent Spence Bridge opened in 1962 and is listed as "functionally obsolete" and carries more than twice the number of vehicles for which it was designed.
-Staff report