Editorial: Landor Got Covington's New Brand Right, Now the City Has to Live Up to It
Sun, 12/21/2014 - 09:23
RCN Newsdesk
The City of Covington unveiled its new municipal branding this week and it is unlike any such city logo anywhere.
And, like so many efforts in Covington, the new brand was met with a wave of negative feedback.
The River City News believes that that negative feedback is welcome and necessary, but also misplaced. We believe that Landor, the creative firm behind the new image, nailed it. Everything. The city, its personality, its ambition, its nature, all of it. That is no easy task in a city as complicated and diverse as Covington.
The real challenge is for the City of Covington itself. There is a strong message in this new image. In fact, there are many strong messages. The task at hand, so to speak, is for the City to respond to those messages.
This cannot be just a logo. This must be a way of life and a way of conducting business for our city government.
Some of the negative feedback about the branding suggested that it was unbecoming of a municipal government that wants to be taken seriously, or that the "C" looked more like a "G", or that the hand attached to the letter was too easy to manipulate. Well, as far as being taken seriously, let's examine who Landor is and why it's significant that it just created an image for the City of Covington. The international branding giant includes Procter & Gamble, FedEx, Kraft, John Deere, Volkswagen, Old Spice, Citi, Pepsi, and a myriad of other worldwide brands whose ubiquitous messages are easily recognizable to us.
In other words, these people know what they're doing. Some commenters at The River City News suggested that the City could have saved the money ($120,000 from a federal grant) and used local students in a contest to come up with a logo for the city. And these commenters were apparently serious.
Nonsense. Think more deeply and for a longer time about what this new logo means and what it represents.
And also consider what an alternative could have been. We are not fond of trashing other municipalities and are big fans of Cincinnati, but our neighbor's official logo is this:
The city's name next to, what, a toilet seat?
This is Covington's new logo: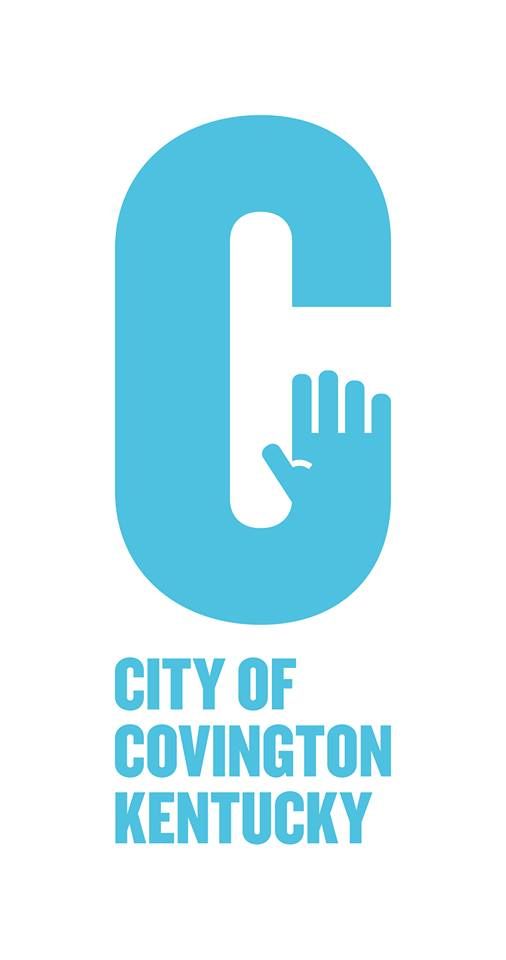 The logo literally says, Hello. Hello, look at me. And thanks to the brilliant flexibility of the design, it can also say lots of other things: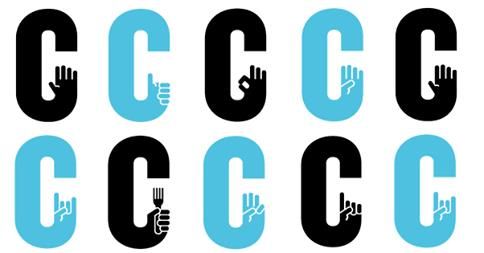 And yes, it can also say anything someone with access to Paint or Photoshop can manipulate it to say. And to us, that is so Covington. This is a place with lots to say, lots to do, and lots of work ahead of it. That's why we are fortunate that Covington Is Alive and that Covington is a City of Helping Hands.
And now City Hall must adopt this mentality immediately. It is not lost on us or the general public that this new branding was unveiled one year later than it was supposed to have been. Shooting for the moon and then waiting and waiting is also, unfortunately, so Covington. We don't really have time to wait anymore.
You saw that City of Cincinnati logo? Pretty terrible in our estimation, but you can stand at the southern end of the Roebling Suspension Bridge and see that Cincinnati is very much alive: a blossoming riverfront, new towers for growing corporations, a streetcar being laid, a gentrified former ghetto that is now the envy of the nation, and an attitude that says, Let's do it. 
Covington is not a competitor of Cincinnati's. We are a much smaller city. We are, however, neighbors and our larger neighbor is doing a heck of a job of generating excitement for the region and Covington is not doing enough to capitalize on that. A shift to bringing more of that excitement to the southbank of the Ohio River starts at City Hall.
The incoming city commission and the city administration must fully embrace and act upon the message that it adopted as its own, otherwise it will ring hollow. The City of Covington must be a helpful hand, must point people and businesses in the right direction, must demonstrate love for the community and itself, must like itself, and must be its friendliest and most passionate ambassador. It must also retain its quirky nature. This logo could not have been adopted by any other city.
It is just so Covington.
It is going to look amazing on stationery, wayfinding, and websites. It will stand out more than any other city logo, possibly anywhere.
City Hall took a step in the right direction last week when it hosted what it branded a Throw Down House Party to celebrate the new imagery. The logo was plastered everywhere, and city officials wore T-shirts, passed out food, made buttons, hosted games, and looked to be having fun.
That is the type of attitude that must be on display at City Hall from now on. The City of Covington already has the benefit of operating out of a newly redeveloped historic building that would be the envy of most tech start-ups with its exposed brick and colorful accents and views of the city. This is how it should feel at City Hall every day.
And just as the new logo is popping up on windows at Gateway Community & Technical College, at AmerAsia, at The River City News, at other places around town (sometimes with the message "The time to invest is now" <--- nice touch, by the way), City Hall must also get out of City Hall. Take your newly empowered helping hand to Latonia where Ritte's Corner deserves the treatment of a Renaissance Covington-style organization, where the shopping center needs aggressive promotion for redevelopment, to Madison Avenue where the Kroger store sits as an embarrassment and, frankly, an insult to the people of this city.
Yes, when necessary, turn that hand into a fist and pound your chest until the necessary changes are made.
Take it to the riverfront where a bold vision has already been laid out, so let's start digging.
We give you a high five, City of Covington, on your new logo. Landor nailed it. Landor nailed this city.
Now it's up to you to live up to what the new branding represents.
-Michael Monks, editor & publisher of The River City News