Beshear, Kasich to Forge Ahead on Brent Spence Bridge Project
Mon, 12/22/2014 - 15:42
RCN Newsdesk
"We can't afford to wait."
Governor Steve Beshear returned to Covington on Monday and said that it is time to act on the Brent Spence Bridge Project despite the anti-bridge rhetoric from some Northern Kentucky elected and civic leaders. 
"There has been a lot of misinformation and a lot of assumptions that aren't true," Beshear said. "There has been knee-jerk opposition to tolls and an inability to see the big picture. And all that has too many people confused about what this project is all about."
Beshear said that he and Ohio Governor John Kasich spoke by phone last week and that they would be meeting in January to direct their respective transportation departments on a path forward. The two last appeared together in Covington in 2012 where they vowed to work together to build the estimated $2.6 billion project that includes between seven and eight miles of work on the interstate leading to the bridge on both sides of the river as well as a companion span that would be built adjacent to the 50-year old Brent Spence.
Beshear said that it is time to talk in terms of facts. "First, I think we can all agree that the economic future of this region depends on free-flowing interstate transportation. I think we can also agree that the Brent Spence Bridge and the I-75, I-71 corridor as they currently exist are an impediment to economic vitality that can't be ignored without serious consequences," Beshear said, citing the recent report that listed the corridor as the 4th most congested for truck traffic in the nation.
"The lanes are too narrow, there are no emergency shoulders, traffic is almost double of what it was designed to carry on that bridge," Beshear continued.
The governor said that he and Kasich agreed that, "We cannot afford to delay action on a vital piece of infrastructure in this region because after I laid out all those facts to you, I want to get around to another fact that is in many ways the most important fact to get in front of you." Beshear then laid out the expected increases in the cost to complete the project if the region continues to wait. "We can count that cost in the hundreds of thousands of hours lost in traffic, we can tally the accidents we see daily in this corridor, and in dollars that all of us will share in tolls or taxes and both as inflation drives this $2.6 billion project higher and higher."
He said that based on a 3% inflation rate, the cost is $7 million more each month, or $84 million a year. Waiting five years would add $400 million to the cost of the bridge, he said. Ten years would add $800 million.
"And folks, we're gonna build this some time," Beshear said. "You want to spend another billion sitting around ten years from now?"
"That's crazy to think we're going to sit here because of indecision and procrastination and end up spending another billion. Guess where that's going to come from. It's going to come from you and me. We have to control that cost and to keep that cost as low as possible."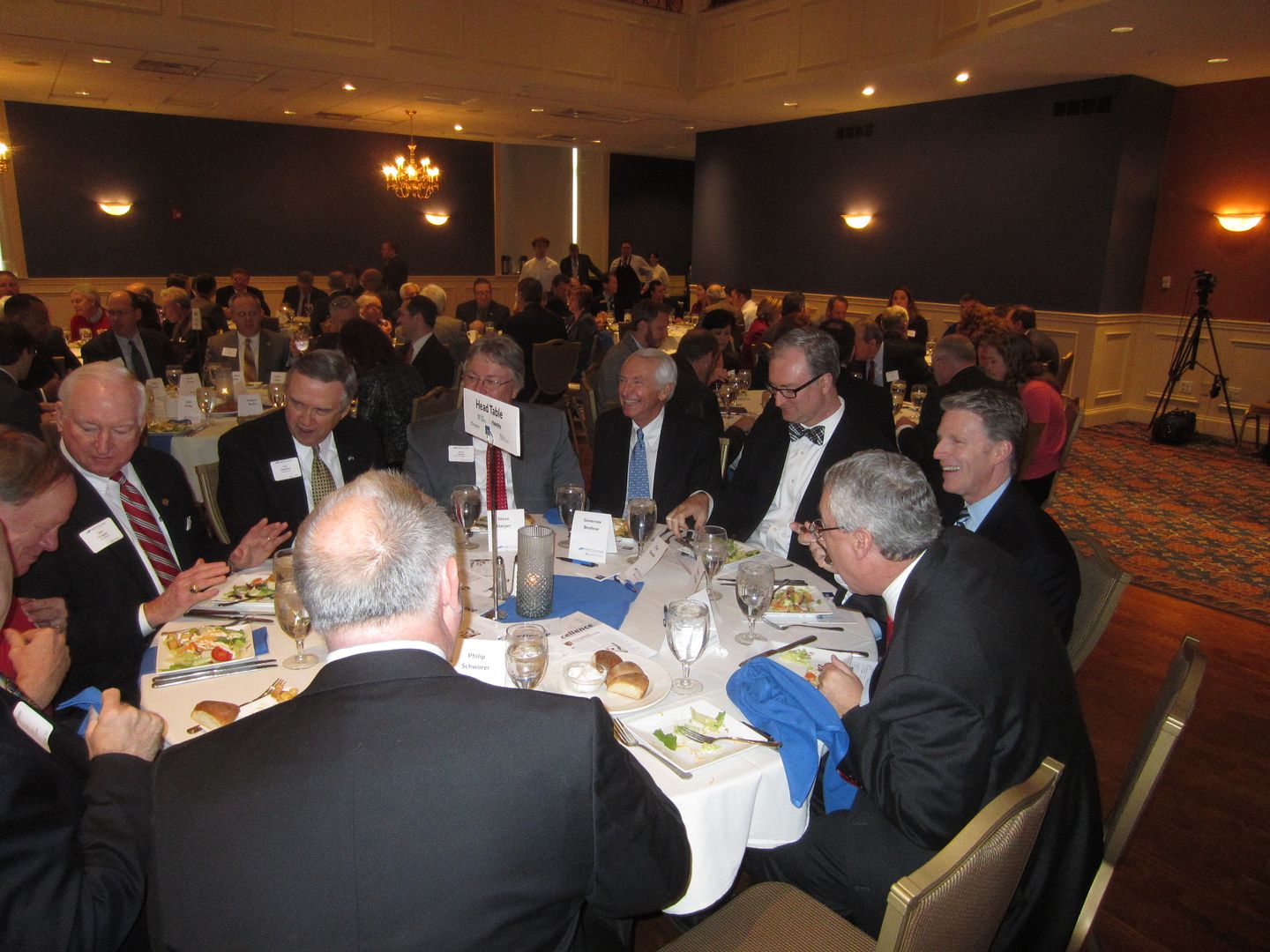 The topic of the bridge was preceded by Beshear's endorsement of public-private partnership legislation as it would relate to transportation projects. He cited the possible legislation as one of his three highest priorities for the upcoming General Assembly session (the other two being an anti-heroin bill and a dating violence bill). Such legislation last year was vetoed by Beshear after the legislature passed a bill that included language inserted by State Rep. Arnold Simpson (D-Covington) that specifically prohibited tolling to be used to fund the Brent Spence Bridge project. 
As the federal government has not come forward with the funds for the bridge, advocates have championed a plan that would finance the Brent Spence project through a public-private partnership and tolls. Beshear said that he and Indiana Governor Mitch Daniels worked together to get two bridges under construction in Louisville and that the project would be completed four years after it started at a cost of $2.3 billion. Tolls will be involved there.
"Both Kentucky and Indiana recognized that we couldn't keep waiting on dysfunctional Washington to get its act together. We have to pave our own path forward," Beshear said. "We're building two bridges, renovating an existing bridge, and expanding all our interstate connections."
"Go down there and look," Beshear urged the crowd. "The piers are out of the water, the decks are being laid, the cables are being strung. Business leaders are making decisions about growing and expanding jobs in that area. They see a brighter economic future throughout the Greater Louisville area."
"When we finally get to work on this bridge, the synergy that's going to happen in southern Ohio and Northern Kentucky will be monumental. You will see a surge of economic activity." Beshear had started the lunch speech by applauding Northern Kentucky on its growth, which he said has included more than $1.5 billion in investment and 11,600 new jobs since 2008 when he took office. He said he enjoys coming to a place that is filled with winners, like Northern Kentucky. "You ain't seen nothing yet because it will take off and this place will literally come alive with economic activity as we move that project along."
State Rep. Adam Koenig (R-Erlanger) said that he "can't really argue with what (Beshear) said. Facts are facts," he said. "There are still a lot of concerns about funding."
Koenig, who is making a move for a House leadership position in January, said that tolling remains unpopular with his constituents. He believes the project should be completed, though, and worked on lobbying for a new bridge when he was a Kenton County Commissioner in 2000. "I've always felt like we need to move forward with this project."
As Koenig competes for a leadership post, so will his fellow State Rep. Dennis Keene (D-Wilder) as State Senator Chris McDaniel (R-Taylor Mill), a candidate for lieutenant governor, takes over the upper chamber's Appropriations and Revenue Committee. That could spell a lot of clout for a region in need of a bridge. "I think it's just a unique coming together of opportunities for all of us," Koenig said. "It's not a grand Northern Kentucky scheme to take over the universe, though that wouldn't be a bad thing," he laughed. 
Beshear that if the public-private partnership, or P3, legislation features anti-toll language like it did in 2014, he would veto it again.
Story & photos by Michael Monks, editor & publisher of The River City News