The 13 Biggest Stories About Historic Preservation in Northern Kentucky in 2014
Tue, 12/30/2014 - 08:56
RCN Newsdesk
It was a banner year for historic preservation issues in Northern Kentucky.
2014 saw the purchase of a long vacant art deco movie theater, the saving of a 19th century building on the verge of collapse, the renovation of multiple old structures that became apartment buildings, and a battle that will continue into 2015 over the fate of an historic brewery.
These are the 13 biggest stories about historic preservation in Northern Kentucky from 2014.
13. Cemeteries to be brought back to life
Preservationists, historians, and community activists have reaffirmed their efforts to enhance three historic cemeteries in Northern Kentucky.
Historic Linden Grove Cemetery & Arboretum is currently raising funds for new enhancements that aim to make the Covington landmark a more inviting public gathering spot. Its place as a significant chunk of green space in the center of town makes it an attractive park-like setting. The park's boosters have raised 20% of the needed funds for a new entryway on 13th Street, and Linden Grove also hosted a scaled-down outdoor production of Pirates of Penzance produced by the Cincinnati Opera.
Meanwhile, in Campbell County, Evergreen Cemetery now has a group of boosters like Linden Grove that will work to preserve and enhance it. Like Linden Grove, it has been around since the 1840s, and is one of the largest cemeteries in Kentucky. Evergreen Cemetery is the location of the burial sites of prominent Kentuckians, such as Col. James A. Taylor, Brent Spence, George Wiedemann and Richard Southgate, as well as some of President George Washington's relatives. 
The community also reacted steadfastly when an historic cemetery in Dayton was vandalized. The cemetery was recently the target of restoration work by local preservationists.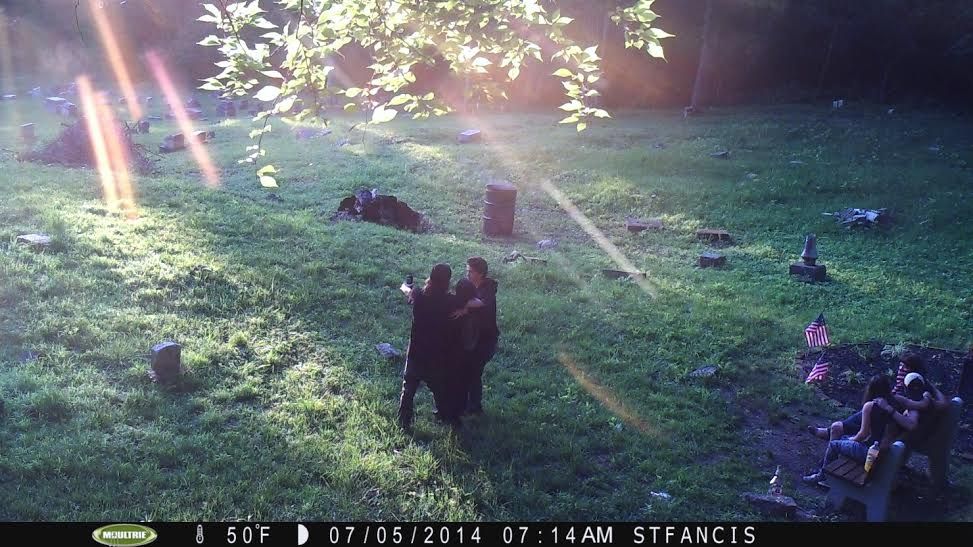 12. Clock Ticks for Historic Home that Now Stands as Blighted Nuisance
It was once the home of one of Covington's most prominent citizens of his time, but these days the building now known as the Colonial Inn is a consistent site of alleged criminal activity and the building has become blighted.
In October, the city commission voted to approve an agreement with the property's owner that would result in the property at 1515 Madison Avenue being put for sale to the public at or below $350,000. If not sold by November 30, 2015, the Inn will release its business license voluntarily and close.
The City of Covington also negotiated a right of first refusal on any sale of the Colonial made with a good faith offer.
It was once the home of Wallace Stewart of Stewart Iron Works fame.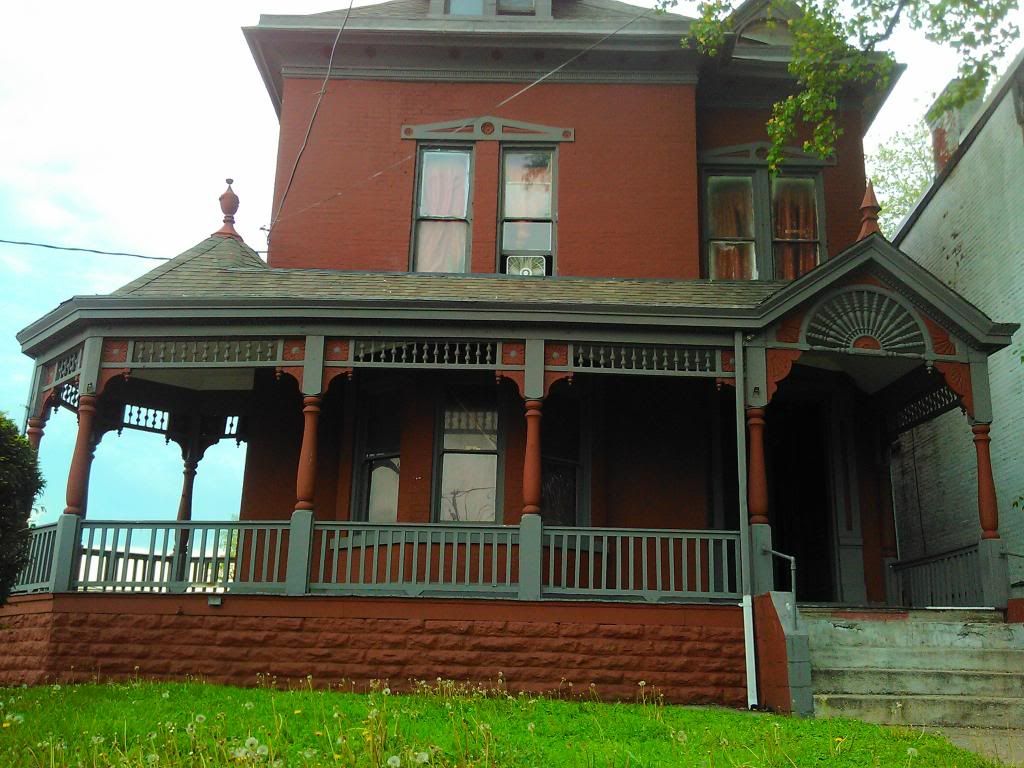 11. 1870s Boone County Farmhouse to Be Revitalized, May Unearth More Geological Secrets
The Piner Farm sits on more than 500 acres and dates back more than 140 years. Its proximity to Big Bone Lick State Park is also exciting to preservationists and geologists.
The 2014 acquisition of the farm is a joint effort of Kentucky State Parks, The Nature Conservancy of Kentucky, U.S. Fish and Wildlife Service, Kentucky Heritage Land Conservation Fund, the Northern Kentucky University Center for Environmental Restoration (funded through service fees), and the NKU Research Foundation. A mix of grants and agency funds paid for the land. It's a remarkable effort in one of the state's fastest growing counties, where green space is increasingly precious and rare.
The acquisition of Piner Farm excites area parks officials and preservation groups. With such a large area to explore, the possibilities of new historic and geographic secrets being unveiled are high. Later this year, the state will assume responsibility of the farm. The land will greatly expand Big Bone Lick's existing 547 acres in the southern portion of the county.
Piner Farm's proximity to Big Bone Lick offers a glimpse into what the grounds hold. Big Bone Lick is known for its ancient insights into North American life during the last big Ice Age, more than 18,000 years ago. In the early 1700s, fossilized remains of mastodons, wooly mammoths, and ground sloths were discovered here, and the park is known as the "Birthplace of American Vertebrate Paleontology."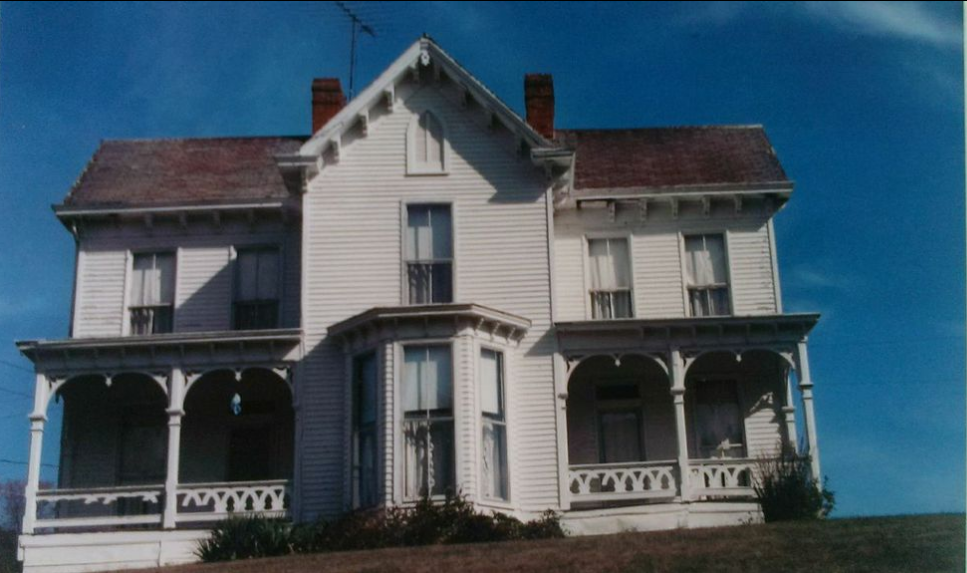 10. Ritte's East Added to National Register
Another Covington neighborhood was added to the National Register of Historic Places when Ritte's East in Latonia made the cut in September.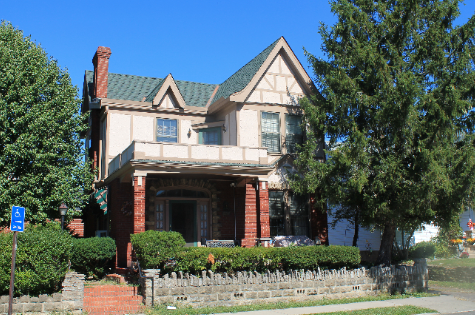 9. Brothers Buy Neighboring Blighted Buildings for Personal Residences
Dave and Chris Meyer are taking the revitalization of one block of Covington's Pike Street into their own hands.
Dave Meyer and Marisa McNee are busy at work on 220 West Pike Street, a long vacant blighted property that will soon be an attractive single family residence with a commercial space on the first floor.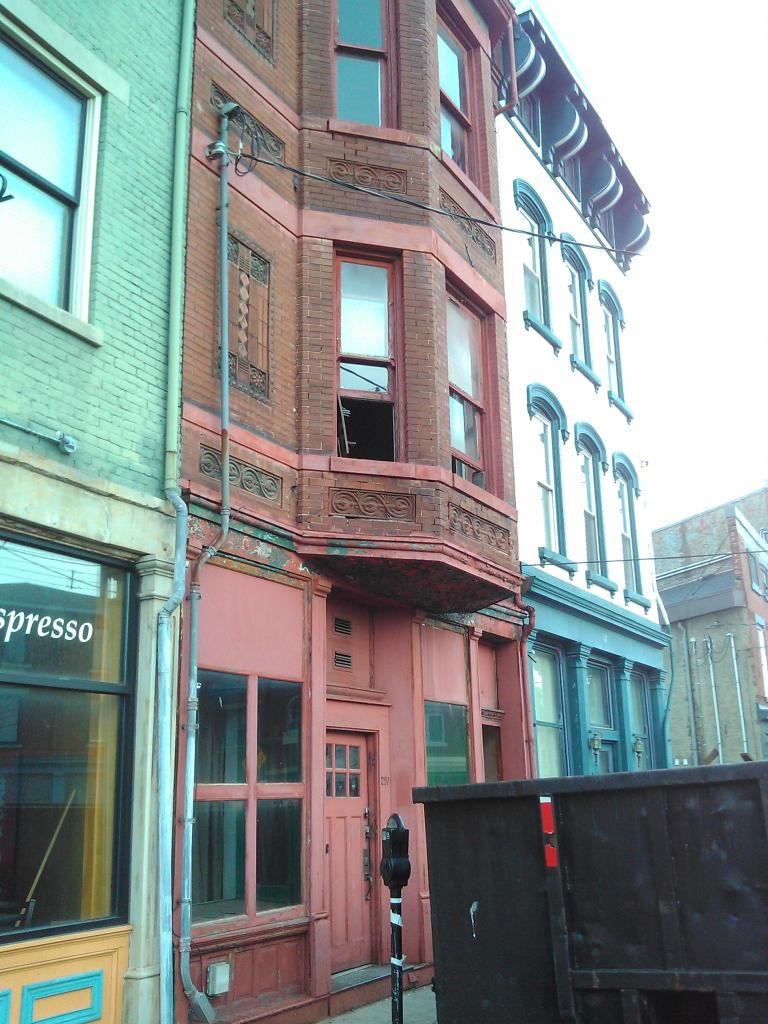 "Our top priority was saving the building. We liked it. We've always liked it," Meyer said. Dave and Marisa, who operate a political consulting firm, returned to Dave's hometown after living in Washington, DC and New York. "We didn't quite move back here to fix up the building, but it was a huge factor in the timing and decision."
The building has been the recipient of grant funds and a $50,000 forgivable loan from the city because its renovation is expected to have a big impact on the block.
Meanwhile, next door, Chris Meyer is working to restore a building for his own personal residence. The architect and member of the city's urban design review board also an an intriguing plan for a security fence that will serve as a wall of art for the community.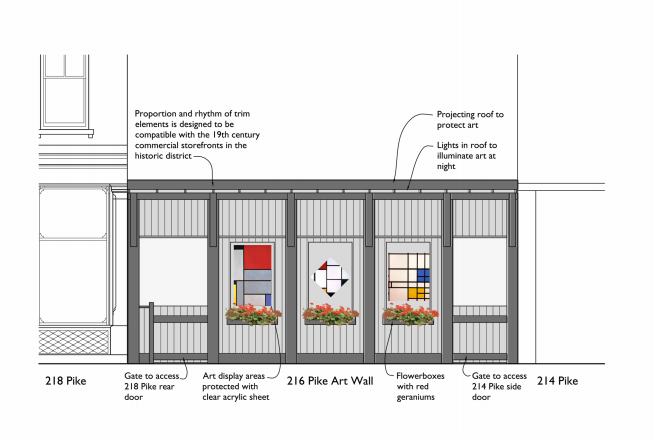 8. Gateway Arrives in Downtown Covington
The community got its first glimpse this year at what Gateway Community & Technical College plans to do with old buildings in Downtown Covington. Though the school has operated its new urban metro campus in the former Two Rivers Middle School building, it was not until the Technology, Innovation, and Enterprise Building opened in the former Marx Furniture building on Madison Avenue that people could really see what was coming.
Meanwhile, construction continues at two other historic properties where Gateway will place a Barnes & Noble student bookstore (Pike & Madison) and a health & wellness center (5th & Scott) where it broke ground in October.
Not all of Gateway's planned $80 million urban metro campus will involve the renovation of historic buildings. Two properties, a former paper company and the old Mad Hatter concert venue, met the wrecking ball this year on Scott Boulevard where the school plans to build a new structure to house medical programs.
7. Building Was Near Collapse, but Will Soon Be New Restaurant
For years, it sat empty at one of Covington's most prominent intersections.
Earlier this year, the historic Schott Grocery Building at Sixth & Main Streets in Mainstrasse Village was purchased by Paul Weckman and Emily Wolff, the couple behind the popular Otto's cafe. The building is currently under renovation and will become a trendy new restaurant in 2015. The project scored a $22,500 grant from Duke Energy and two weeks ago landed a facade grant from the City of Covington.
The building was in such bad shape, it required roughly $180,000 in facade work, Weckman said at the December 16 city commission meeting. 
The work coincides with the renovation of another historic pair of properties on Main Street that will be home to Commonwealth Bistro in 2015, and also the recent arrival of three historic properties nearby on the real estate market.
6. From Blighted Liquor Store to Luxury Townhomes?
That's the hope of real estate developer Tony Kreutzjans and the Catalytic Fund. The Boone Block Building, a sprawling structure on the southeast corner of Fourth Street and Scott Boulevard, was once a prominent structure in Covington. It housed the law offices of Speaker of the US House John G. Carlisle, and Governors John W. Stevenson and William Goebel. 
In recent decades, it has been home to Dick's Liquor and really not much else. It has been a boarded-up piece of blight.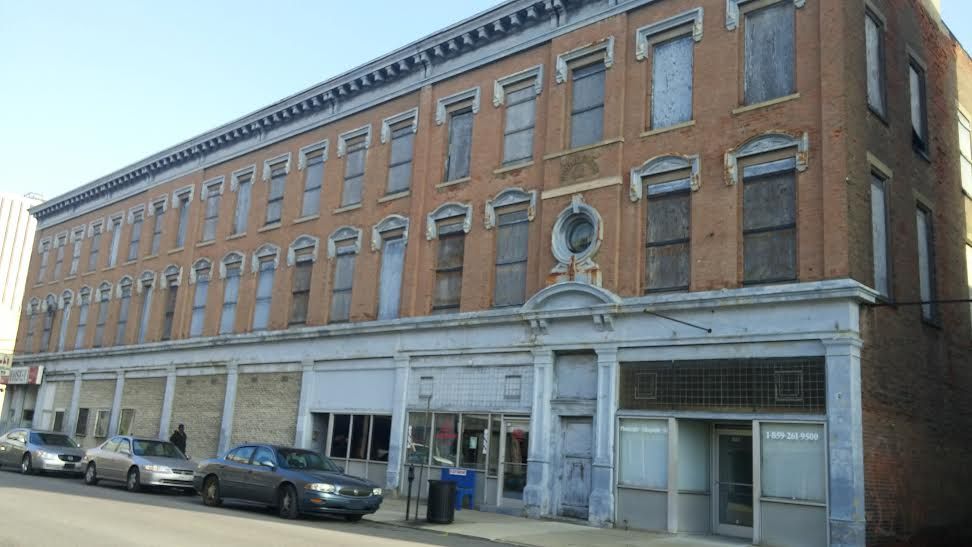 Now it will be home to nine luxury townhomes that will be for sale at prices around $300,000 each. The development will be a key test for the Downtown Covington real estate market which has seen success on a smaller scale with new rental units, but has not attempted a major for-purchase real estate project in several years.
5. Preservation Development Reduces Crime in Covington Neighborhood
They were five blighted shotgun houses buried in Covington's Westside neighborhood, but the Center for Great Neighborhoods saw something special and transformed the properties into Shotgun Row, a series of five newly renovated single family homes that sold well. 
Overall, the Center's efforts in the Westside community have had a major impact on the reduction of crime in the area. 
4. Fate of Bavarian Brewery Building Uncertain
It has sat empty near the Interstate for several years, a reminder of the Covington's brewery heyday in the 19th century and a corporation's misfire on expanding gambling in Kentucky in the 21st century. The Bavarian Brewery Building could be razed if owner Columbia Sussex has its way. The River City News was first to report in September that the iconic structure faced possible demolition. Soon after, preservation activists launched a petition drive to save it.
The city's urban design review board ultimately rejected Columbia Sussex's plans but the company is appealing to the city commission in 2015. The Catalytic Fund is working with the owners to find a possible solution that would save the historic structure.
3. Residents Returning to Downtown Covington
2014 offered proof that if old buildings are transformed into urban, hip, modern apartments, people will live in Downtown Covington.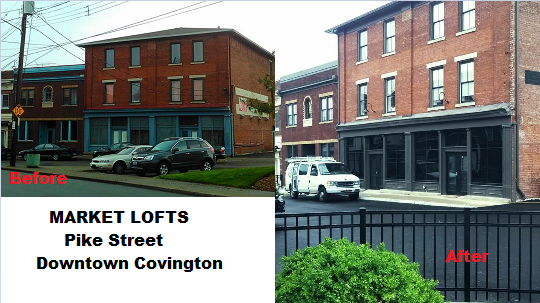 An old grocery warehouse became 12 modern apartments called the Market Lofts and each unit was rented before construction was completed.
In October, the Pike Star apartment development (a joint project between Orleans Development and the Center for Great Neighborhoods) also rented quickly and was so successful that the next phase is now underway.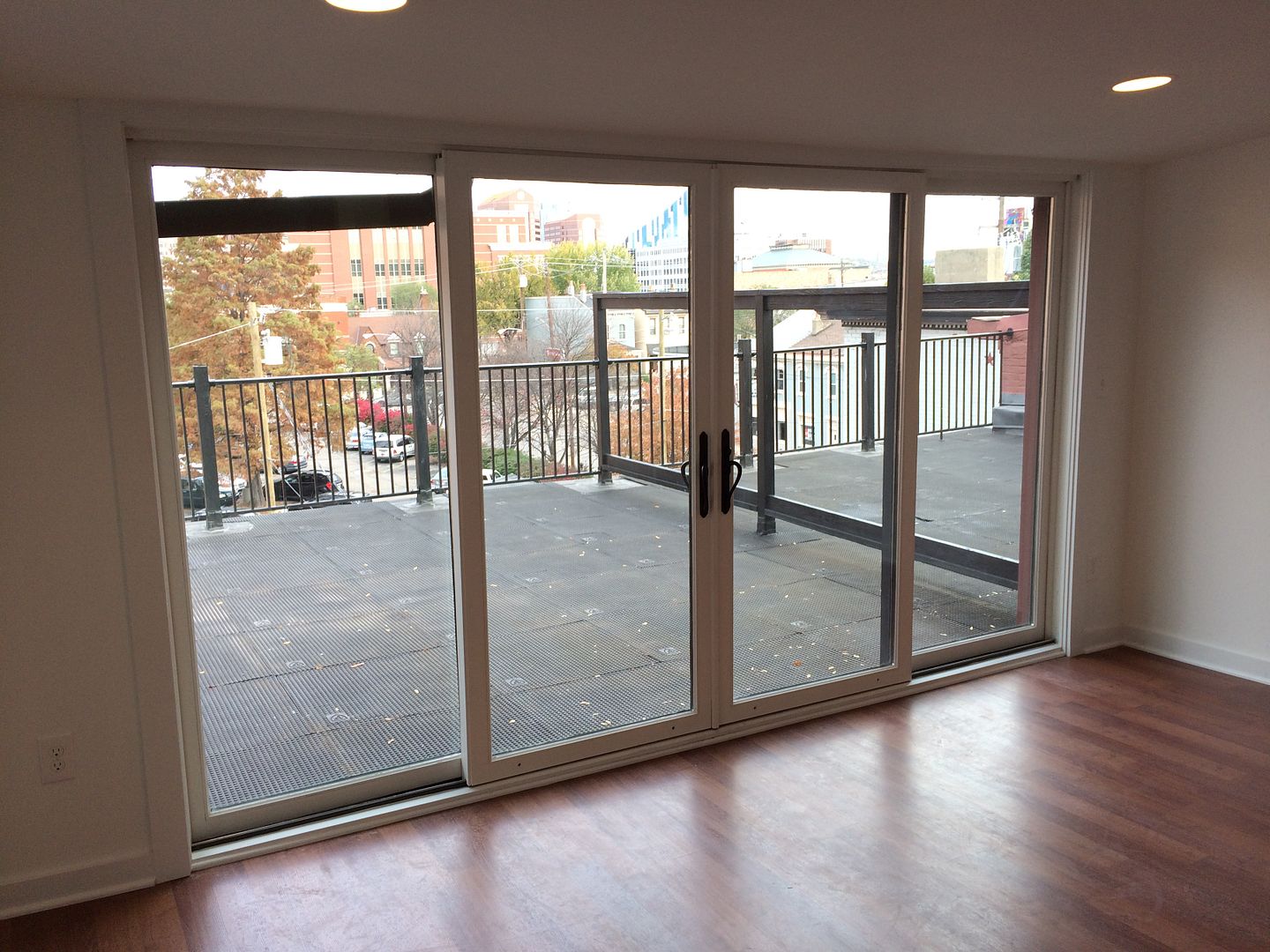 Next, the Mutual Building will house fifteen luxury apartments and new commercial space on the first floor (where The River City News will locate upon completion of the project), and from there, the developers (Bill Kreutzjans and Guy van Rooyen) will move on to the Doctors Building nearby.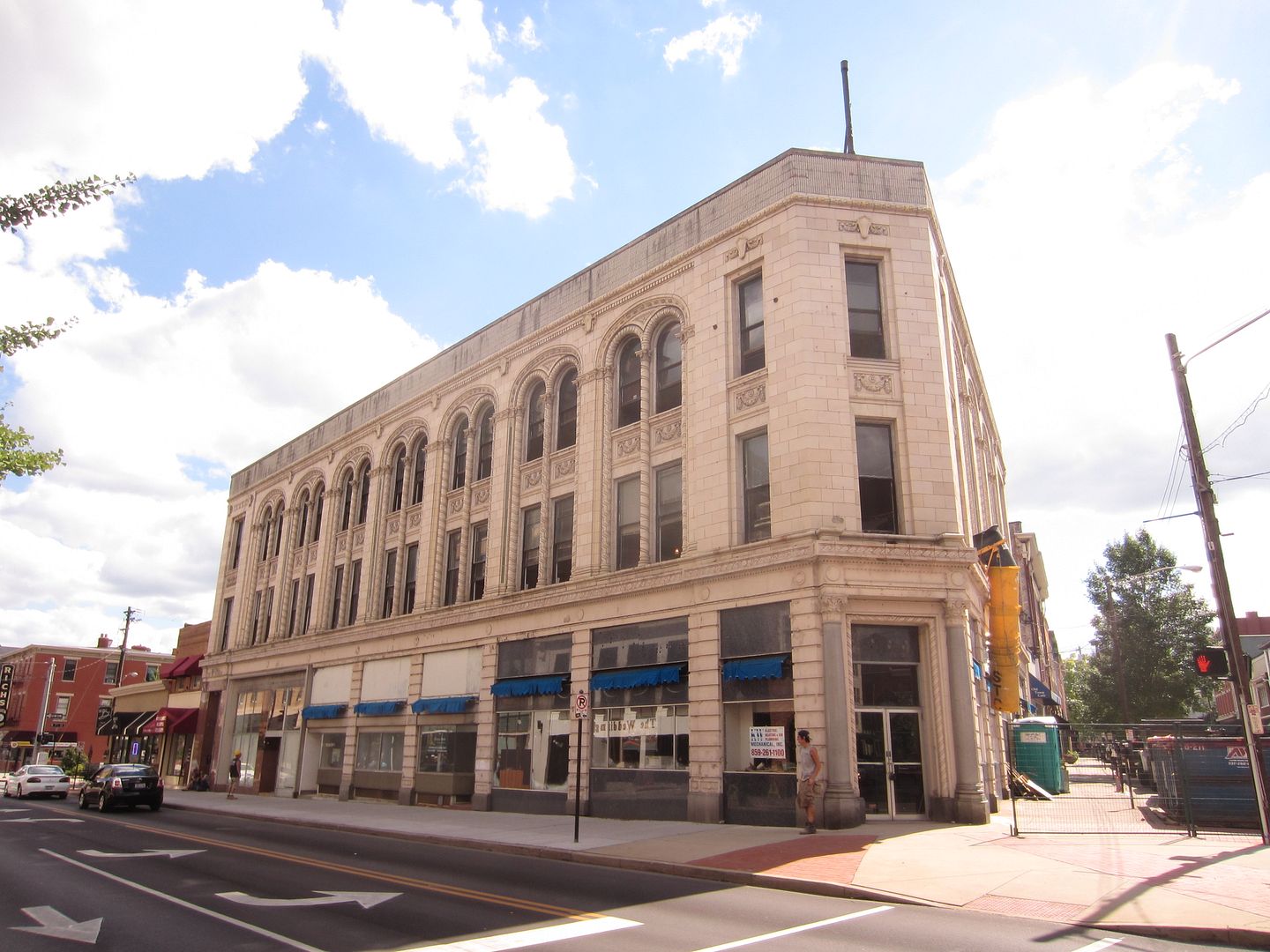 2. Stewart Iron Works Building Becomes New Home for Life Learning Center
Talk about a transformation: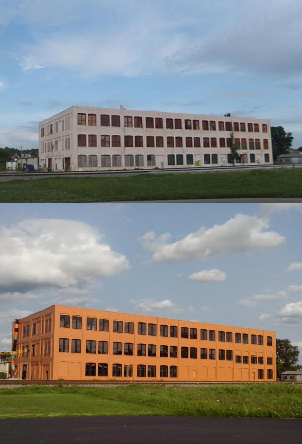 The long vacant Stewart Iron Works building was transformed into a new home for the Life Learning Center this year, part of a complicated real estate swap that also led to the renovation of a former car dealership into a new home for the Kentucky Career Center.
1. The Marianne Theater 
Has this been a great year for the Marianne Theater, or what?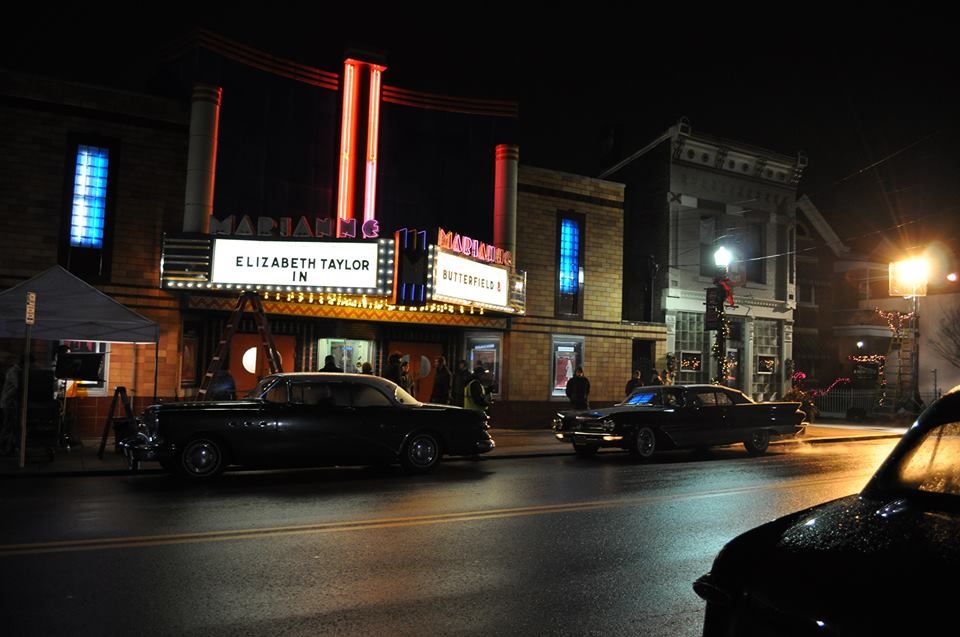 The City of Bellevue purchased the property in the spring, then offered tours to and input from the public, and now the art deco movie house is headed to DC fo rNational Register consideration.
The prominent structure on Fairfield Avenue has long been a target for people to dream about what they would do with it, and now someone's dream could become a reality in 2015. It's a hefty price tag to renovate (likely between $1 and $2 million according to an analysis), but because of the excitement it generated and the memories it created, the story of the Marianne Theater in 2014 is The River City News's top preservation story of the year.
Follow The River City News on Facebook, Twitter, or email us!