It Started with 1 Man and 1 Mule. 100 Years Later, this Northern Kentucky Grocery is Still Operating.
Sun, 01/18/2015 - 08:47
RCN Newsdesk
Society demands fresh fruit and vegetables, flowers and herbs, pumpkins to carve and seeds to grow. Many in the area visit a large grocery store to pick up these things, but there is a smaller business in Ludlow that has been providing the region with fresh produce for exactly 100 years now and is proud of serving their region for the past century.
Reeves Produce, run and operated by Steve and Robin Webb, is enjoying the centennial anniversary of its business in 2015 and the couple took time to reflect on how it reached this point.
The story actually begins in Stringtown, KY where Steve's grandfather, C.P. Reeves started the company at 17 years old in 1915. The business started out with Reeves and a mule where the two would travel all the way to Covington every day to the local ice house and once he purchased his produce, he would sell it door-to-door on his way back home. They were 12-hour days, every day and the commute in the winters were presumably brutal at times.
The business did well enough to allow Reeves to purchase trucks around 1920, where he built a barn in Ludlow to house the trucks and operate. That building, like so many around it in the area, was destroyed in the 1937 flood that sank large portions of Ludlow and other low-level, riverside communities.
Undaunted, Reeves built the front half of the existing store in Ludlow in 1939, which was a more standard garage for the trucks and an upgrade from the barn. Then, after World War II, Reeves added on to the building and had the back portion of the existing building constructed to form the structure that can be seen today.
"They had three peddler trucks," Steve Webb said of his grandfather and his employees. "They would deliver to Lookout Heights, Ludlow, Bromley, West Covington, going door-to-door to every single street."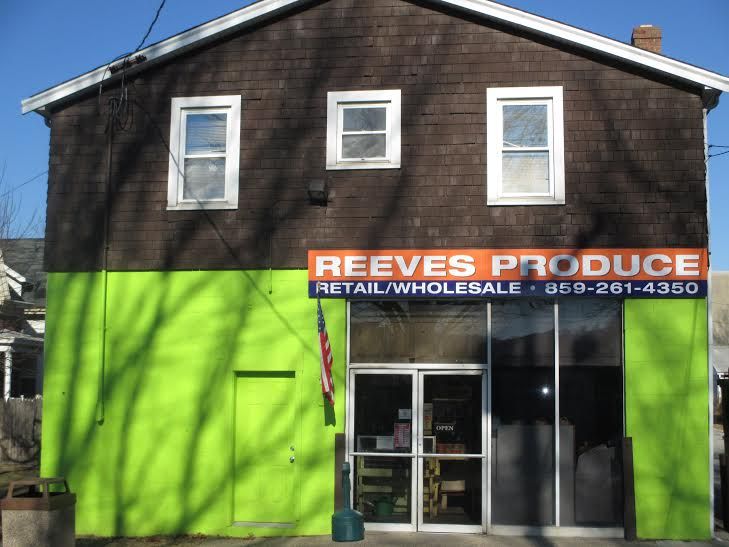 The building now serves as a dual-purpose one for the Webbs. The front portion is their storefront where they sell their produce in cases along with some candy and other retail items. In the back, they store their wholesale goods stacked up in the company's large refrigerators.
"That was a different world," Steve said of his grandfather's time in the produce industry. "There was no refrigeration. Until this building was built in '39, he had gone twenty years with no refrigeration and he had to go to the ice house where he stored his stuff and he paid a fee to have so much room."
When more and more people began to own their own vehicles, the company decided to move away from the truck-delivery service and in 1966 disbanded its fleet of delivery trucks.
Steve remembers the last days of the trucks when he worked as a delivery person for the business when he was 14.
"I worked the last truck," he said, "and I would carry groceries in to people and that kind of stuff, but we opened the store here in '64 and they started selling out of the store."
Steve's uncles eventually took control of the business and also owned the nearby restaurant called Reeves Drive-In that is now the current location of the Subway on Elm Street in Ludlow.
Robin has worked at the store for 27 years and Steve for 20 straight though he says it's probably twice that amount when you count the days he worked there as a kid. The couple bought the business outright from his uncle in 2004.
Steve says the business has come full-circle and that he is back to delivering again. It isn't the door-to-door operation of his childhood, but he does deliver wholesale produce to a growing number of nearby schools for their students' lunches everyday.
The couple says the retail portion of the business is no longer the dominant function of their business, but that it still does well, especially in the spring.
"It's a zoo in the spring," Steve said of the store. "The entire yard is full of flowers and vegetables and it's really good quality. We pick out everything ourselves and we don't order anything."
During the non-seasonal time, they do import produce from a variety of places around the world. They get citrus from Florida (which is best in the winter months), watermelons from Georgia, onions and pears from Peru and kiwi from Italy.
"Our tomatoes in the winter time are as good if not better than a lot of people's in the summer time," Steve said.
In the summer, they are able to import from nearby states like Indiana and Michigan and sell homegrown sweet corn and beans.
"I don't really care where it's from," Steve said of importing his goods. "If it's good, it's good. Some people want it grown locally, but if you only do that, then you're cutting yourself off and that mean's you're not going to have any fresh fruits or vegetables over the winter."
Reeves Produce sells its fruits and vegetables to a number of institutions in Northern Kentucky including Kenton County Schools, Beechwood, the Covington Diocese, and others. The couple says it can be difficult entering into agreements with larger, primarily government institutions because often they want to sign a contract for a year or longer which can be too big of a commitment for an industry that sees prices dramatically fluctuate from week to week.
"Trying to get a bid with a client that's going to last a whole year, it's tough," Robin said.
"Just now, Romaine and leaf lettuce were real high because of the weather they've had in California, but just this week, the price has gone down over six dollars a case and that's really significant," Steve said of the price variation the produce industry has come to know. "So we bid every week and everybody is happy with that."
He pointed out an especially stark example of price fluctuation when Hurricane Katrina hit the Gulf Coast in 2005 and cases of tomatoes went up from $18 a case to $60 a case and he said people were literally fighting each other at distribution centers for tomatoes.
Reeve's does sell produce to nearby Ludlow businesses like Wynners Cup Coffee Shop on Elm Street and Simpler Times in Bromley, but they are taking their business in new directions like selling pre-chopped vegetables for soup mixes and salads, or cut-up cabbage for ready made coleslaw. They also intend to soon sell deli salads like chicken and potato salad.
Outside of fruits and vegetables Reeves also sells fresh herbs, flowers, and pumpkins.
"This is the oldest business in Ludlow," Steve said of his produce operation. "We don't push a lot of volume but really go out of our way to find quality and if somebody doesn't like something on the shelf, we'll come back and get it fresh out of our refrigerators."
So the next time you need produce of just about any kind, look for the big green building in Ludlow. You won't be disappointed.
Story & photos by Bryan Burke, associate editor