In New Art Show at NKU, "Those Who Can, Teach"
Sun, 01/18/2015 - 09:14
RCN Newsdesk
The eleven pieces in
Dogma: Sabbatical Work of Steven Finke
 showcase work created during a 
recent year-long sabbatical. It's on view in
Northern Kentucky University's
Third Floor Gallery, in conjunction with the 
Faculty Exhibit in the Main Gallery.
The sculptural pieces (some seen last year in
Imminence
 at the Aronoff Center's 
Weston Art Gallery) will become part of an enormous site-specific project that consumes a 
great deal of
Finke's
non-teaching time. "I teach, eat, take care of personal hygiene, and work," 
Finke jokes. 
In the 1990s, Finke and his wife Ana England bought 45 acres of forested land in southeast 
Clermont County. They live and work there and
Finke
is slowly creating a progression of large 
site-specific sculptures that create an ever-growing,
walkable
environmental installation. 
The in-process artistic journey, which is set on about one-half acre within sight of the couple's 
studio, is open to the public by appointment.
Finke's personal and universal theme is "a reflection on mortality" and his installation is 
intended as an opportunity for viewers to simply enjoy quiet, and "reflect on impermanence, 
solitary-ness." 
After more than 15 years, Finke says, "I still feel as if I'm at an early stage." The inspiration is The Tibetan Book of the Dead (the commonly agreed-on definition online is: 
"intended to guide one through the experiences that the consciousness has after death, in 
the
bardo
, the interval between death and the next rebirth.")
Finke's first sculpture in the series was The Cessation of Breath. On view at NKU are pieces that will become part of The Waiting Room. 
Reliquaries include "some kind of relic of a creature" from his forest. Finke also uses scrap 
metal and now wood from ash trees. "I'm in the process of losing all my ashes," he sighs, to the 
infamous ash borer destroying trees throughout the region. The long-horned beetle,
Finke
says, 
is just a few miles away.
"I was depressed but life moves forward. The whole ecology is changing. I'm going to let them 
naturally decompose and I'll use the lumber to build something new."
Finke invites anyone interested in touring the outdoor installation to e-mail him at 
[email protected]

.
NKU Faculty Show Now Open
Meet Northern Kentucky University's visual arts faculty through their art for the next few 
weeks.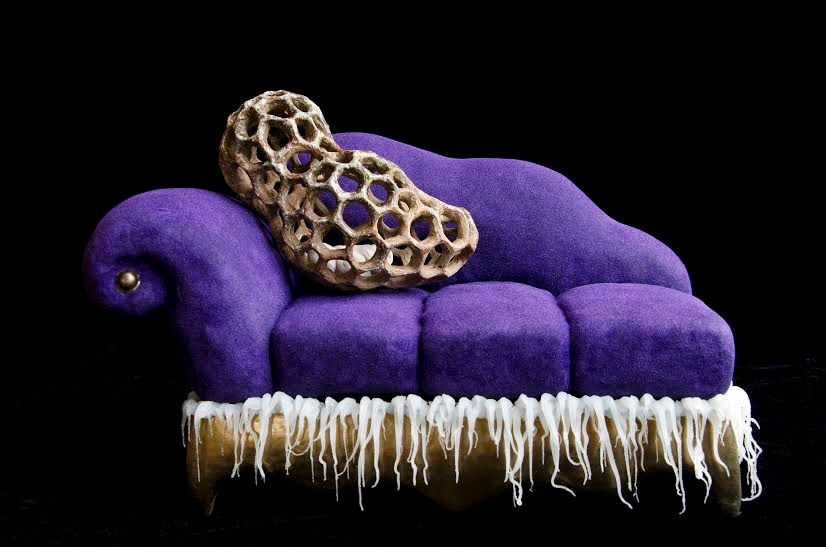 The annual faculty exhibit reminds us that the age-old adage 'those who can't, teach' is very 
wrong. At NKU, it's 'those who can, teach.'
In the Main Gallery,
FE15: Department of Visual Arts Full and Part-time Faculty Exhibition
features 45 works by 22 faculty.
It's a wide range of media, says Gallery Director David Knight.  Paintings, video, sculpture, 
handmade paper, photography drawing, printmaking, functional ceramics, visual 
communication design and mixed media – the work on view "let's the community and students 
see what faculty work on in their time away from teaching."
Chances are gallery-goers will already know NKU's faculty artists from work they see off campus 
– "the majority have exhibited in the last year," Knight says, at galleries throughout the region.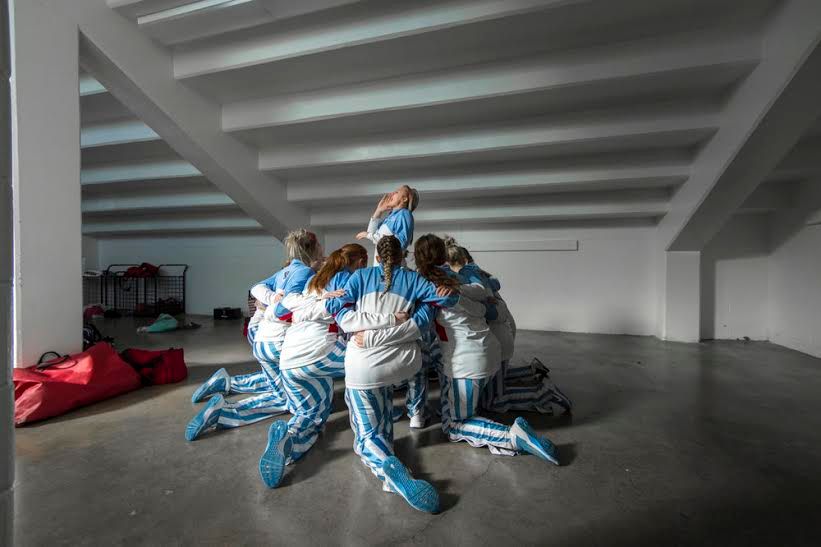 Full and Part-Time Faculty Exhibition
 (Main Gallery) and
Dogma: Sabbatical Work of Steven 
Finke (Third Floor Gallery), through Feb. 6. Fine Arts Center, Northern Kentucky University, 
Highland Heights. Gallery hours: 9 a.m.-9 p.m. Monday-Friday.  Free. Artists' reception: 5-7 p.m. 
Jan. 29 includes a gallery talk by Steven
Finke
at 5 p.m. (Snow date, Feb. 5)
-Jackie Demaline, RCN Arts
Photos provided