Map: Where Red Bike Spots May Be Located When Program Comes to Northern Kentucky
Wed, 01/21/2015 - 08:40
RCN Newsdesk
Red Bike — Cincinnati's recently launched bike share program — saw a new wave of 
support among Northern Kentucky officials and community stakeholders at a meeting
Leaders from the river cities of Covington, Newport, and Bellevue all convened at the 
World Peace Bell in Newport to host Red Bike officials and learn more about what it will 
take to bring Red Bike south of the river. Questions of cost and when stations might start 
appearing in Northern Kentucky dominated the discussion.
In order to make Red Bike a Northern Kentucky reality, any city involved would need to 
come up with the funding for the stations. The same was true for Cincinnati, which fronted 
just over a million dollars for the first two phases of the bike share program.
Jason Barron, Executive Director of Red Bike, said he would like to see as many as 10-­12 
Red Bike stations throughout the urban core of Northern Kentucky.
"It works best when there's a density of stations," Barron said in an interview with
The River 
City News. "It doesn't make sense to have just one or two stations. There needs to be 
more to have a larger draw and make the program worthwhile."
To that end, Red Bike worked with students from UC's School of Design, Art, Achitecture, 
and Planning (
DAAP
) on a feasibility study to identify twenty possible locations for 
Northern Kentucky Red Bike locations: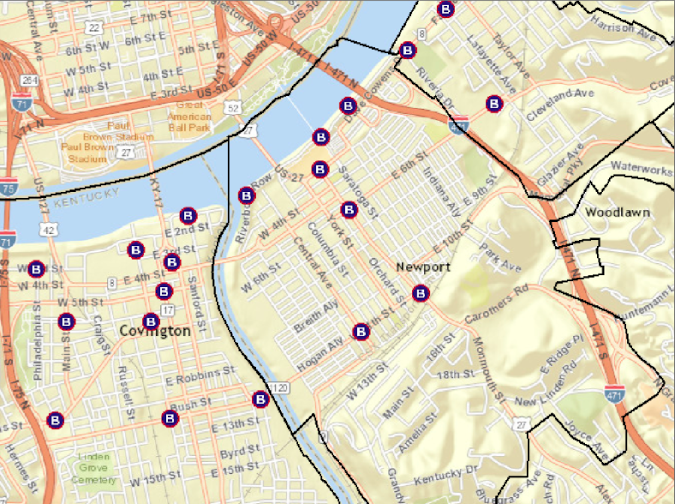 Barron presented the map above to Northern Kentucky leaders this month as suggestions 
for where Northern Kentucky Red Bike stations could potentially be located, based on 
population density as well as points of what he called "origination and destination." In 
other words, these locations were proposed based on where people might be leaving by 
bicycle, and where they could be going.
Ultimately, it will be up to the cities to decide where to install Red Bike stations.
Covington Mayor Sherry Carran said she would like to see as many as five Red Bike 
stations in Covington alone, pointing specifically to the Licking Riverside and
Mainstrasse 
Village districts, as well as a few key locations in Downtown Covington near Pike Street.
Barron's map proposes twice as many possible locations.
The most obvious location in Newport would be somewhere near Newport on the Levee.
Barron's map also proposes three other riverfront locations, along with others further 
south, closer to the County courthouse at
11th
and Monmouth Streets.
At the cost of roughly $50,000 per station, cities will either have to supply the cash 
themselves, or coordinate with corporate partners or find other sources of funding, like 
state, federal or private grants, to help finance the stations. 
Jody Robinson, Assistant City Administrator for Bellevue, said Red Bike has 
recommended three stations, two along their main street corridor, Fairfield Ave., and one 
closer to the shopping center on
Donnermeyer
Dr. While three stations would be 
"wonderful," she said, adding that she would be happy if the smallest of the three cities considered for 
the Northern Kentucky launch could find the funding for one or two.
Unlike Newport and Covington, Robinson said, Bellevue being a smaller city means fewer 
and generally smaller businesses to approach for a partnership. This means, she added, 
that the city may have to lean more heavily on grant money, which almost always takes 
more time to find and secure.
With officials all across Northern Kentucky aiming to have stations installed by the Major League Baseball All ­Star 
Game scheduled for this July, that leaves Robinson optimistic to meet the deadline but 
also considering alternative goals for a launch date in Bellevue.
"I do think we'll see some (Red Bike stations) in Northern Kentucky by the All­Star Game," 
she said. "We need to remain optimistic. But (Bellevue) might also have to consider other 
alternative opportunities for a launch date."
"I will help in any way possible to find the money," Barron said.
Finding the money, though, is only the first part of the process. After that, locations need 
to be identified, and that takes more than pointing to a part of town or a tourist attraction.
"It's easy to say you want to put a station near the Roebling Bridge," he said. "It takes a 
lot more to figure out exactly where that station should — or could — go."
Generally, how a station would fit in with existing infrastructure and surrounding 
businesses and parking must also be considered.
In addition to identifying a precise location, production and installation of the station must 
be considered, Barron said. Given the number of variables involved in matching a station 
with a location, he could not give a blanket statement for how long the installation process 
would take once a station is ordered. All orders must also be placed with one specific 
manufacturer, B­Cycle, which has also been working to implement numerous other bike 
share programs around the country.
In other words, time is of the essence.
When it comes to having stations identified and installed by the All­Star game, "The 
sooner the better," he said.
The next steps for each city involved is to work with Red Bike to secure partnerships and 
funding for any number of stations they wish to install, and then to identify specific 
locations in order to request installation.
Interested partners have reached out to each city in question, officials say, but no final 
agreements have yet been reached.
Written by Pat LaFleur, RCN contributor