Beshear in Bridge Plan Announcement: We Want Covington to Prosper
Wed, 01/28/2015 - 16:53
RCN Newsdesk
"Everybody is entitled to their own opinion, but not everyone is entitled to their own facts," said Kentucky Governor Steve Beshear during a joint press conference with Ohio Governor John Kasich where the pair announced an agreement that they hope will move the Brent Spence Bridge corridor project forward. Beshear said that if the bridge project is financed in part by tolls, as would be the case under the announced agreement, local commuters would still have multiple other spans to use between Covington or Newport to Cincinnati. 
The River City News asked Beshear how he would classify the project, then, as a positive for Covington since the diversion of traffic from the Brent Spence to other spans through Covington streets in order to avoid a toll is often cited by bridge opponents as a reason not to move forward with tolling. "Every month these folks delay is costing us $7 million," the governor said. Currently, the state is studying the possible impact diversion would have on Covington and what could be done to improve any negative side effects, Beshear said.
"We're not going to leave Covington in the lurch. We want them to prosper and grow as a result of this whole process. It doesn't make any sense to hurt a community and we're not going to hurt a community."
The bulk of the governors' question-and-answer session with reporters at the Metropolitan Club where political, civic, and business leaders from both sides of the Ohio River gathered to watch, was about their joint proposal to lessen the cost of the project, split the cost evenly between Kentucky and Ohio, and to offer a 50% discount on tolls for local commuters that use the bridge frequently.
The two states' transportation agencies are working together to develop cost-saving solutions by March 30 and build a viable financial plan before year's end. The plan is expected to include a public-private partnership (P3) to build, maintain and finance the project. The Kentucky General Assembly would need to approve P3 this session, running through February and March, in order for any financing plan that would include tolls to be approved by the legislators in 2016.
P3 passed the General Assembly in 2014 but was vetoed by Beshear because of an anti-toll amendment related to the Brent Spence placed by State Rep. Arnold Simpson (D-Covington). Beshear said that he would veto it again this year under similar circumstances.
The bi-state team will focus on the federally approved 2012 environmental plan for the corridor, which calls for building a new bridge downtown, revamping the existing Brent Spence Bridge, and improving interstate approaches in Northern Kentucky and downtown Cincinnati. The current plan would double the number of interstate lanes across the river from eight to 16, relieving congestion that proponents of the project argue causes safety, mobility, and congestion problems for the region.
"We have a bridge out here and it's critical for the country," said Kasich, a Republican who spent part of the event speaking highly of his Democratic counterpart. Ohio has already enacted all the necessary measures to move forward with the project using tolls. "It's critical for Ohio. It's critical for Kentucky. What we're saying is, we're going to build the bridge and use this newfangled idea that those who use the bridge are going to pay for the bridge. It's a really radical idea," he said with sarcasm. "And if you use the bridge (frequently) we're going to give you a break."
The Beshear-Kasich agreement would provide a 50-percent discount in toll rates for frequent commuters who must cross the river almost daily for work, school, and other needs. The discount is similar to the commitment reached on Indiana and Kentucky's joint Ohio River Bridges Project in Louisville, which saw its price tag drop from more than $4 billion to just over $2 billion after a similar agreement between Beshear and Indiana Governor Mitch Daniels. Frequent users of a new bridge in Louisville will pay a $1 toll.
The 50-year old span is at double the capacity for traffic than what it was designed to handle and current project estimates place the total corridor effort at roughly $2.6 billion.
"We believe the folks who use the bridges most deserve a significant discount," Beshear said. "It's a matter of fairness."
The two states' transportation teams plan to deliver recommendations for cost savings to the governors on or before March 30 and present them for public comment shortly afterward. Those comments and suggestions will be used to develop a revised construction plan this summer and a financial plan by year's end. That's when a toll cost would likely be known locally.
Pending approval by lawmakers in early 2016, the states could select a project team as soon as late 2016 and begin construction as soon as 2017.
Local reaction was mixed, typical of the region's long debate over whether a bridge is necessary or whether to proceed with tolls or to wait for the federal government to pay for it. A couple dozen protestors affiliated with Northern Kentucky United held anti-toll signs outside the RiverCenter Towers where the press conference took place.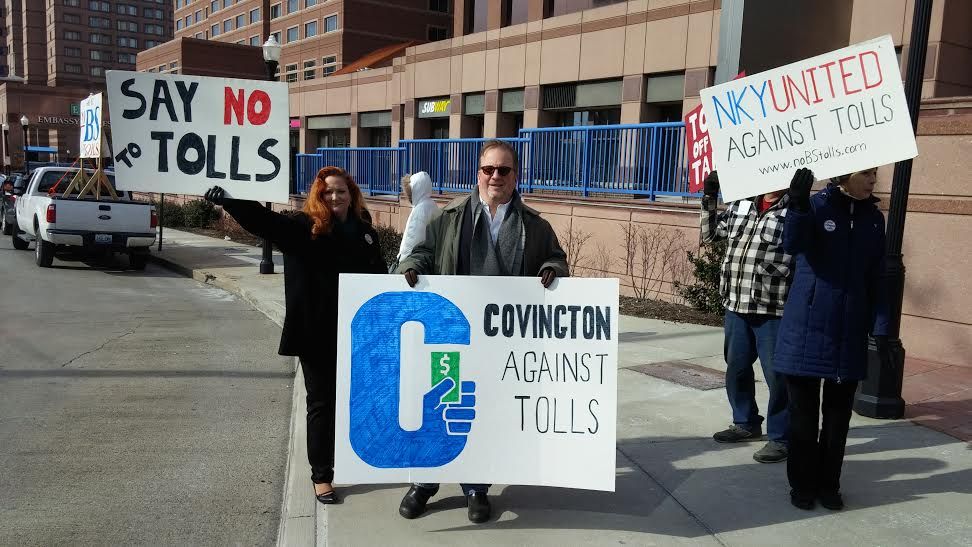 "Tolls are not the answer," said NKY United's Joe Meyer, the former Democratic state senator from Covington and former Secretary of Education & Workforce Development under Beshear. "A $1 toll on the bridge is pure fantasy at this point. They have no finance plan, and cannot possibly know what the toll will be. Tolls for trucks are expected to be $6 (to) $12 per trip. The small businesses in the region will be negatively impacted, and the cost of goods and services will go up for everyone. The direct and indirect costs to Northern Kentucky will be several hundred million dollars annually. "The size and scope of the project has never been justifiable. The changes announced today are an attempt to distract from the obvious issue: a new bridge more than three times the size of the current bridge, and wider than the George Washington Bridge in NYC."
Campbell County Judge-Executive Steve Pendery said that he believed progress was made by the governors' announcement. "I think a very important point was made that we all have to agree to the facts," said Pendery, a proponent of the bridge project. "They laid out some pretty impressive facts."
"We are very pleased to see the bipartisan commitment that Governor Kasich and Governor Beshear are making on the Brent Spence Bridge Project," said Tom Williams, CEO of North American Properties and co-chair of the Build Our New Bridge Now Coalition. "Thanks to their collaborative leadership, we are that much closer to rebuilding this critical highway corridor and improving safety in our community."
Northern Kentucky Chamber of Commerce president and CEO Trey Grayson said that Covington is already dealing with adverse effects of diversion as some commuters opt not to come to the area because of the traffic congestion on I-75 which leads to the Brent Spence Bridge. "There are people reluctant to come to Covington because of traffic considerations. That is a current problem," Grayson said. The Chamber, he said, is also focused on Covington's vitality during and after the project. "We worry about the impact on Covington during and after construction," he said, directly mentioning exits and Devou Park access. "We need to be sure that it works. We need to make sure for Northern Kentuckians that it works."
Covington Mayor Sherry Carran, who supports moving the project forward, was also pleased with the news conference. "I have questions about the cost savings part of it," she said, specifically wondering which changes could occur to the current plan. "It's all under review."
She said she likes the 50-50 split of the cost and the local discount for commuters. "Both governors are staying strong on this. They respect each other. ODOT and KYTC are working together on this," Carran said. "They're tired of the people who are against the bridge using facts that there are no basis for, not saying where they're coming from. They are using information to misinform the public."
"I believe (Gov. Beshear) when he says he's not going to do anything to hurt us. He's not that kind of guy. Gov. Kasich said he's tired of individuals who want to make it an us-against-them thing and I am as well. We need to work together as a team. Covington will benefit if we stay on top of it, if we stay at the table. And those who insult legislators, governors, and business leaders who support this for the benefit of the region, this pushes us away from the table."
Story & photos by Michael Monks, editor & publisher of The River City News