Jackie Demaline: Don't Miss These Shows in February
Mon, 02/02/2015 - 11:22
RCN Newsdesk
It's February and love is in the air – insomuch as February is always the best month of the year on Cincinnati stages. I have no idea why. An acknowledgement that die-hard theatergoers are the only ones you can count on to come out in the cold and sleet and snow and ice, so give them good stuff? 
I'm simply loving that 2015 continues the trend, with lots and lots of strong offerings. Les Miserables at NKU, a terrific array of work by and/or about women, and the return of Cincinnati Ballet's knock-your-eyes-out-of-their-sockets Alice (in Wonderland) – that's already a good month. And that's barely half of what looks worth your time.
As always, productions are listed in chronological order:
The Handmaid's Tale
 through Feb. 20., Know Theatre, 1120 Jackson St., Over-the-Rhine. 8 p.m. Wednesday-Saturday, 3 p.m. Sunday. Tickets $20. Free on Wednesdays. 513-300-5669 and 
here
In a solo performance, Corinne Mohlenhoff carries the evening as Margaret Atwood's heroine, Offred, a 'handmaid' in a totalitarian regime (where the U.S. used to be – it's a cautionary fable.) 
Offred is now a vessel for population growth, telling her story, trying to hang on to who she is, slowly losing the strength to fight. It's a compelling piece of theatrical storytelling, but Cincinnati native Joe Stollenwerk's stage adaptation of the bestselling novel could be 20 minutes shorter. It's Mohlenhoff's performance that's worth the price of admission. 
The Other Place
, Jan. 25-Feb. 15. Ensemble Theatre Cincinnati, 1127 Vine St., Over the Rhine. Tickets: $18-$44; 513-421-3555 and
www.cincinnatiensemble.or
g.
In Ensemble's regional premiere, veteran Cincinnati actress Regina Pugh leads a strong cast that includes Michael Bath and Kelly Mengelkoch. Pugh plays Juliana Smithton, accomplished scientist and pharmaceuticals pitch-woman, whose life is unraveling. Fact blurs with fiction, reality with faulty memory, give yourself up to the twists and turns of her journey.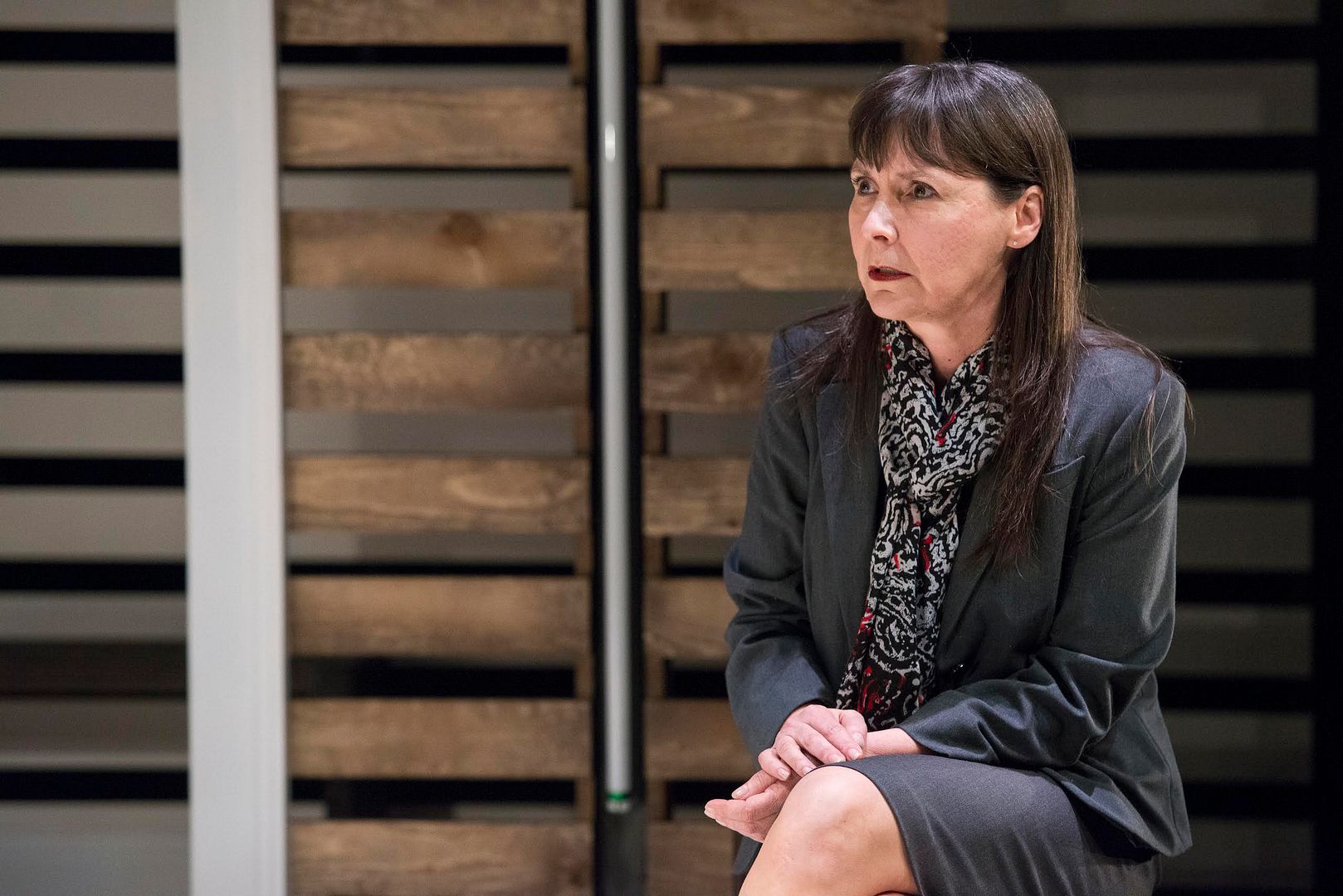 Regina Pugh in The Other Place (Photo by Ryan Kurtz)
"Sudden flares of uncontrolled feeling appear like lightning flashes from a sky that was clear just moments before…"—NY Times; "…a haunting drama…so cleverly constructed that the nature and depth of the problem isn't revealed until the last shattering scene." —Variety. "[A] wonderful surprise…in which we the audience collectively discovered we'd been had. And that we'd liked it." —Village Voice. 
Twilight Los Angeles, 1992, Feb. 4-8. Diogenes Theatre Company, Fifth Third Bank Theater, Aronoff Center for the Arts, Seventh and Main, Downtown. 7:30 p.m. Wednesday-Saturday, 2 p.m. Sunday $29, students $15.
The action may be set in 1992 – but Ferguson and the protests that swept the country just a couple of months ago prove Anna Deveare Smith's docu-drama solo show about the riots on the wake of the Rodney King verdict is as topical as ever.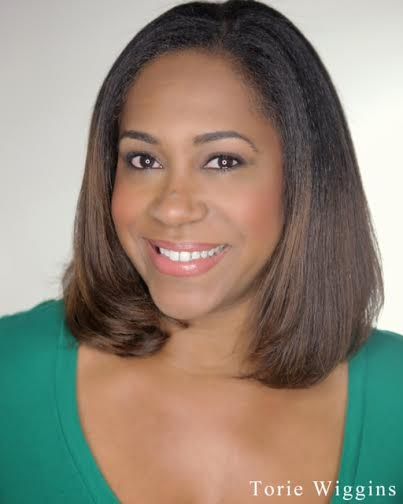 Torie Wiggins, always first-rate, takes on a variety of roles in this mosaic performance piece. 
Based on almost than 300 interviews Smith conducted with eyewitnesses, victims, police officers, gang members, attorneys, activists and more, the script uses their words verbatim to create a portrait not just of the event but of race and class in America. Busy Brian Phillips directs.
Chapatti, Feb. 7-March 8. Playhouse in the Park Thompson Shelterhouse, Eden Park. 7:30 p.m. Tuesday-Wednesday, 8 p.m. Thursday-Friday, 4 and 8 p.m. Saturday, 2 and 7 p.m. Sunday. Tickets $30-$85, prices subject to change. Student tickets $30, $15 day of performance.
A love story! Irish and offbeat, too. Two seniors bond over their shared affection for animals. Betty spends most of her time alone, when she's not acting as a caregiver to her friend or her 19 cats. Still grieving for the love of his life, Dan finds his most faithful friend is his trusty dog, Chapatti. When the paths of these lonely hearts cross unexpectedly, they rediscover the joy that comes with human companionship.
Chicago Tribune: "Chapatti is a modest piece of writing, I suppose, and there are a few forced, even twee, moments. It is, as Betty might say, "a football pitch away from perfect." But then modest and forced are adjectives that could be applied to many of our lives. (It) celebrates characters who can stand outside themselves, who know their problems and yet still believe in love."
The Heidi Chronicles
, Feb. 11-15. CCM Drama, Patricia Corbett Theater, College-Conservatory of Music, University of Cincinnati. 8 p.m. Wednesday-Saturday, 2.m. Saturday and Sunday. Tickets: $27-31 adults, $15-20 students. 513-556-4183 and
[email protected]
I love Wendy Wasserstein's groundbreaking and moving examination of feminism and its evolution, it follows Heidi Holland for 20 years, from high school in the Sixties. The penetrating (and sometimes heart-breaking) comedy deals with the changing role of women, through ardent feminism during the 1970s -- and what came after in the Eighties.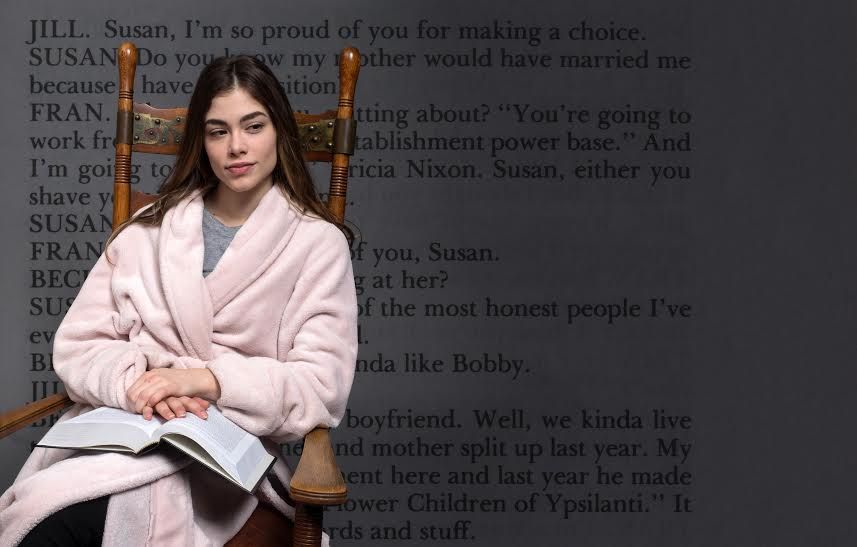 The Heidi Chronicles (provided)
Sexuality, feminism, education, gender equality, marriage, women's rights; there's no hot-button issue the play doesn't touch. Wasserstein asks, "Will our ideals stand the test of time, and what do they cost us?" It won the Tony Award and Pulitzer Prize back in the day. Every woman should see it, preferably with a gaggle of girlfriends. 
In the Heat of the Night
, Feb. 13-28. Falcon Theatre, 636 Monmouth St., Newport. 8 p.m. Friday and Saturday. Tickets $19, $17 students (with ID) and seniors. 513-479-6783 and 
here
.
Derek Snow as Virgil Tibbs, Mike Hall as Sheriff Gillespie, Ed Cohen directing – that should add up to a winning small theater revival of a favorite detective drama, a real pressure cooker set in the Civil Rights era Deep South, with big city black homicide detective Tibbs getting caught up in a murder case in small town Alabama, where the local cops (and the local lynch mob) are ready to convict an innocent black man.
Alice (in Wonderland)
, Feb. 13-15. Cincinnati Ballet, Aronoff Center for the Arts, 650 Walnut St., Downtown. 8 p.m.  Feb. 13, 2 and 8 p.m. Feb. 14, 1 and 5:30 p.m. Feb. 15. Friday, February 13 - 8:00 p.m. Tickets $32-$110 (plus fee). 513-621-5282 and
www.cballet.org
.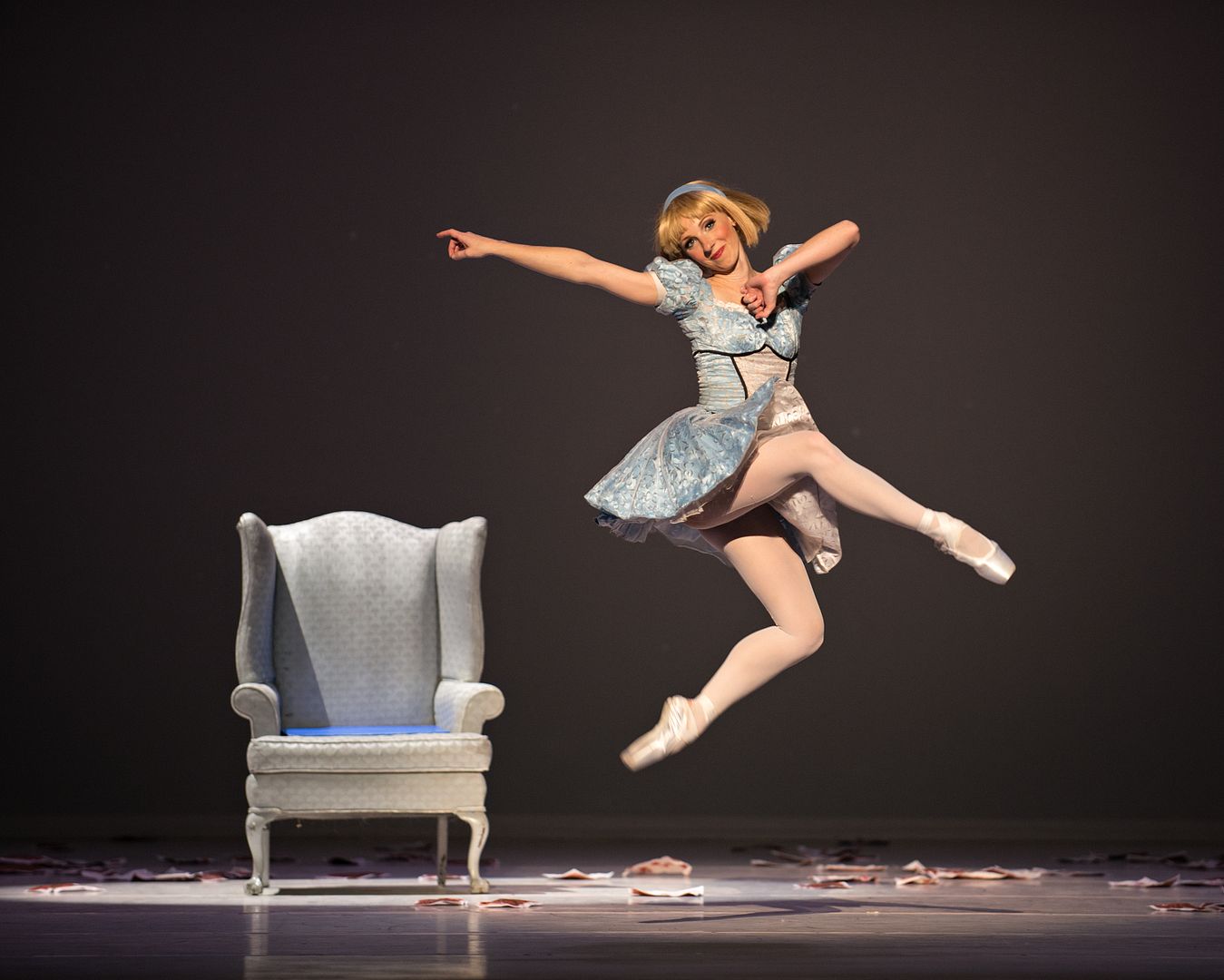 In Septime Webre's wildly fanciful take on Lewis Carroll, the jaw-dropping costumes hold the spotlight. As Alice chases the White Rabbit into Wonderland, the wacky characters she discovers are oddly familiar. Although she can't quite make the connection, the audience discovers that Alice's overbearing mother has become the Queen of Hearts, her sisters have become Tweedle Dee and Tweedle Dum, and Lewis Carroll has become the Mad Hatter. 
Anything Goes
, Feb. 17-22, Broadway in Cincinnati, Aronoff Center, 650 Walnut St., Downtown. 7:30 p.m. Tuesday-Thursday, 8 p.m. Friday, 2 and 8 p.m. Saturday, 1:6:30 p.m. Sunday. Tickets $29-$101.60 (plus fees). 513-621-2787 and
www.CincinnatiArts.org
.
"The world has gone mad today/ And good's bad today/ And black's white today/ And day's night today…" Cole Porter's madcap Twenties musical gets a classy, Tony Award-winning revival. An ocean liner heading east from NYC to London is filled with singing and dancing young lover inept gangsters, leggy chorines, and nightclub star Reno Sweeney belting out standards. 
The Associated Press called it, "So DELIGHTFUL, So DELICIOUS, So DE-LOVELY!"
Les Miserables
, Feb. 19-March 1. Corbett Theatre, Fine Arts Center, Northern Kentucky University, Highland Heights. 8 p.m. Wednesday-Saturday, 3 p.m. Sunday. Additional matinee 2 p.m. Feb. 28. Tickets $14 adults, $11 seniors, $8 students. 859-572-5464 and 
www.theatre.nku.edu
SOLD OUT – a Wait List will open one hour before every performance.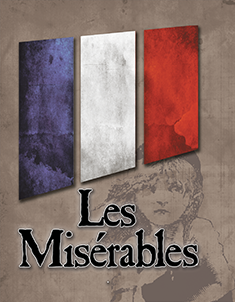 NKU goes big beloved epic pop opera Les Miz, in 19th century France, Jean Valjean (new voice faculty member Jason Vest) is released from 19 years of unjust imprisonment, but finds nothing in store for him but mistrust and mistreatment. He breaks his parole in hopes of starting a new life, initiating a life-long struggle for redemption as he is relentlessly pursued by police inspector Javert.
August: Osage County, Feb. 19-March 13. Clifton Performance Theatre, 404 Ludlow Ave., Clifton. 8 p.m. Thursday-Saturday, 7 p.m. Feb. 22, 3 p.m. March 1 and March 8. Additional 8 p.m. performance March 9. 
One of my guiding principles of Cincy theatre – if a major Cincinnati stage talent is involved, it's worth letting people know. Dale Hodges plays the alcoholic, pill-popping and really mean matriarch in Tracy Letts' soap-operatic drama of family dysfunction (a regular laundry list of bad behavior) set in a big old farmhouse in the American plains.
How is Osage County going to play in Clifton's uber-tiny space as a cast of Hodges-plus-12 play out big secrets and bigger emotions? It won't be boring. (Just try to stay out of their way…) 
Lots of strong local actors including Bob Allen, Christine Dye, Reggie Willis, and Buz Davis, who 
also directs. 
Little Women
, Feb. 20-March 21. Cincinnati Shakespeare, 719 Race St., Downtown. 7:30 p.m. Thursday-Saturday, 2 p.m. Sunday. Additional 2 p.m. matinee March 21. 7:30 p.m. Tickets: $14-$35. Preview performances (Feb. 18-19) $21. 513-381-2273 and
www.cincyshakes.com
.
Little Women (Clockwise from top left) Maggie Lou Rader as Jo,
Kelly Mengelkoch as Meg, Courtney Lucien as Amy, Annie Fitzpatrick as Marmee and Caitlin McWethy as Beth/provided)
Louisa May Alcott's classic about the March family of women during the Civil War, waiting for Mr. March to come home. Annie Fitzpatrick is Marmee bringing up four disparate daughters: romantic Meg, shy Beth, willful Amy and of course, fiery and independent Jo.  
Also playing in Northern Kentucky:
The Women
, Feb. 20-28. Village Players. 8 N. Fort Thomas Ave., Fort Thomas. 8 p.m. Thursday-Saturday, 3 p.m. Sunday. 859-392-0500 and
www.villageplayers.biz
. Call for ticket information.
From the 1930s, Claire Booth Luce's acerbic comedy about sweet socialite Mary, who doesn't know what to do when her hubbie takes up with a gold-digging hussy.  Her not-so-well-meaning girlfriends give her lots of advice in a world of women that takes two dozen actresses to fill.
Written by Jackie Demaline, RCN Arts