Inside St. Elizabeth's New Heart & Vascular Institute
Mon, 02/09/2015 - 07:48
RCN Newsdesk
St. Elizabeth unveiled the new Heart and Vascular Institute on its medical campus in Edgewood to select media members in January where they showed off the new facility and talked about the importance of heart health.
Cardioligist D.P. Suresh, M.D., is the Director of Cardiology for St. Elizabeth Physicians and he explained to those on hand his passion about heart health and talked at length about the American Heart Association's "Life's Simple 7" steps to having a healthier heart.
"What can we do, not just as professionals but also as people to figure out simple methodologies to how we can prevent heart disease? Because once the patient has the disease, the cat's out of the bag. There are seven basic things that any human being can do which the American Heart Association has very clearly done in their methodology," Dr. Suresh said.
The first issue he talked about was smoking, which is the single most common cause of heart disease.
Women are especially vulnerable to heart disease if they smoke. The disease is five times more common than breast cancer and is the number one cause of death for women.
The second factor discussed was body mass index (BMI), which is a measure of body fat.
"All of us know that reducing BMI is probably the single most difficult thing we can pull off. The first thing I tell people who want to lose weight is to get a scale and step on it every morning for one month. The odds are that you won't put on weight. You keep watching your weight everyday, and for a year if you do it and by default you lose five to 10 pounds, because just the mental thing of you watching your weight is enough for you to make certain small changes that you don't realize."
Dr. Suresh recommends to those who would like to lose weight to set smaller attainable goals like losing one pound a month. Then, after five years, that person has lost 60 pounds.
Physical activity goes a long way toward weight loss, but it's also an important part to anyone's heart health. A tip he had for people interested in becoming more active is to purposefully park their vehicles in the furthest available parking spot to ensure taking more steps in a day. He suggests that a person should take 8,000 steps in a day.
A healthy diet is also important to one's heart.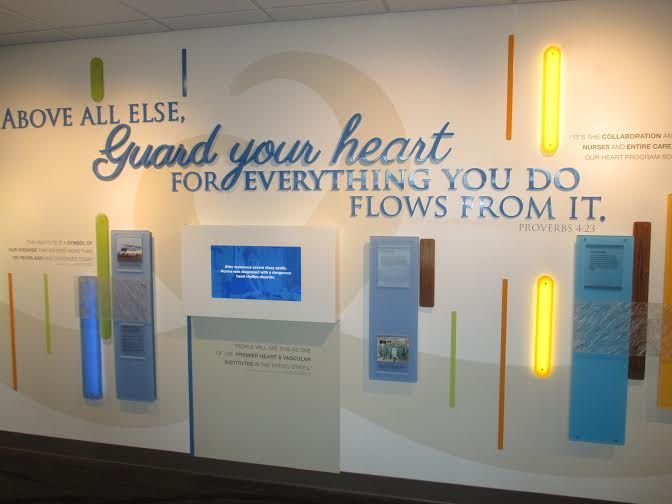 "If five days a week, you're not eating stored, canned or bottled food, then you're eating healthy. It's a simple paradigm. In most parts of the world, people cannot afford to get canned stuff so by default they eat healthier because that's what it is."
He says that eating red meat should be limited to once or twice a week at most.
St. Elizabeth now has a Cardiovascular Mobile Health Unit that travels around the area and gives heart-health screenings to those who aren't able to make an appointment with their doctor. One of the tests screens for peripheral arterial disease in the lower extremities.
Another is an Abdominal Aortic Aneurysm Screening which checks for enlargement in the abdominal aorta that could lead to a ruptured aortic artery. The screenings cost $25 each and take about ten minutes apiece. The Mobile Unit travels the Northern Kentucky region at the request of employers, church and community groups, and event sponsors. A schedule of the Unit's whereabouts can be found online at stelizabeth.com/calendar.
"We really want people to know what a gem we have here in our own community in terms of caring for people with health problems. You don't have to go somewhere else. We have all of the services you need for your heart right here in Northern Kentucky," said Betsy Slone, Cardiovascular Marketing Manager at St. Elizabeth.
According to both Slone and Dr. Suresh, Kentucky ranks 47th out of the 50 states in heart health.
"One of the reasons the van is such an important part of what we do here is that when the decision was made to initiate the Heart and Vascular Institute here at St. Elizabeth, the doctors got together and worked as a team to think about what they were going to do here," Slone said. "They set as a goal to reduce heart related deaths in Northern Kentucky by 25 percent over the next decade, which is a pretty lofty goal. Kentucky ranks poorly on the national scale in terms of cardiac deaths, heart attacks in the bottom three or four states in nearly every statistic."
February is Heart Health Month at St. Elizabeth's Heart and Vascular Institute where a variety of initiatives are underway as part of the program. Fresh Start is a four-week smoking cessation program from February 2 to March 2 every Monday at 11 a.m. at the Newport Library. Heart Matters is a free heart education conference and luncheon with Dr. Suresh on February 25 at the METS Center. Take Time for Your Heart is a ten-week series to learn how one can achieve big leaps in their heart health, which requires a $50 registration fee on Tuesdays from March 31 to June 2 at St. Elizabeth Edgewood, or on Wednesdays from April 1 to June 3 at St. Elizabeth Florence.
Written by Bryan Burke, associate editor