Bolden, McDonald Share 9th Region POY Honors
Sat, 02/21/2015 - 16:03
RCN Newsdesk
Newport Central Catholic senior center Drew McDonald and Holmes senior guard James Bolden have been named the 9th Region Players of the Year, and both are candidates to win Mr. Basketball in the state of Kentucky this season, but each have difficulties surrounding them in terms of winning the award.
McDonald has had a fine season, helping his team to a 25-3 record and establishing themselves as the region's best team. McDonald has averaged 16.6 points per game this season and became New Cath's all-time leading rebounder last week against Holmes. The big man can dominate smaller players in the post and can step outside and shoot the three effectively. He plays with excellent footwork down low and is also a quality passer, especially on outlet passes off of rebounds to lead the fast break.
McDonald has committed to play for Northern Kentucky University next season.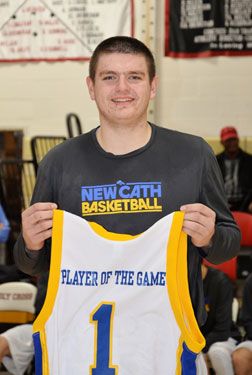 NCC's Drew McDonald
The difficulty for McDonald winning the honor for the state's top player, is that he has two sterling teammates that are equally important to the Thoroughbreds. Senior guard Zack Pangallo has been excellent this season and keeps NCC on schedule offensively with his floor leadership and smart decision making, and he plays gritty defense night in and night out as well. Junior forward Ben Weyer has also developed into a force who can seemingly do a little bit of everything. Like McDonald, Weyer is another big player that can shoot outside effectively, is terrific in transition—often finishing plays with easy dunks, and has become the best shot blocker in Northern Kentucky.
With such talented players flanking McDonald, it may be hard to convince the voters that he is the best individual player in the state.
James Bolden is perhaps the most exciting player in the area and is deserving to be on the list of finalists. Bolden averaged 20.2 points per game this season, just below Scott's Jake Ohmer as the top scorer in Northern Kentucky. He has led a young team to a respectable 20-7 season and Holmes has remained in the RCN/NKYSports.com Top 5 all year.
Bolden will head to West Virginia University next year to play for coach Bob Huggins in Morgantown.
Yet while Bolden is a terrific individual player, his team has not been able to rise to the occasion when playing equal or superior teams like New Cath and Cov Cath. Also in those games, Bolden did not play to his all-star caliber calling into question his ability to compete with the state's other best players. There have been stretches throughout the season where he did not shoot well and forced too many bad shots that hurt his team. Stylistically, he's been a bit flashy at the expense of silly turnovers. While it's likely that the voters haven't seen all of Bolden's games, the consistent losing to the state's other quality teams might be all the dismissal they need to rule out Bolden as the state's top player.
There has been a strong correlation between team wins and the winning of the Mr. Basketball award. Only two players that have won the award failed to contend for a regional title and five of those players won the state tournament. If New Cath can bring home a state championship this season, McDonald can strengthen his candidacy despite having such tremendous talent around. Similarly, if Holmes can make a postseason run and pull out a 9th Region title, Bolden's standing in terms of the award would certainly rise as well. The challenge for him and the Bulldogs is that Bolden may need less personal statistics in order for his team to be at their best.
The Mr. and Miss Basketball Award Ceremony will be held on March 17 in Lexington where the winners will be announced.
- Story by Bryan Burke, associate editor
Photos: James Bolden (RCN file), Drew McDonald (NKYSports.com)