Newport Seeks Savings with New Streetlight Bulbs
Sun, 02/22/2015 - 19:11
RCN Newsdesk
The Newport City Commission on Monday will vote on the authorization of an agreement with Duke Energy for a proposed streetlight change-out that could save the city more than a million dollars over the course of three decades.
The switch would be from traditional Cobrahead lights to LED. City leaders saw a presentation two weeks ago by Keith Kesse, business development sales manager at Duke. Kesse stressed that the amount of money charged for electric use fluctuates constantly but currently the city pays roughly $8,900 a month to activate its streetlights. With the change, that monthly bill would increase to approximately $9,600, which would include the purchase and installation of the lights.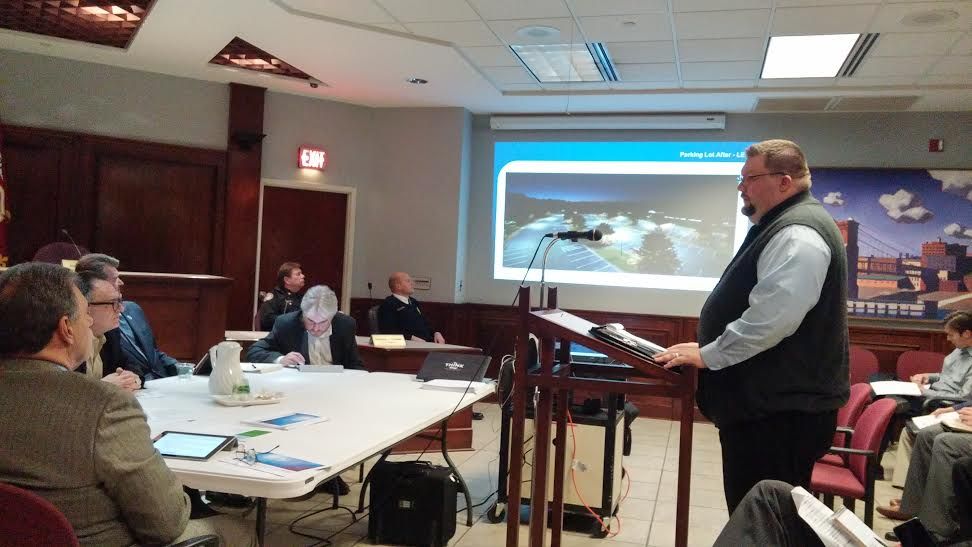 Kesse presents to the Newport City Commission/RCN
After ten years, the monthly bill would drop to $2,364, Kesse estimated. Over thirty years, $1.4 million would be saved, he said. "In year eleven, month eight or nine, you've broken even on the investment," Kesse told the city commission. The new bulbs, which are the same that are being put in place at the University of Cincinnati, are expected to last 100,000 hours, or between 22 and 28 years.
The cost is approximately $520,000. It could be paid in one lump sum or financed over a decade. City Manager Tom Fromme said the city would likely pursue the ten-year option.
The decision would include 825 50 watt roadway LED streetlights, as well as 40 110 watt bulbs, 171 150 watt bulbs, and 18 220 watt bulbs.
Other items on Newport City Commission agenda:
The city will consider new contracts for city solicitor Daniel Braun and assistant city solicitor Robert E. List.
Ray, Foley, Hensley and Company will present the annual audit report
Part of Pines Alley could be closed and vacated
Written by Michael Monks, editor & publisher of The River City News