Kentucky Ranks Second in Reducing Number of Uninsured Adults
Wed, 02/25/2015 - 07:59
RCN Newsdesk
 Arkansas and Kentucky reported the sharpest reductions in their uninsured rates among adult residents since the healthcare law's requirement to have insurance took effect at the beginning of 2014. Oregon, Washington and West Virginia round out the top five. Of the 11 states with the greatest reductions, 10 expanded Medicaid and established a state-based marketplace exchange or state-federal partnership. Montana, which is tied for 10th, is the only exception.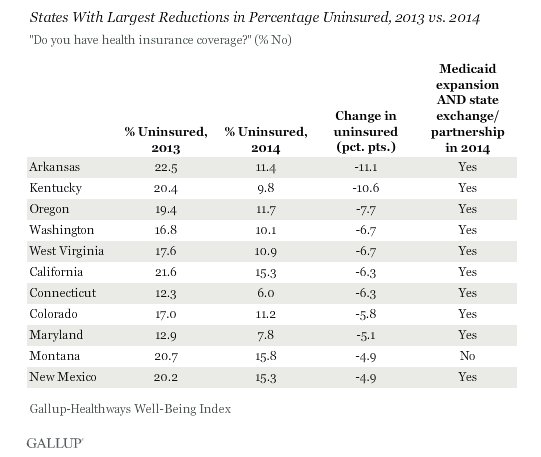 "Once again, the tremendous success of our efforts to reduce the number of uninsured Kentuckians through kynect has been independently validated by Gallup," Governor Steve Beshear said in a statement Tuesday. "In 2013, our state ranked 40th in the percentage of people who lacked health insurance, at 20.4-percent. In just one year, we dropped to just 9.8- percent uninsured, catapulting us to 11th best in the country. Our decision to expand Medicaid and enact a state-based health insurance exchange, kynect, have helped hundreds of thousands of Kentuckians find affordable health care, many for the first time."
Beshear held a news conference earlier this month where he pointed to an estimated 40,000 jobs and $30 billion impact on the state's economy due to the implementation of kynect.
"This Gallup report and the recent study conducted by Deloitte, which examined the first year Medicaid expansion, clearly demonstrate that we are making transformational changes for the future of our state and the health of our citizens."
Nationwide, the uninsured rate dropped 3.5 percentage points last year, from 17.3% to 13.8%, the lowest annualized rate across the seven years of Well-Being Index measurement. No state reported a statistically significant increase in the percentage of uninsured in 2014 compared with 2013.
These data, collected as part of the Gallup-Healthways Well-Being Index, are based on respondents' answers to the question, "Do you have health insurance coverage?" These state-level data are based on daily surveys conducted from January through December 2014 and include samples sizes that range from 465 randomly selected adult residents in North Dakota to nearly 17,000 in California.
-Staff report with data from Gallup