Jackie Demaline: See These Shows in March
Mon, 03/02/2015 - 10:08
RCN Newsdesk
This month – different views of literary classics. Little Women takes different forms at Cincinnati Shakespeare and Footlighters; Peter Pan will fly high at the College-Conservatory of Music in the musical version America knows by heart (all together: "I'm flying!") while Playhouse in the Park offers a Peter Pan prequel with Peter and the Starcatcher.

Ensemble continues its stand-out season with the area premiere of Detroit 67 and there's great dance scheduled at the Aronoff – Alvin Ailey Dance Theater and Cincinnati Ballet's Mozart's Requiem, both entertaining and emotional. 

If you have a serious case of cabin fever – and how can you not have at least a little case of cabin fever? -- how about a short road trip. In Dayton, terrific Sherman Fracher is the draw in the regional premiere of Vanya and Sasha and Sonya and Spike, Christopher Durang's Tony Award-winning Chekhov send-up. 

Slightly further away and a must for theater lovers – the annual Humana Festival of New American Plays at Actors Theatre of Louisville is a good place to see what's trending on the national scene.

As always, in chronological order:

Little Women, through March 21. Cincinnati Shakespeare, 719 Race St., Downtown. 7:30 p.m. Thursday-Saturday, 2 p.m. Sunday. Additional 2 p.m. matinee March 21. 7:30 p.m. Tickets: $14-$35. Preview performances (Feb. 18-19) $21. 513-381-2273 and www.cincyshakes.com.

Louisa May Alcott's classic about the March family of women during the Civil War, waiting for Mr. March to come home. Annie Fitzpatrick is Marmee bringing up four disparate daughters: romantic Meg, shy Beth, willful Amy, and of course, fiery and independent Jo.  

Alvin Ailey Dance Theater, 7:30 p.m. March 3-4. Aronoff Center for the Arts, 650 Walnut St., Cincinnati. Tickets $75-$30 (subject to change; does not include fees.) HALF-PRICE Student/Educator tickets are available by phone or at the Ticket Office by mentioning promo code EDUCATE.  Limit (2) tickets per person with a valid student ID. Subject to availability. 513-621-2787, www.CincinnatiArts.org and at the Aronoff Center Ticket Office. 

Ailey's ever-affecting masterwork Revelations is performed both nights. It suggests a personal chapter in the history of the African-American experience: the hard times of "I Been 'Buked" to the rousing calypso beat of "Wade in the Water" to the triumphant finale, "Rocka My Soul in the Bosom of Abraham."

Humana Festival of New Plays, March 4-April 12. Actor's Theatre of Louisvillle. Single ticket prices start at $25 or go crazy and buy a weekend package. For more information or reservations call 502-584-1205 or 1-800-428-5849, or visit the website at ActorsTheatre.org.

The schedule includes six full-length plays in rotating rep, plus some special programing including 10-minute plays. Topics include: two middle-aged, odd couple new roommates; a family grappling with aging (it's a dark comedy); an adolescent who moves to a small down where the residents are all haunted; an album of scenes looks at the history of Bluegrass; and intergalactic nuns who charge the hero with a quest: retrieve the Holy Gay Flame.

Little Women: The Musical, March 5-21. Footlighters, Stained Glass Theatre, 802 York St., Newport. 8 p.m. Wednesday-Saturday, 2 p.m. Sunday. Tickets $20 (plus $1 fee.) [email protected] and 859-652-3849.

Set to an engaging score filled with heartache and hope, Louisa May Alcott's own family experiences follows the adventures of Jo, Meg, Beth and Amy March March as they grow up in Civil War America. Budding author Jo can't sell her stories until she takes Professor Bhaer's advice: write from her heart. 

Peter Pan," March 5-8. CCM Musical Theatre, College Conservatory of Music, University of Cincinnati. 8 p.m. Thursday-Saturday, 2 p.m. Saturday and Sunday. Tickets $35 and $31 adults, $24 ad $20 students. 513-556-4183 and here which has info on directions and parking.
Hannah Zazzaro as Peter Pan and Nathaniel Irvin as Captain Hook (Photo by Mark Lyons)
In Victorian London, Peter, leader of the Lost Boys, and his mischievous fairy sidekick Tinkerbell visit the nursery of the Darling children late one night to find a shadow. In no time, and with a sprinkle of pixie dust, the adventure begins. A ticking crocodile, a fierce Indian tribe, a band of bungling pirates and of course the villainous Captain Hook in a story of growing up – or not. 

The songs are classics -- "I'm Flying," "I've Gotta Crow," "I Won't Grow Up,"  "Never Never Land" – and so is the flying. 

The Breeze Bends the Grass, 8 p.m. March 5-7. Women's Way/Tightrope Productions, Falcon Theatre, Monmouth Theatre, 636 Monmouth St., Newport. Tickets $20 plus service fee. 513-479-6783 and here.

A musical and visual pastiche of the lives and struggles of women artists amidst the Arts & Crafts movement of the early 20th century, looking at four key women in 1915: painter Marie Goth; metal artist Janet Payne Bowles; landscape artist Selma Steele; and ceramicists, The Overbeck Sisters.

Detroit '67, March 7-April 4. Ensemble Theatre Cincinnati, 1127 Vine St., Over the Rhine. Tickets: $18-$44; 513-421-3555 and www.cincinnatiensemble.org.

1967, Detroit. When their parents die, Chelle and Lank inherit their childhood home. To make ends meet, the siblings host "basement parties," spinning the newest records to come out of Motown, a risky business as police crack-down on after-hours joints in black neighborhoods. 

When a mysterious white woman finds her way into their care and a string of raids increases police brutality around the city, they find themselves much more divided than over just the family business.

Strong language, adult themes and great reviews out of NYC:  "Vibrant...crackles with humor. New York Times; "Transports audiences into another time and space." BET; "Riveting...mind blowing." Huffington Post 

Peter and the Starcatcher, March 7-April 4. Playhouse in the Park, Eden Park. Tickets: $35-$85; 513-421-3888 or www.cincyplay.com.

Welcome to an endlessly inventive Peter Pan prequel. Molly, a starcatcher-in-training, meets an orphan boy longing for a home. In no time they embark on a daring sea mission, not-so-swashbuckling pirates and singing mermaids.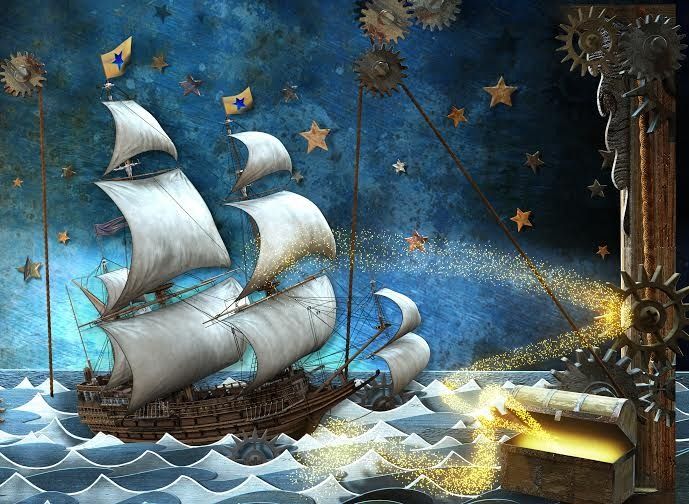 The New York Times: "The cast becomes not only whatever individual characters are called for but also the settings through which they move: two different boats (and their mysterious inner compartments), an itinerant jungle and, most spectacularly, a heaving ocean that splits and devours the Neverland, and makes James Cameron's Titanic (even in 3-D) look strictly two-dimensional."

Vanya and Sonia and Masha and Spike, March 10-22. Human Race, Victoria Theatre, 138 N. Main St., Dayton. 8 p.m. Tuesday-Friday, 2 and 8 p.m. Saturday, 2 and 7:30 p.m. Sunday. $87-$25 according to dates and seat location. $5 processing fee added for phone and online orders. 937-228-3630 and toll free 888-228-3630 and here. Be sure to check the web site for driving updates regarding road construction.

In bucolic Bucks County, PA, Vanya and Sonia have frittered their lives away in their family's farmhouse full of regret, angst and the alarmingly ambiguous prophecies of their addled housekeeper Cassandra. Enter their sister, self-absorbed movie star Masha, with her prized 20-something boy toy Spike, and the stage is set for a lunatic weekend of global warming and hilarity of Chekhovian proportion. 

Mozart's Requiem, Cincinnati Ballet, March 20-21. Cincinnati Ballet, Aronoff Center for the Arts, 650 Walnut St. Downtown Cincinnati. Tickets $32-$100. 513-621-5282.

Resident choreographer Adam Hougland explores mortality in a series of compelling vignettes. Yet from darkness comes light: the characters journey from grief and loss towards acceptance and hope. Premiered by Cincinnati Ballet in 2010. 

Buzzer, March 21-April 19. Playhouse in the Park, Thompson Shelterhouse, Eden Park. Tickets: $45-$60 and subject to change, students $30. 513-421-3888 and www.cincyplay.com.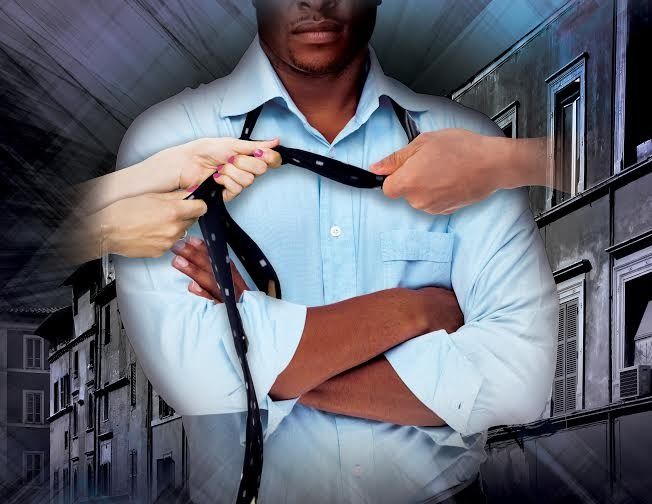 Jackson, a young black lawyer, can't wait to flaunt his success when he moves back to the rapidly gentrifying neighborhood of his youth with his girlfriend Suzy and troubled best friend Don, both white. While the trio grapples with the racial and sexual tensions simmering inside and outside their apartment, Jackson also struggles with the opposition between what he used to be and what he's become in this compelling, thought-provoking and darkly funny new play.

Chicago Tribune: "A sizzling new drama of race, real estate and sexual betrayal… admirably complex and wholly unflinching."

Mud Nostalgia, 8 p.m. March 26-28. Corbett Theatre, Fine Arts Center, Northern Kentucky University. Tickets $10. Click here or call 859-572-5464.

NKU's Sue Ott Rowlands stars in an hour-long solo show that blends humor, mountain music and a drawn-from-life story about an Appalachian woman in a "holiness" church (that's serpent-handling), married to a pastor. She struggles to understand her life and her faith as she recovers from her husband's murder attempt.  As the heroine explains at one point, snake-handling is "one-half faith in the Holy Spirit and one-half faith in modern doctors."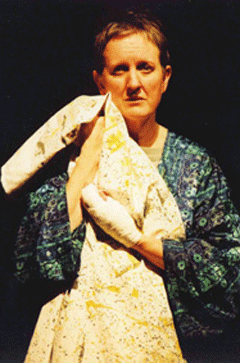 Sue Ott Rowlands
Playwright Mark Evans Bryan and director Bruce Hermann will join Rowlands for post-performance discussions.

Hearts Like Fists, March 27-April 25. Know Theatre, 1120 Jackson St., Over-the-Rhine. Tickets $20. 513-300-5669 and here.  

Love is a battlefield where superheroes fight crime. The hearts of a troubled city and its citizens are intertwined! (Kapow!) Doctor Y is sneaking into apartments and killing lovers while they sleep! (Zap!) Can the elite Crimefighters stop him?

Village Voice: "A fun, twisted exploration of what it means when someone Hulk-smashes your heart on the ground into a million pieces."
Follow The River City News on Facebook, Twitter, or email us!
Jackie Demaline, RCN Arts