"You Hurt Me," Fired Attorney Tells Erlanger Mayor as Residents, Civic Leaders Express Anger
Wed, 03/04/2015 - 07:58
RCN Newsdesk
The Erlanger residents who attended Tuesday night's council meeting were loaded for bear and ready to give the new mayor, Tyson Hermes, a piece of their minds. The battle cry seemed to rally around the statement, "You fired Mr. Erlanger!" made by a few people.

For such a short time in office, there have been enough misunderstandings and disagreements that even a majority of the city council members were ready for a showdown. The last straw seemed to be the firing of longtime city attorney Frank Wichmann, an event which happened on February 5, and Tuesday night anything could have set off the fireworks in the standing room only council room.

Councilman Randy Blankenship wasted no time in taking control of the meeting, proposing three new ordinances, which he had asked be included on the agenda, but weren't. The first establishes a new position, a part time position labeled city council attorney. The second establishes a non­elected position of city attorney, and the third prohibits the city from paying attorney fees to anyone who doesn't have a contract with the city, or is not the city council attorney or the city attorney. Blankenship then wanted an amended agenda to allow for all the citizens to be able to talk right away, and secondly, for the three ordinances to have a reading and a vote, and third for Frank Wichmann to be able to respond to the citizens.

Councilman Bill Howard asked to speak first and he tried to defuse the situation, saying that he didn't want council to act out of fear and anger.

"I voted for Tom Rouse in the election and I was bummed when he lost," he said. "But sometimes the only way you learn is to lean heavily on your support team. Some people want to see you fail, but I want you to fail because that is sometimes the only way you learn."

However the 'us against them' split failed to resolve and instead seemed to inflame the audience and the rest of council. Twenty-­seven people signed up to speak and had brought speeches to read, only to have Mayor Hermes limit them to two minutes as was written on the sign up sheet. Frank Wichmann pointed out that under a previous law, the people have three minutes to speak, so the mayor had to allow three minutes per person.

One by one, the people praised the knowledge, care and compassion of Wichmann, or attacked the mayor for letting him go.

"You have been full of it from the beginning," said Joan Miles Dunhoft, Councilman John Dunhoft's wife, who referred to Hermes' campaign promise of being transparent. "They (Council) deserve your respect."

Some of the residents expressed their regret in voting for Hermes, and some demanded that he reverse his decision to fire Wichmann.

"In all the years I've known Frank, and worked with Frank, he has never had a personal agenda, and never did anything that was not in the interest of the city," said Bill Scheyer, former City Administrator for Erlanger and president of Vision 2015. "I respect that you want to put in your own team, but as a resident and taxpayer, I think it was a poor decision to fire someone who has so much to give."

Everyone who spoke had nothing but accolades for Wichmann, and time after time people spoke of how he would give of his time and sometimes charge nothing. Eight attorneys spoke of how he knew municipal law so well that attorneys all over Kentucky asked his advice.

The mayor of Covington, Sherry Carran, spoke of how she had to consult him on a weekly basis because of crises in her city, and attorney Phil Taliaferro brought a letter of praise and recommendation from Scott Crabtree, who is on the board of the Municipal Attorneys Association of Kentucky. County Attorney Garry Edmondson came to praise the knowledge of Wichmann, also.

Council members spoke, too, and didn't pull punches about how they thought Hermes lied to them.

"We had a one on one meeting on November 20 to talk about a plan for the city, and you told me then that you wanted to get rid of Frank," said Blankenship. "We heard someone say that the document where you fired Frank was dated January 5, four days after you took office, although you gave it to him February 5. You hinted at horrible reasons that would be devastating to Frank's career. I think it is wrong what you did to him. Morale is very bad in the city, because people think they might be fired next. They are thinking the only thing that matters is the mayor's arbitrary will."

Throughout the onslaught of derisive and damaging accusations and statements, Hermes sat stoically, occasionally conferring with a person sitting on his left who council finally demanded to know the identity of. It turned out that Mayor Hermes had invited his own attorney, Todd McMurtry, with Gerner and Kearns, to attend the meeting, an action that encouraged more sarcasm and derisive comments from the "us" camp who felt that Wichmann had already been replaced.
Hermes consults with McMurtry
Frank Wichmann said that he appreciated the support.

"The day I was fired was the worst day of my life, other than the day my wife Helen died eight years ago," he said emotionally. "This was the best day of my life. I was walking in and was thinking about what Helen used to say, Let go and Let God, and I turned around and the church across the street has that very saying on the board outside. I knew then that Helen had something to do with you all being here to support me."

He turned on Hermes.

"You hurt me deeply," he stated, looking directly at the mayor. "You took away a relationship it took me almost 50 years to build, one that I was proud of, and passionate about, just like that." He snapped his fingers. "I didn't give you any reason. You knew you were going to fire me when you took office."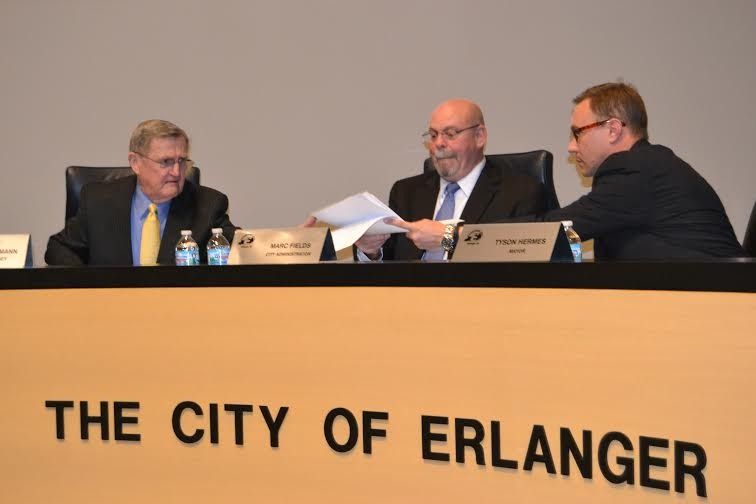 Wichmann, City Administrator Marc Fields, and Hermes
Then he turned to the audience and invited them to Salvatores for pizza on him.

Before the meeting, Hermes said he hadn't really fired Wichmann, he just had decided not to renew his contract. He said there was no other position he planned on replacing, and said he felt the mayor and the city attorney had to have trust and confidence which he and Wichmann did not have.

"I am a newcomer to politics," he said. "The whole point is the success of the city, and I would like to increase revenue and bring in more business. I realize a lot of people have come to support Frank, but the termination is done."

The ordinances that Blankenship proposed were read for the first time, and will have a second reading on Saturday at a special meeting of council scheduled for noon. The ordinances are designed to take the power out of Mayor Hermes hands, and give the council a say in reversing the termination of Wichmann.

Council also passed two ordinances dealing with a text amendment and a map amendment creating Commonwealth Station on Erlanger Road by Riggs Road. A municipal order allowing Erlanger Fire and EMS to apply for a SAFETY grant was approved, as was a municipal order which allowed the city to sell some surplus property.
Story & photos by Patricia A. Scheyer, RCN contributor
Top Photo: Frank Wichmann greets a supporter in Erlanger