Henry Farny-Inspired Exhibit at Taft Museum Features Loaned Art from Ft. Thomas Families
Sun, 03/08/2015 - 10:51
RCN Newsdesk
Two Fort Thomas families have pieces from their private collections at Taft Museum of Art in An Eye for the West: Paintings and Sculptures from Local Collections, on view through May 17.

The intimate show in the Sinton Gallery is in conjunction with touring exhibit Wild West to Gilded Age: American Treasures from the Santa Barbara Museum of Art.

Wild West to Gilded Age offers an overview of the most significant themes in 19th and 20th century American art with 52 paintings and eight sculptures by American artists including Thomas Cole, Frederic Church, Winslow Homer, George Wesley Bellows and John Singer Sargent.

The inspiration for An Eye for the West as a theme of the American West were painter Henry Farny, who lived in Covington where a park is named for him and worked in Cincinnati, and Americans' ongoing fascination with the wild and recently conquered frontier.

"I think we're still connected to the idea of American westward expansion," assistant curator Tamera Muente noted. "The legend of the Wild West is something that's purely American – westerns are still being made. The imagery is still quite alive."

And, she notes, it's always fun to see something that's never on public view. With works that include Farny, Frederic Remington, and Joseph Henry Sharp, Muente says the local exhibit poses the questions: 'What attracted artists to Western subjects?' 'What continues to draw Americans' eyes to the West?'

Representing Northern Kentucky are Henry Farny's gouache "Pastures New" (1899) from a private collector. "It represents a time when the Plains Indians were still moving freely," Muente said. "It looks back on an idyllic life."

David and Debra Hausrath loan Joseph Henry Sharp oil "Crow Winter Camp on the Rosebud, Montana" (painted between 1899 and 1910), a graceful winter landscape of teepees,  and Rookwood Pottery glazed stoneware vase "High Hawk, Sioux" (1900) decorated by Grace Young featuring the weathered face and the war bonnet.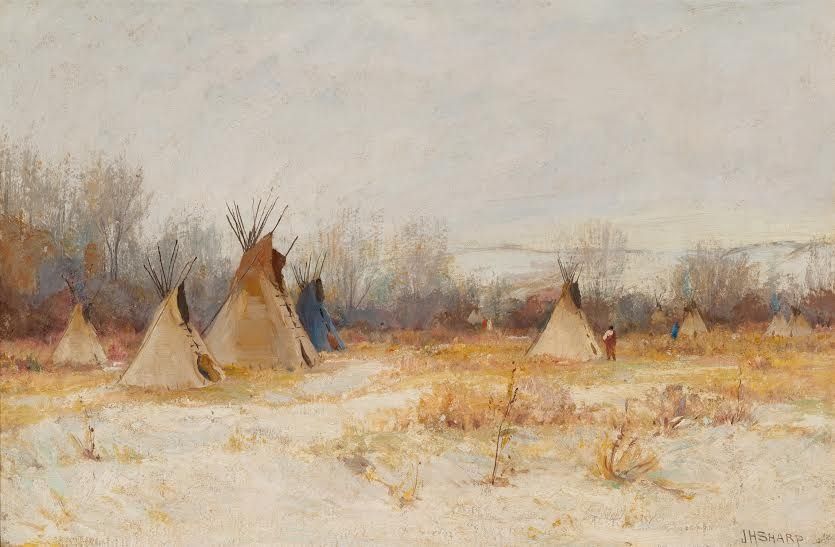 Muente noted all the works are "a way to look back at the past" and acknowledged "possibly a past that never existed."

The Taft Museum of Art is located at 316 Pike St., downtown Cincinnati. The museum is open 11 a.m.-4 p.m. Wednesday-Friday and 11 a.m.-5 p.m. Saturday and Sunday. Admission is free on Sunday. For more information, visit http://www.taftmuseum.org
Written by Jackie Demaline, RCN Arts
Images provided